We are a family who loves to explore, try new things and have fun.  We blog about our adventures to inspire others to live a life full of joy, wonder and inspire family fun.  Besides traveling, some of our favorite things to do as a family are play games, challenges and check out one of the many subscription boxes available.  Here you will mostly find:
* Recipes
About Us:

Kristi
I am a mom of who I consider to be the two most perfect girls in the world.  I feel very blessed for the life that has been given to me and am very grateful for it.  I knew at a young age, that I wanted to be a mom when I grew up.  Now that I am, I blog so that I am able to stay home with my girls and still provide financially.
Join me and let's be friends on this journey together:
facebook  |  instagram  |  pinterest  |  twitter |  email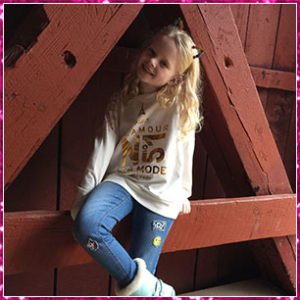 Olivia aka Kat
Olivia is the founder of Kat-Tastic, a family friendly YouTube channel for kids.  She has a passion for creating videos and creating big messes during the process.  To view her channel, click here.  She also loves to play Roblox and The Sims 4.
Besides YouTube and gaming, you can find Olivia on stage.  She loves to be involved in theater and has a natural confidence when on stage.  She has a beautiful voice and loves to sing.  She is also a lover of all things cats.  She loves animals and has always wanted to be a veterinarian.  She loves trying new experiments and anything that she can basically make an explosion out of.  She is the brains and the realist in the family who helps to keep us grounded.
Abigail
Abigail loves everything that's pink or sparkles and could eat cereal for every meal of the day.  She has such enthusiasm when it comes to life and does not hide her feelings so you will immediately know whether she loves or dislikes something. Her imagination is off the charts when it comes to playing and you'll find her playing in her room for hours, setting up schools and vacations and different scenarios for her dolls to play out.
Also a lover of dance, Abigail is always dancing, whether at a dance class or having her own dance party at home.  She has a new found passion for acrobatics and is discovering she is naturally quite flexible.  She is the spirited one and the one who makes us laugh.