This festive DIY wreath will make the perfect 4th of July decoration for your 4th of July celebration. It's easy to make and will add the perfect festive look to your 4th of July party!
I love the way this DIY wreath turned out! It really makes the perfect 4th of July decoration for our front door. With each season or holiday, I love switching out the front door wreath and garden flag.
This post contains affiliate links and I may earn compensation when you click on the links at no additional cost to you.
Since I didn't have a 4th of July wreath, I decided to attempt to make my own. I blended together ideas seen on Pinterest and the concept of the plush craft pillows
my daughters love to create this. Abigail was actually doing her pillow craft next me while I was doing my wreath. I used the tool that is used in these crafts to create this. You could easily use a tooth pick or skewer if you don't have any of these kits.
For this DIY 4th of July Decoration You'll Need:
Foam Wreath – I used the 1.9 inch x 13.8 inch size because it was all Michael's had. If I make this again, I will order the 13 inch x 2.5 inch found here. Although I still love how it turned out, I think it would look a little better with a fuller wreath frame and would be a little sturdier with all the holes you will be poking in it.
Red, White and Blue Felt – I got a 36 inch x 36 inch size of each color and didn't even use half of it. So you really could just grab a couple of the sheets of felt, unless you are making multiple wreaths. Don't use the premium felt, go for the felt that feels more like a material.
Stars (optional) – If you want to decorate the wreath a little more.
Ribbon – You'll just need a small piece for hanging the wreath.
1 stylus, toothpick or skewer.

How to Make Your 4th of July Wreath:
This wreath is incredibly easy to make. And the perfect excuse to relax and watch a movie. It will take about the length of a movie to make, making this a perfect pair. It also doesn't take a lot of thinking to make this wreath so you don't have to worry about being distracted by the movie.
First, cut your felt into squares. You may want to cut a few and try them first to make sure you like the size. I liked the look of 1.5 inch x 1.5 inch squares. I first cut 1 inch x 1 inch and felt they were too small.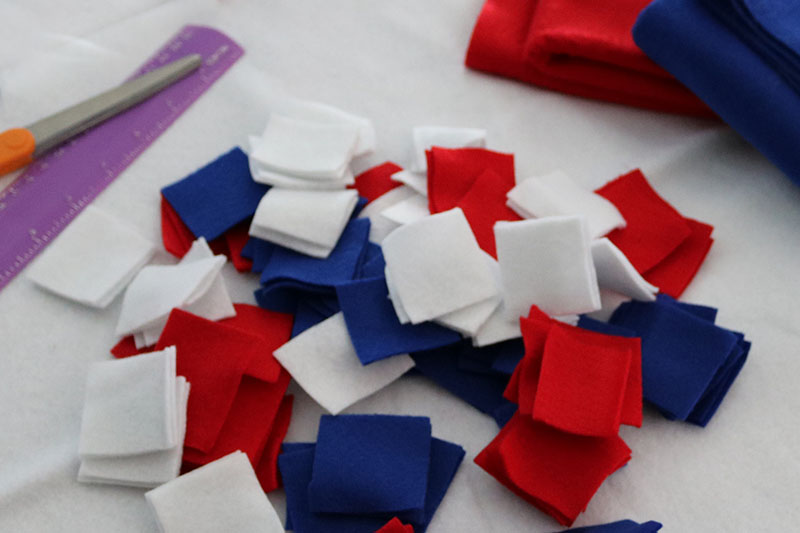 Then using your stylus tool, punch the felt into the wreath. You'll place the stylus in the center of the piece of felt. You can space these out to your liking. I did mine pretty close together for a fuller look.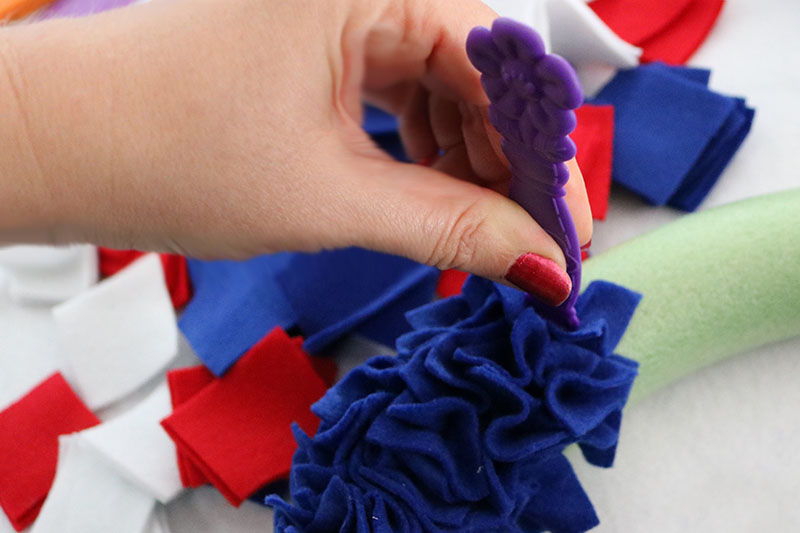 Once you've covered the foam wreath with felt, it'll look like this. It's really cute already so you could stop here, or add the stars.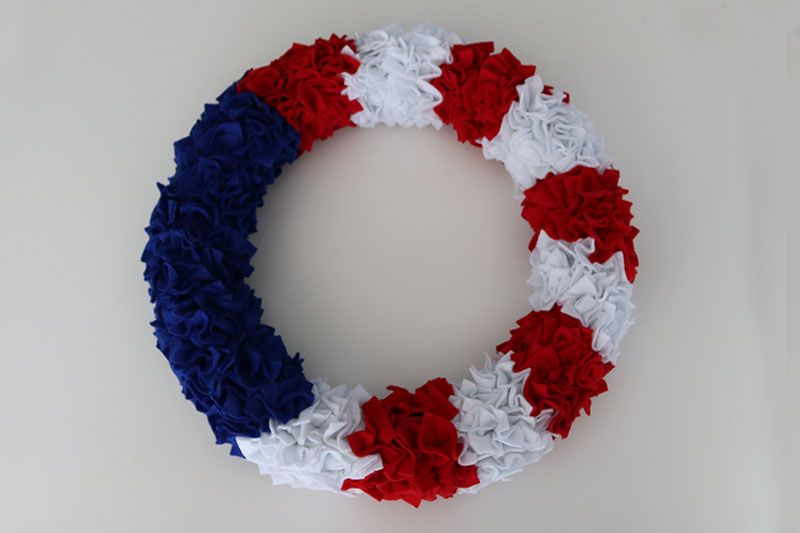 Last, you'll add your ribbon for hanging the wreath. I used a hot glue gun to glue the ribbon. IMPORTANT: when you glue the ribbon on, make sure you glue it to the foam part of the wreath and not the felt. You may have to remove a couple pieces of felt. The felt are not securely attached and will slip out with the weight of the wreath. The felt stay in pretty well, but if you have an issue with a couple falling out, just drop a drop of glue in the hole and then put the felt in.
You can find more 4th of July decoration and activity ideas here!
I hope this 4th of July decoration will help make your day a little more festive and don't forget to pin it so you have it for later!