Universal Studios Florida is a great destination for a family vacation. Find out what attractions your kids can do before planning your trip to Universal Studios Florida!
I've avoided planning a family vacation to Universal Studios Florida because I always saw this park as being a park for bigger kids. Instead, we would always go to Disney. I totally love Disney, so I am not complaining. But it had been over 15 years since I had been to Universal Studios Florida and I was ready to go again! With the girls now 6 and 9, I decided we should go for it. I am so glad we did because everything exceeded our expectations!
Related: Disney World FastPass Tips & Tricks – FastPass Like a Pro!
There are so many cool things for families with younger kids to do at Universal Studios Florida and Islands of Adventure. We spent 4 1/2 days between the two parks, but we still weren't ready to leave!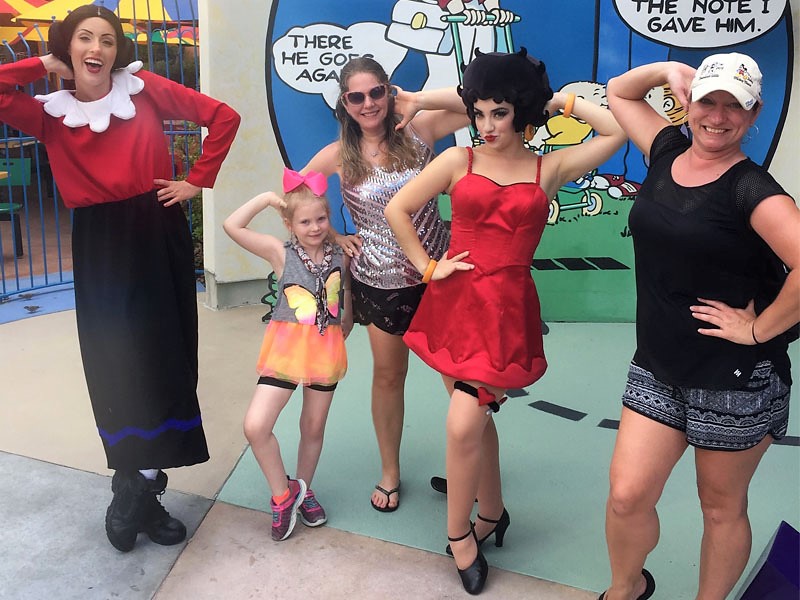 I have put together this guide to help you get the most out of your Universal Studios Florida family vacation as well:
Where to stay at Universal Studios Florida
I recommend staying at a Universal Studios resort because you get extra perks. You also get transportation to and from the parks. Each resort comes with it's own set of perks which you can read about in more detail from Universal's website. The premium hotels include free Universal Express Unlimited passes which allow you to skip the lines at the most popular attractions. If you are planning a quick trip, you'll want to consider this option to guarantee you'll get to experience all the rides.
Since we planned a 5 night stay with the 5 day park hopper passes, we didn't feel having the express passes were needed and chose to stay at Universal's Cabana Bay Beach Resort. The transportation to the park was amazing. Regardless of the time of the day, we never had to wait for a bus. We also were able to enter the Wizarding World of Harry Potter (only Diagon Alley) an hour before it opened as one of the perks of staying at a Universal Resort.
The Rides – For Older Kids
At 54 inches, you'll be able to ride every ride at both Universal parks. Olivia (age 9) is exactly 54 inches and she took full advantage of being able to ride the bigger rides. She rode all the rides and loved them all. Even the Hulk! I knew she would really enjoy the Universal parks when planning the trip. She is pretty fearless when it comes to rides and scarier things. So if you have an older child who loves rides and is 54 inches, they'll have a great time with all the rides. Otherwise, at 52 inches, they'll still be able to ride everything except for the Hulk if they haven't quite reached the 54 inch mark.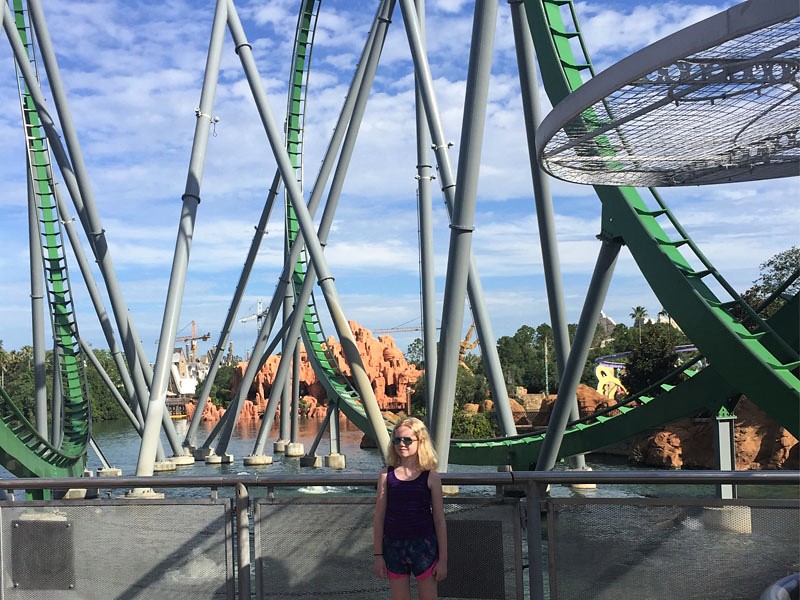 Abigail (age 6) on the other hand, is a lot more timid when it comes to rides and scarier things. A lot of the rides she was tall enough to ride, she still didn't ride. Although they were safe for her height (47 inches), they still weren't necessarily child friendly with the content inside the rides. I am pretty sure at age 6, Olivia would have been fine to ride all these rides (she rode Space Mountain and Hollywood Tower of Terror at Disney at this age), but for a child who doesn't like scary things or loud noises, you may want to consider skipping some of these rides, even if they are tall enough:
Fast & Furious – Supercharged (minimum height 40″)
Harry Potter and the Escape from Gringotts (minimum height 42″)
The Simpsons Ride (minimum height 40″)
Transformers: The Ride 3-D (minimum height 40″)
Skull Island: Reign of Kong (minimum height 36″)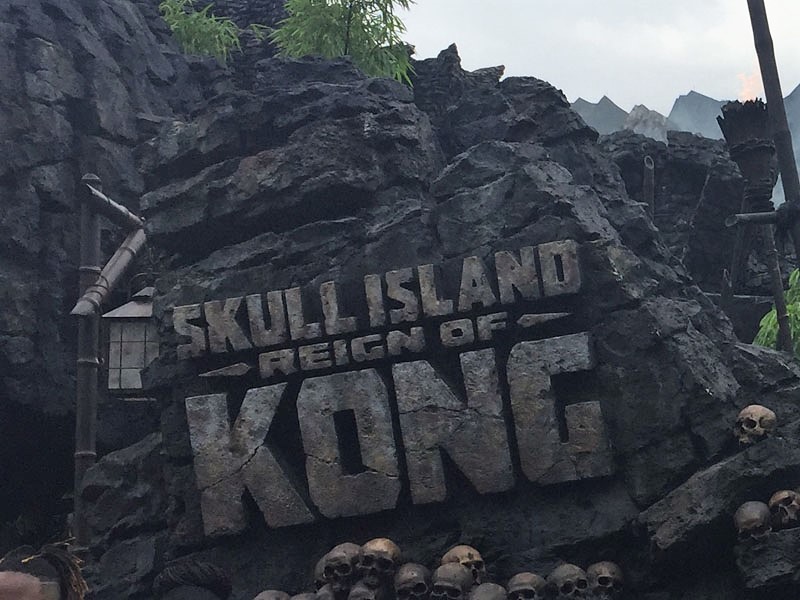 Kid-Friendly Rides
There are still plenty of kid friendly rides for young kids that aren't scary. If you are looking for kid-friendly rides that aren't scary, take it from Abigail on her list of her favorite, non-scary rides:
ET
Everything in Dr. Seuss land
Popeye & Bluto's Bilge-Rat Barges
Pteranodon Flyers
Despicable Me Minion Mayham
Hogwarts Express Train
Twirl 'n' Hurl
Men in Black
Race Through New York Starring Jimmy Fallon
Shrek 4-D
Woody Woodpecker's Nuthouse Coaster
A few rides that Abigail rode but she said were scary are:
Dudley Do-Right's Ripsaw Falls (she wasn't a fan of the big drop, but the rest was good)
The Amazing Adventures of Spider Man
Flight of the Hippogriff (she is still getting used to roller coasters)
Jurassic Park River Adventure (scary, but she would ride again because she knows dinosaurs aren't real)
As you can see, there are plenty of rides for everyone at Universal Studios Florida!
Child-Swap
Universal Studios Florida has a child-swap program. This allows the entire family to wait in line together. Then one person is able to stay with the younger child while the others ride. When they are done with the ride, swap who stays with the child and you are able to ride right away without waiting in line again. If you have ever been to Universal Studios Florida, you know that the line can be just as exciting as the ride sometimes. So it is nice for everyone to be able to experience the scenery inside the lines together and wait together.
Abigail didn't mind having to do the child swap. She was glad to because she didn't want to ride the bigger, scarier rides anyway! So she really loved this feature! At times she was also able to go off with my mom who didn't want to ride some of the rides and spend more time in her favorite areas (she really loved the Dr. Seuss land) while the rest of us rode the big stuff! So that was really nice for all of us.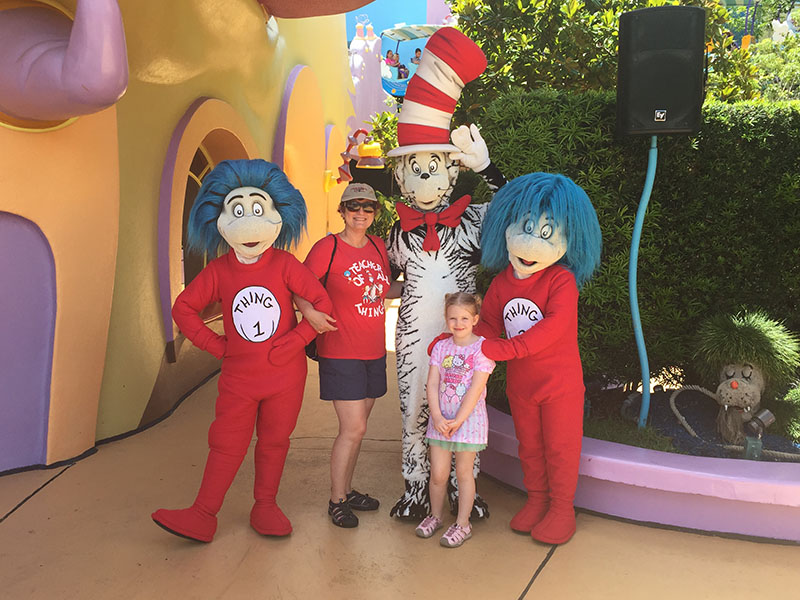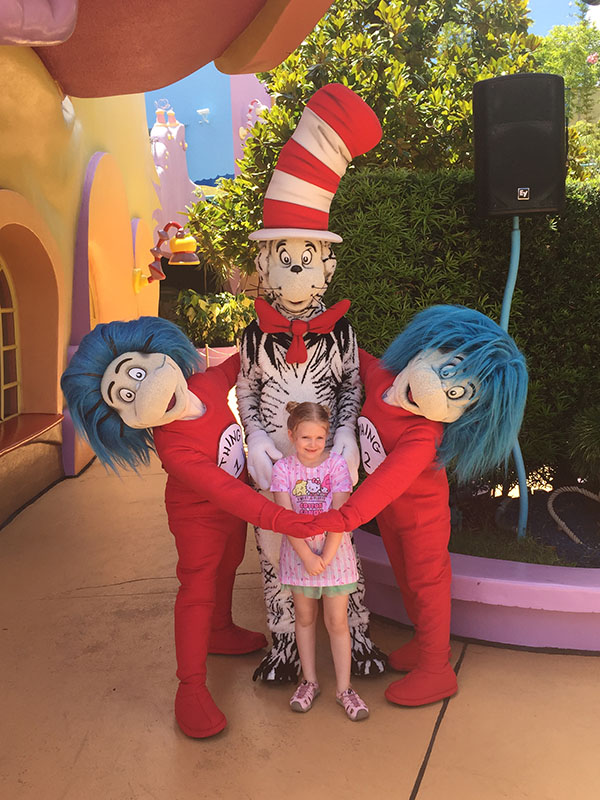 Wait Times
There is a Universal Studios Florida App that you will want to download on your phone. With this App, you can view all the wait times and show times. I would say the App was pretty accurate during the time we were there. If anything, we usually waited less than the time said on the App.
We visited Universal Studios Florida the second week of June and I feel like we really got lucky with the lines. During the busier times which is mid-day, we occasionally had to wait 30-40 minutes for a more popular ride. But usually, we waited less than 20 minutes for a ride. A lot of times, we even walked right onto the rides without a wait.
You can view the wait times from the Universal Studios Florida App at home before your trip to determine what times rides are the busiest and at what times to help plan your trip.
Kid Areas
Besides kid rides, there are a bunch of different really fun areas for kids. These areas include playgrounds of all sorts and water play. If you have young kids, you'll definitely want to check out these areas:
Camp Jurassic
This area has a giant Jungle Gym for kids to play on. Don't forget to go inside Camp Jurassic also. There you'll get to pet a baby dinosaur and see dinosaur eggs hatch as well as other fun things!

If I Ran The Zoo in Dr. Seuss Land
Everything in Dr. Seuss land is fun for young kids. But they also have a little play area that is fun for kids.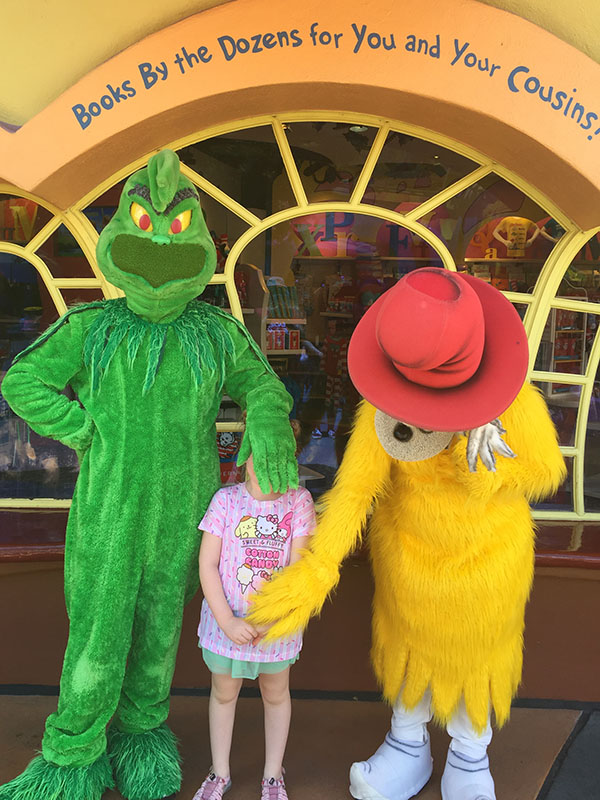 Me Ship, The Olive
This is a playground, but from up top, you'll also be able to spray water at those riding the Popeye & Bluto's Bilge-Rat Barges!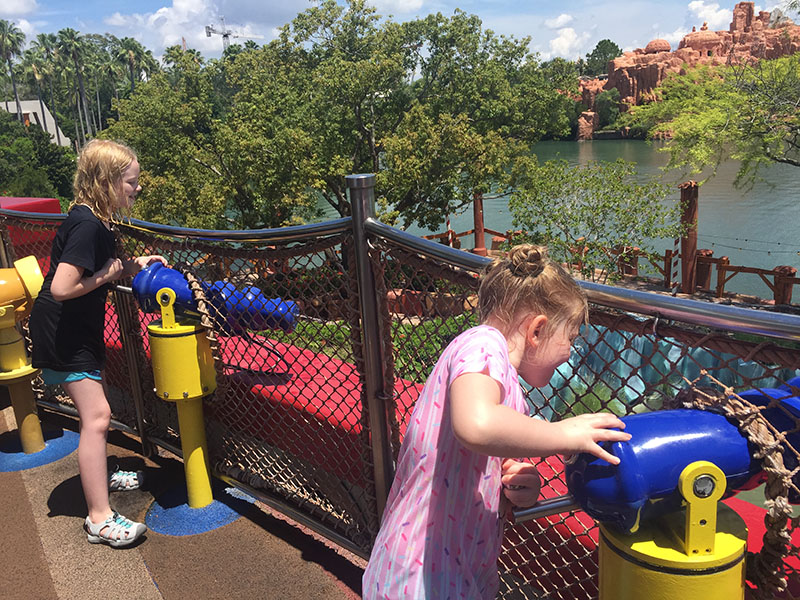 Curious George Goes to Town
This area is pretty much all water related activities and is perfect for when you need to cool off!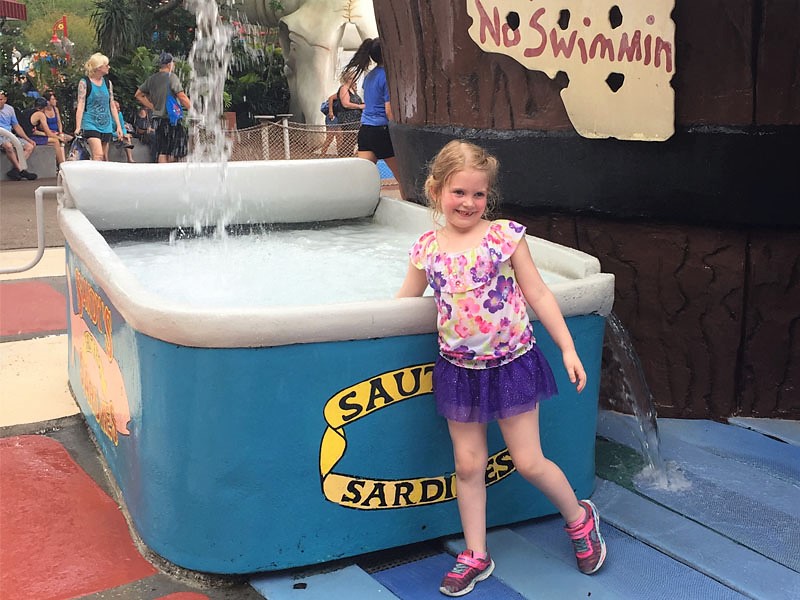 Characters Around the Park
One of my favorite things about the Universal Studios Florida parks is how they do the characters. As you walk through the park, you really never know who you will run into and this makes it so fun! When you do run into characters, it's so much fun and more personalized this way.  You don't have to wait in line to take pictures, you just walk right up! There may be a couple people ahead of you, and of course you should wait for those who were there first, but you won't experience waiting more than 5 minutes to take a picture with the characters you run into.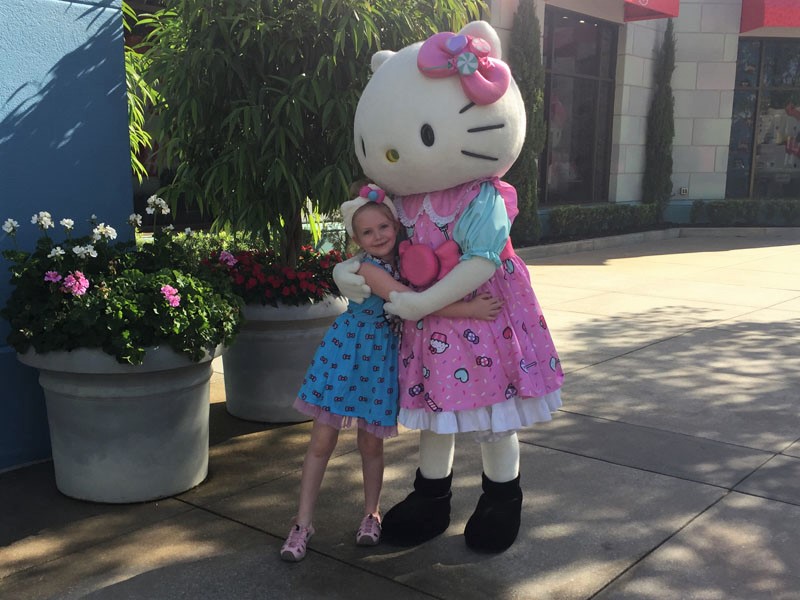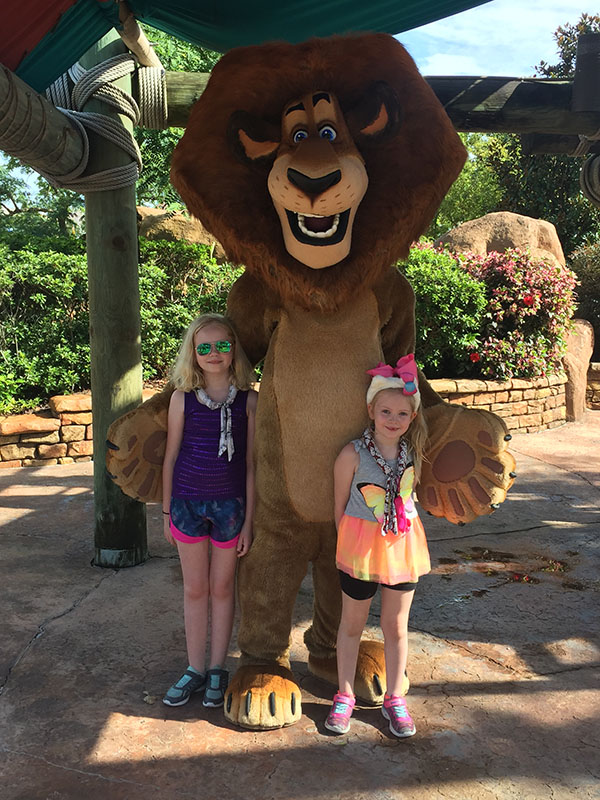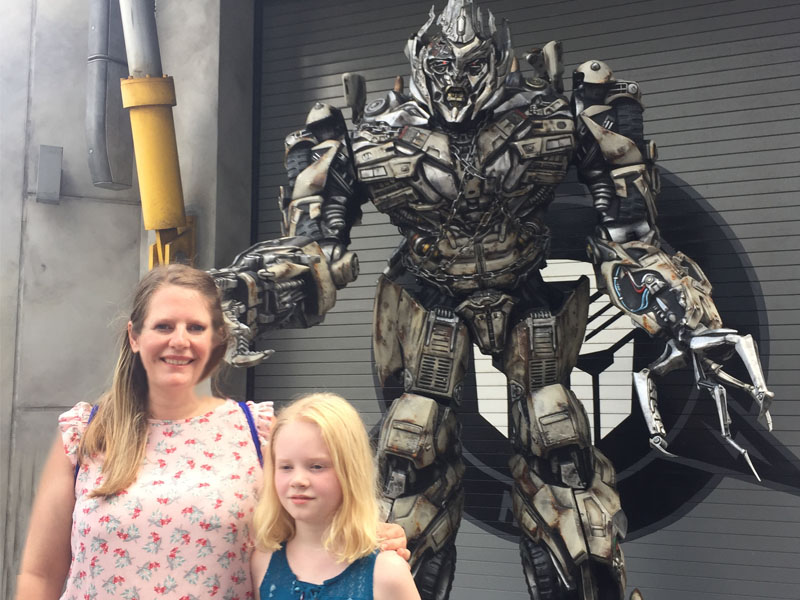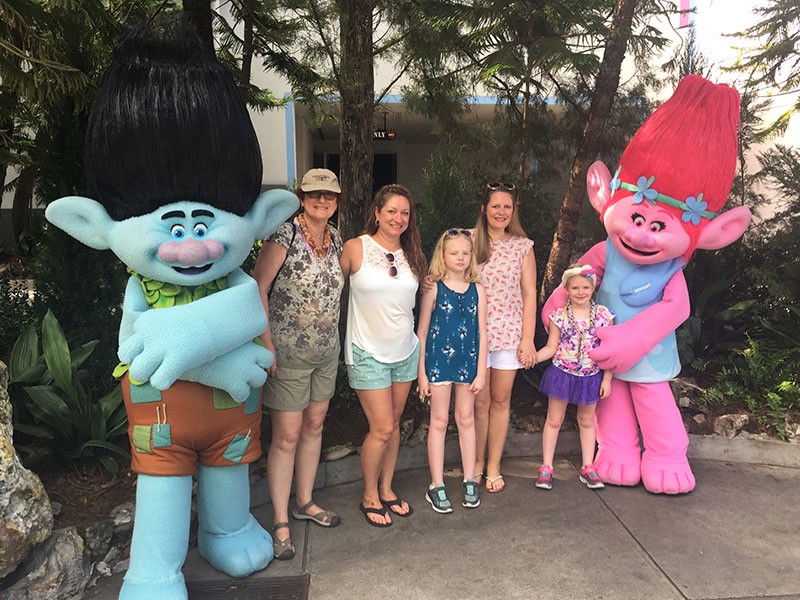 Olivia has that face like she is so over all the character pictures by now (because we did A LOT of them, we just kept running into people) and just wants to ride the big rides already!
There are also Character Zones if you are looking for particular characters. Sometimes these zones will be a dance party with your favorite characters, story time or just picture opportunities. We ended up taking pictures with way too many characters to count! While we were busy dancing with the Minion crew, my sister ran into Beetlejuice and took a selfie with him. So you really just never know who you'll see!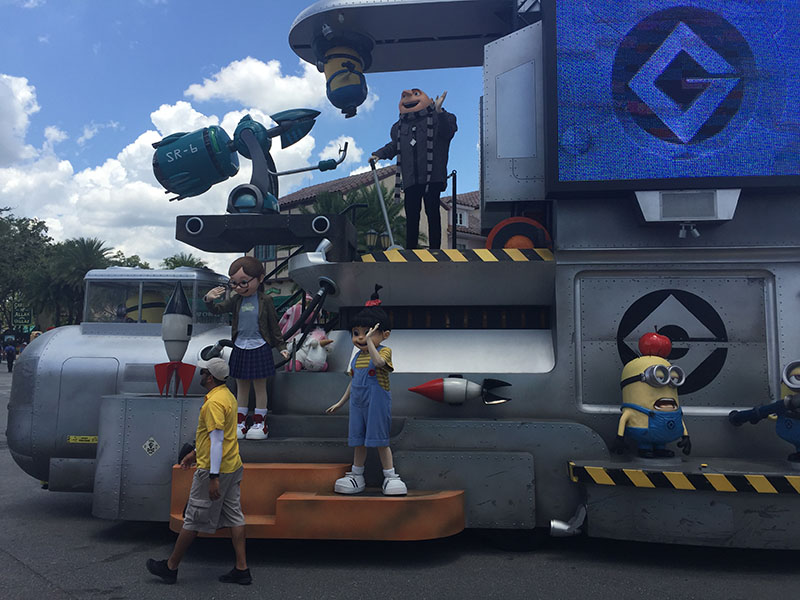 Shows and Extras
One of the advantages to having so many days at the parks is we were able to do it all. Besides riding our favorite rides multiple times, we were also able to do the shows. I know a lot of times, with a quick trip, the shows can get overlooked. Even if you are planning a quick trip, there are a few shows worth taking the time to go see. These are:
Animal Actors on Location!
Universal Orlando's Horror Make-Up Show
Universal's Superstar Parade (only if you have young kids)
Oh! the Stories You'll Hear! (only if you have young kids)
The Eighth Voyage of Sinbad Stunt Show
The Mystic Fountain
You'll definitely want to take a stop at the Mystic Fountain located in Poseidon's area of Islands of Adventure. This is an interactive fountain, that talks back to you and squirts water at you. This fountain is very entertaining and even played a happy birthday song for my Mom on her birthday!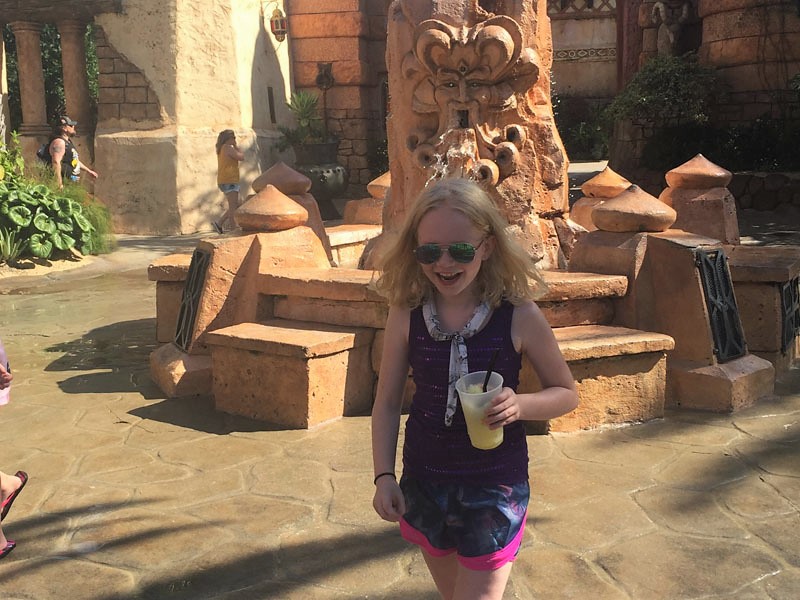 Raptor encounter
In the Jurassic Park area of Universal's Island of Adventure you'll have the opportunity to take a picture with a Raptor. This Raptor is very realistic in both sounds and looks! You'll definitely want to make sure you add this experience to your to-do list!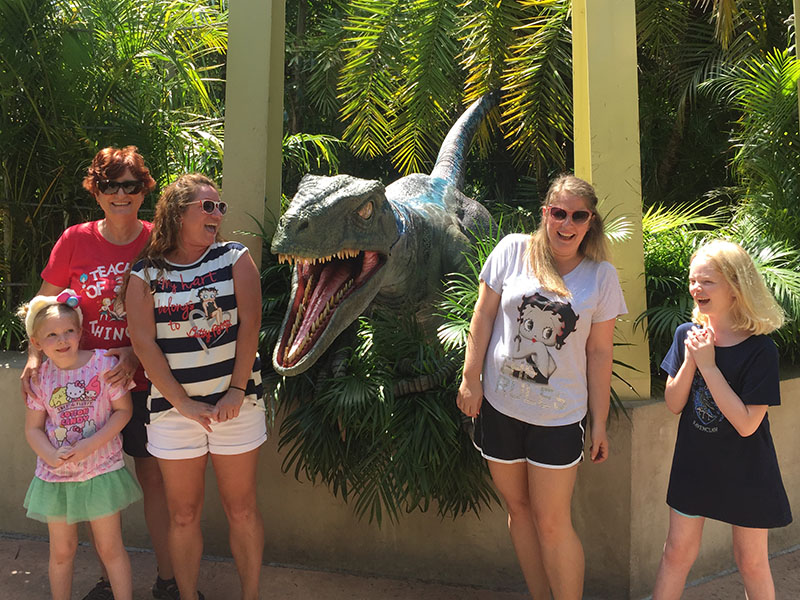 Where to Eat
Between City Walk and both Universal parks, there are so many great places to eat. It was impossible to try them all. But you should definitely add the Leaky Cauldron, located in Diagon Alley and The Toothsome Chocolate Emporium & Savory Feast Kitchen to your places to eat. Besides being able to get AMAZING milkshakes at the Chocolate Emporium, the atmosphere is amazing and you'll get to meet Professor Dr Penelope Toothsome, who is very entertaining.
Related: The Wizard's Guide to the Wizarding World of Harry Potter
If you're planning a trip to Universal Studios Florida, don't forget to save this pin for later!