We love this cucumber noodle Greek salad recipe. It's just as fun to make as it is to eat which makes it a kid favorite meal at our house.
Mainly because it has olives and we are a family who loves black olives, but no other type of olives.  So yes, we are "those" people.  Olives are so incredibly healthy for you so I don't mind that the kids (and me) eat them by the jar full.
This post contains affiliate links and I may earn compensation when you click on the links at no additional cost to you.
Ingredients To Make The Greek Salad Recipe:
2 Large Cucumbers
1 Pint Grape Tomatoes
Medium Green Pepper
Small Red Onion
Black Olives
Banana Peppers
Spinach (optional)
Your Favorite Greek Dressing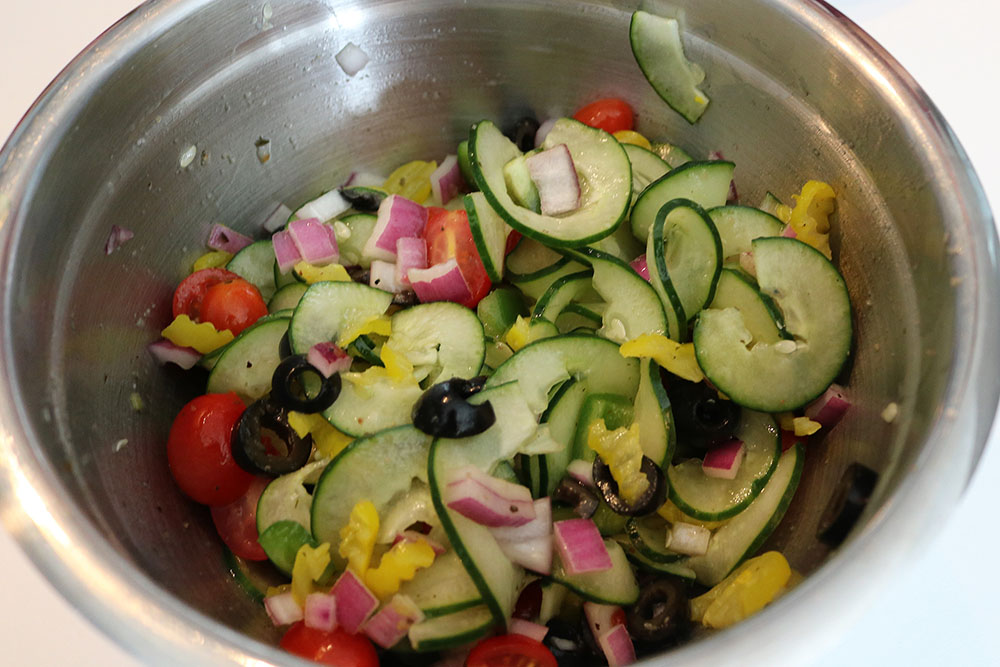 This recipe is so fun because it uses the spiralizer!
Spiralizing (is this a real word?) vegetables means my kids will eat more vegetables.  I actually never get to use this contraption, because every time I take it out, Abigail insists on stepping in.  She loves to spiralize foods and it's so easy that a 5 year old can do it!  The spiralizer can be used on so many different foods and it has multiple attachments so you can do just about anything with it; from spiral zoodles to ribbon cut vegetables and curly fries, the possibilities are endless.  Stay tuned for more fun ways we use this!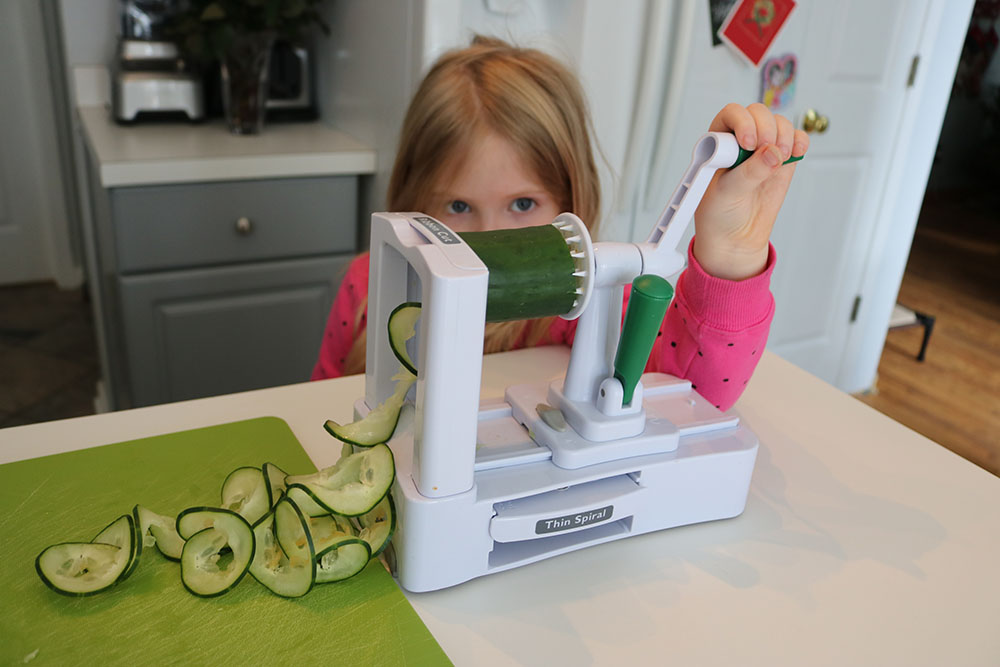 The food comes out super cute!
We used the ribbon attachment for the recipe this time, but the thin spiral attachment works for cucumbers as well.  If turning vegetables into fun shapes and sizes means my kids will eat more vegetables, then I am all for it!
Once the cucumber noodles are ready, just chop the rest of your vegetables.  I love the rainbow color of the foods.  And I love when food looks pretty.  But I mostly love the photo bomb.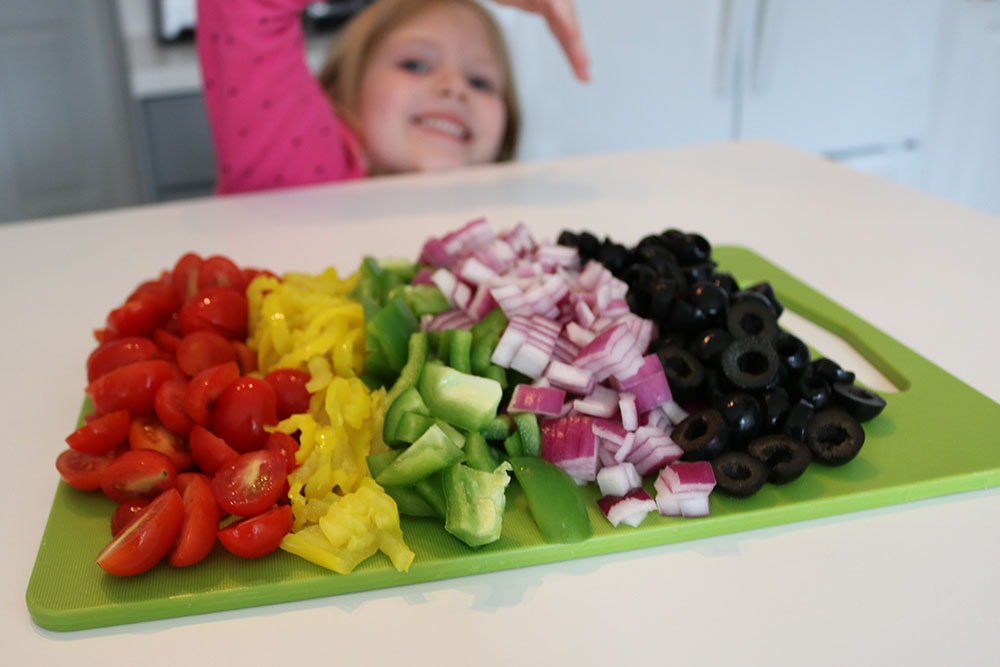 Now just toss it all into a bowl and throw in some Greek dressing
You can make your own or buy your favorite and mix it all together.  You can eat it like this or throw it on top of some spinach.  If you make a big batch of the veggies to have throughout the week, I suggest putting the dressing on as you eat it because the cucumbers will cause the mixture to get watery as it is stored.
If you are interested in picking up your own spiralizer, this is the one we use.
**Tip to make it more kid friendly.  My kids prefer this salad with just the cucumber noodles, tomatoes, black olives and ranch dressing so I separate theirs before mixing mine.
Let me know in the comments below and if you end up making this cucumber noodle Greek salad recipe.
Cucumber Noodle Greek Salad Recipe
Cucumber Noodle Greek Salad
Ingredients
2

large

cucumbers

1

pint

grape tomatoes

halved

1

medium

red onion

chopped

1

can

black olives

sliced

1

green pepper

chopped

1

cup

banana peppers

chopped

greek dressing

to taste

spinach

optional
Instructions
Cut the cucumber into quarters.

Secure the spiralizer to the counter, then spiralize each section of the cucumber. Add to a large mixing bowl (cutting any super long noodles if needed).

Chop your vegetables and add to the bowl.

Pour the dressing over the veggies and toss to coat.

*Optional - top on top of spinach

Serve immediately or store in the fridge for up to 4 – 5 days.
Related: Kid Friendly Dinners