The HelloFresh meal subscription box is full of creative recipes and the best part is that you can get your first box for $40 off!
For the last year (more like 2 years), I have been in a major cooking rut.  Somehow, my once over eager cooking enthusiast self, turned into a frozen food or take out addict.  As much as I love to blame our busy schedule for this, I know the major issue is that I became so off track, that I didn't know how to get back on.  Meal planning and grocery shopping started to feel like a chore to me.  It took mental strain just to figure out what I could possibly even come up with to cook.  My children being picky eaters, didn't help the situation any.  If anything, they made me want to cook box macaroni and cheese every night and call it a meal.
I really wanted to start cooking healthier meals for the family.  I just didn't know how to get back on track.  Then my mom sent me a referral link for HelloFresh, a meal subscription box service.  I thought, I'm going to take this amazing offer and relieve myself of the mental stress of meal planning for a week.  My plan was to get the super cheap groceries and then cancel after the first week.  Well, I didn't cancel, keep reading to find out why and to find your own recipe inspirations.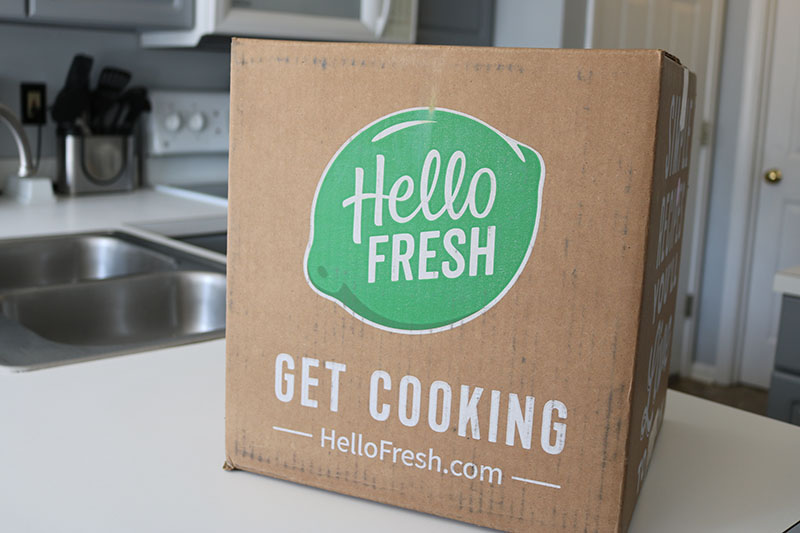 This post contains affiliate links and I may earn compensation when you click on the links at no additional cost to you.
Just like my mom did for me, I am sharing my referral link for $40 off your first week with you.  This offer will get you 3 meals for 2 delivered to your doorstep for under $20.  Or you can do 2 meals for 4 for under $30.  If you so desire, you can cancel right after receiving your shipment.  There are no further obligations when using this referral link.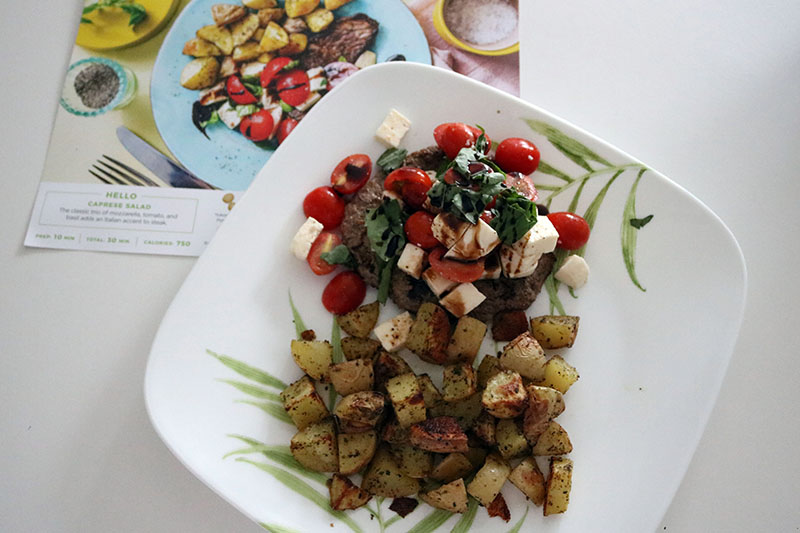 (Steak Caprese with Mozzarella, Tomatoes and Herbed Potatoes)
Here are the reasons I continue my HelloFresh meal subscription box service:
It brought back my desire to cook.  By taking the stress of meal planning and grocery shopping away, I am able to enjoy cooking again.  Even better, Abigail loves to help me out.  She washes all the veggies, while I chop.  As a mother, I feel like I should help my children develop a love for cooking, so I feel so grateful that this meal subscription box is helping me to do this.
The meals are quick and easy to make, but still creative and delicious.  Each meal comes in it's own bag.  Everything you need (minus salt, pepper and oils), except the meat, is in that bag.  When your box is delivered, you just need to place the bags and meat in the fridge.  Imagine the convenience of pulling a bag out of your fridge full of all the ingredients and recipe card needed for your dinner that night.  It's quite amazing.  The average time for each meal is about 30 minutes from start to finish.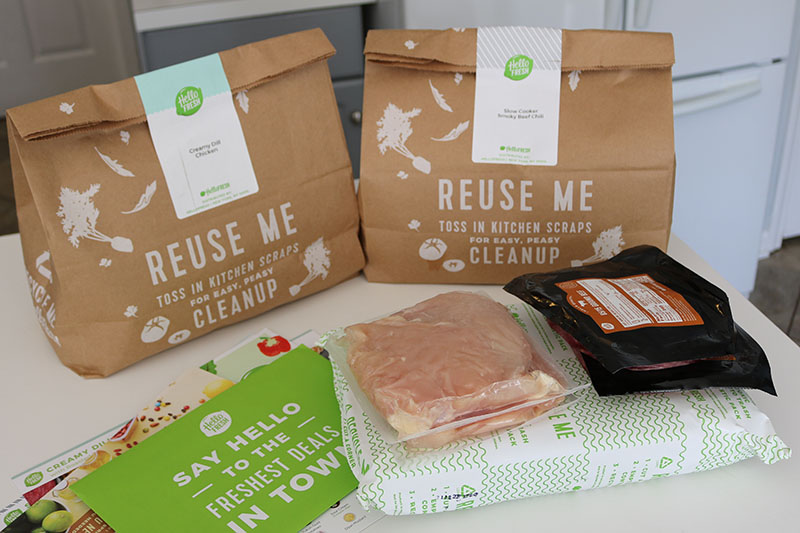 My kids, who are picky eaters, love the meals.  I wanted to try some of the recipes for the meals for 2 one week.  I figured the girls wouldn't mind having their favorite lunchable or macaroni and cheese again a couple nights, but they wanted my food instead!  Next time I will double the order when doing the meals for 2.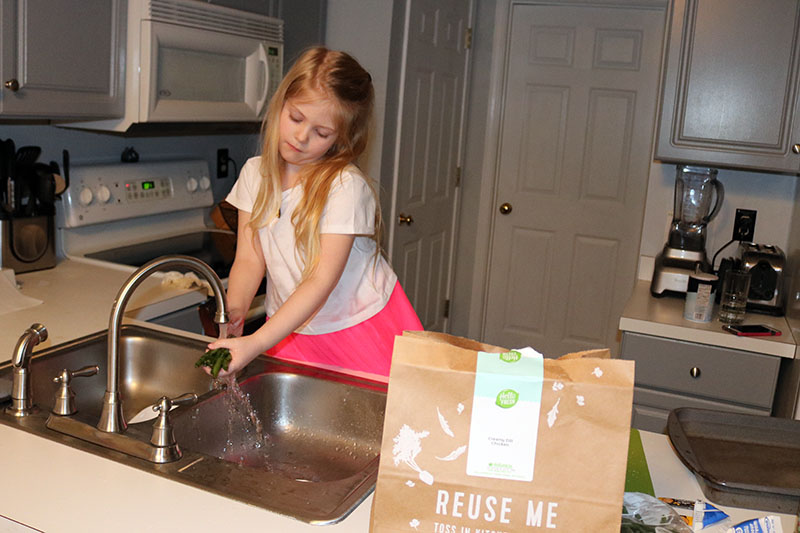 The portion sizes are very generous.  I struggle to finish the portion sizes in the HelloFresh meal subscription box.  When we order for 4, there are enough leftovers for my lunch for the next day since the girls don't eat a full portion size.
(Tuscan-Spiced Shrimp and Orzo with Roasted Tomatoes and Crispy Breadcrumbs)
The ingredients are fresh and high quality.  HelloFresh only delivers on Mondays which concerned me how well the food would hold up.  The meat is packaged separately, so this is able to be frozen if needed.  I have cooked meals later in the week on Friday and the vegetables and fresh herbs are still fresh.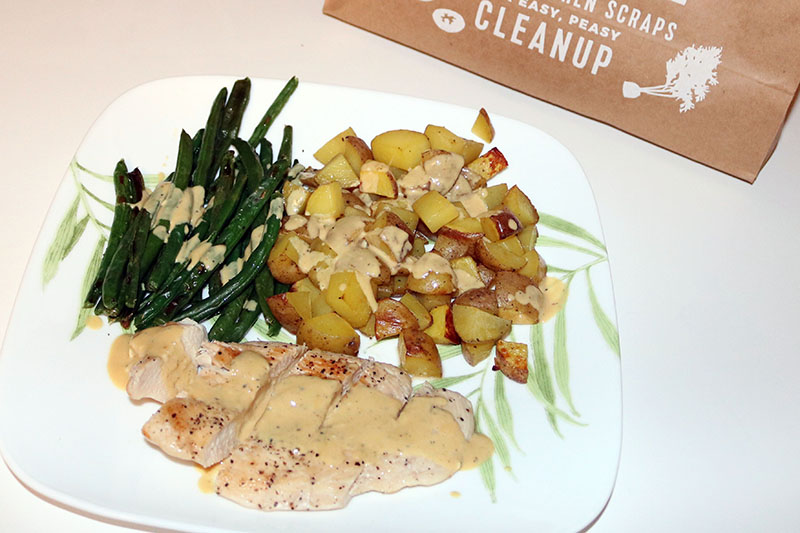 (Creamy Dill Chicken with Roasted Potatoes and Green Beans)
It can help save money.  Having meals already in the refrigerator, makes it easier to ditch all the take-out we were eating before.  I am excited about coming home, grabbing my bag and cooking.  The temptation to drive through somewhere is gone.  It also helps from needing to make multiple trips to the grocery store a week where I leave with a bunch of random stuff.
 Who would benefit from a HelloFresh meal subscription box service?
If you are in a cooking rut
Those who love trying new recipes
Families who are busy with a lot of after school activities
If you hate meal planning and/or grocery shopping but love healthy, home cooked meals
If you are trying to eat out less or less take out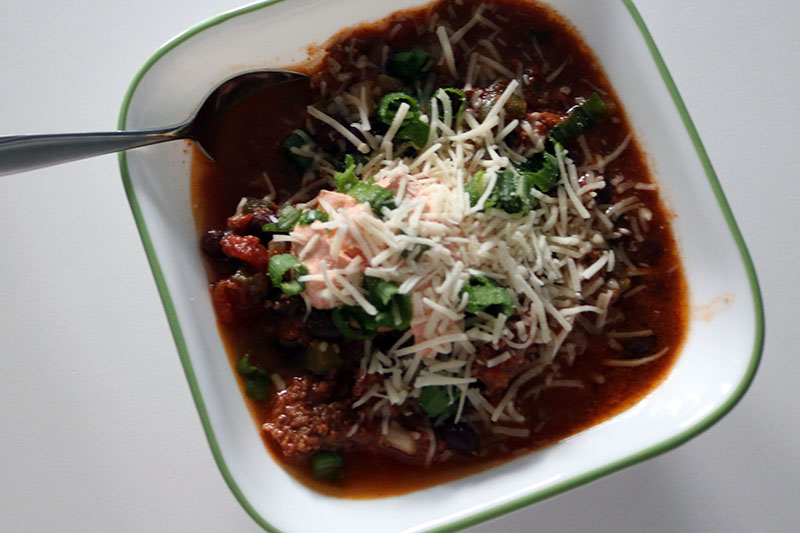 (Slow Cooker Smoky Beef Chili with Black Beans, Crema and Corn Tortillas)
Save $40 off your first week with no obligations
There is only one way to know if HelloFresh is right for you. Try the service for yourself!  HelloFresh makes this easy to do by offering a friend referral link when you sign up. I am happy to share the link I received when signing up with all of our readers for $40 off your first week.  You literally can cancel right after if you aren't immediately sold so there is no risk.  Just a week of super cheap, amazing meals delivered to your door!
(Swedish Meatloaves with Mashed Potatoes, Roasted Carrots and Currant Jam)
If you loved reading this meal subscription box review, you can find more of our favorite subscription boxes to read about here.