Whether you have heard of the Kidpik subscription box or not, you probably haven't heard how easy it is to get these boxes for free! Find out here!
We love getting the Kidpik subscription box in the mail every season! But lately, we've been loving it even more since we have been getting these boxes for free! It's so easy to do and anyone can sign up to receive their Kidpik subscript box for free! Keep reading to find out how to get your boxes for free.
This post contains affiliate links and I may earn compensation when you click on the links at no additional cost to you.
What is Kidpik?
The Kidpik subscription box is a fashion club for girls, sizes 4-16. Depending on the service you choose, you will receive a box either every month, 1 a season (4 total boxes a year) or 2 a season (8 total boxes a year). Each box will also come with a pair of shoes, unless you request for them not to. We happen to think the Kidpik subscription box has some of the cutest shoes ever so we choose to get them.
Each box will contain 7 different items. What those items are, will vary each month. You can see everything that came in Olivia's summer box in the video below.
Here are all the items that were in Abigail's summer box:
Before you are sent your boxes, you or your child will take an online style quiz to make sure your child gets the perfect outfits for them. This is why the boxes my girls get look so different!
Related: Spring 2018 Kidpik Unboxing and Review
Olivia is more basic and casual in her styles. And no, she didn't "blink" in this picture, she intended for the picture to be this way. Isn't it so funny how kids are always developing different traits and phases?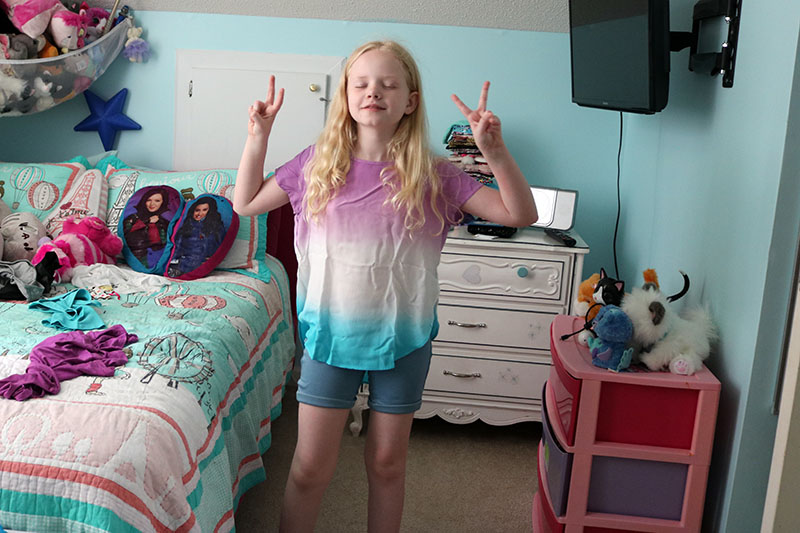 Abigail is all pink and sparkles and girly. In fact, she will never receive shorts or pants in her boxes because we were able to request this as an option! But we can go back and change that at any time.
I love how the Kidpik subscription box can fit both girls personalities as different as they are. And because each girl is so different in their styles it means the end of the hand me down days are over. Which makes it that much cooler that it is so easy to get so many Kidpik clothes for free!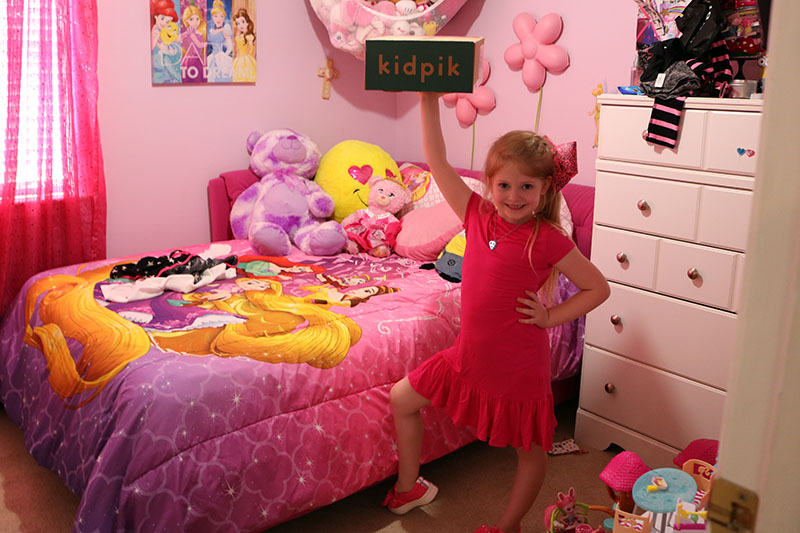 How to Get Your Kidpik Subscription Box for Free
Kidpik offers a referral program for anyone and everyone! It is free, simple, and your free clothes add up quickly. This is because with the referral program, you can offer your friends and family and every kid in the dance studio (any sport or office friends will do as well) a $15 off coupon for their first box. You can't find Kidpik coupons anywhere so people are so excited to get this offer and will thank you! When your referral uses their coupon on a purchase of $40 or more, you get $15 in Kidpik credit! There is no limit to the amount of referrals.
What makes the Kidpik referral service great?
It is free to sign up and free to receive your box of clothes! You can literally get your Kidpik subscription box, take your pictures or videos and send the clothes back. And you will never be charged as long as you send them back on time. Just a warning though: your kids will probably love the clothes too much to send them back. So be prepared for this and go ahead and active the $15 off coupon in case you end up wanting to keep them. You won't be able to later add this coupon once the clothes have been sent.
Kidpik has a GREAT return policy
Kidpik will provide you with a fully addressed and paid envelope for returns and/or size exchanges. All you have to do is take it to the post office within 7 days of receiving your clothes and you will never be charged (not even postage fees). You even get to keep the free gift which is included in every box. There is an online checkout once you receive the clothes. You mark each item for keep, return or exchange for a different size. It's really easy!
I ended up sending Abigail's entire Kidpik spring box back because it wasn't a great fit for her. The process was easy (and I hate returning stuff) and I never got billed for hers. We were disappointed though as we were expecting to keep the clothes so I sent a message via Facebook. The response was quick! She had me make a couple tweaks to Abigail's quiz profile and then they NAILED the summer box! So if you aren't in love with the clothes, send them back, tweak your quiz and try again. It doesn't cost you anything!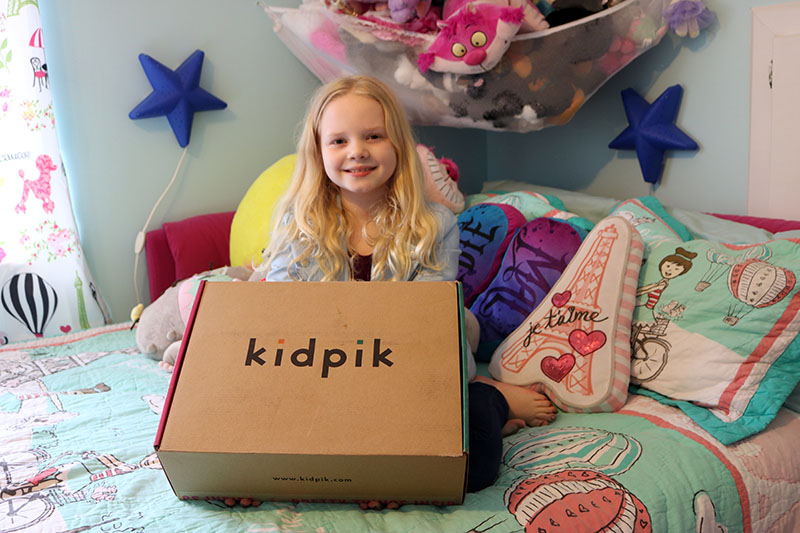 What To Do?
Sign up for Kidpik.
Take the online style quiz.
Get your box in the mail!
Using your phone or a camera, record either you or your daughter doing an unboxing video. You can see examples and Olivia's here (spring box) and here (summer box).
Have your daughter try on the clothes and take a lot of pictures.
Decide if you will keep the clothes or send them back. If you keep them, you'll get $15 off if you used the referral link. If you send them back, you'll pay nothing and keep the free gift!
How to Share Your Links:
Now that you have the basics down, you'll want to share your link. Although my blog and daughter's YouTube channel help promote my link, I have also received a large sum of credits just from people I know and tell personally! Some ways to share your link are:
YouTube
If you have a YouTube channel, you'll want to post your video here. Even with a small or no following, you can still get views this way. Many people search for unboxing videos before purchasing and will come across your video this way. Make sure to leave the link in your description and give a call to action in your video, letting them know to click the link in your description for $15 off.
Blog
If you have a blog, even a personal blog with only close friends and family, you'll want to create a post there. Again, include the link and let your readers know they will get $15 off!
Facebook & Twitter
Using your personal Facebook and Twitter page is a great way to share your referral link. Your friends will be glad you did and the grandparent's always love see videos of the kids anyway. Just post your video and the link. Set your video to public for a further reach. Facebook is good about sharing videos to similar audiences and that video will continue to grow in views!
Instagram
Instagram can be a little more difficult because you can't directly insert a link in your post. You can paste the link in your bio through the settings and direct people there to click the link. Or you can leave it in the description with your picture and ask your friends to copy and paste the link. The nice thing about Instagram is the ability to use hash tags to connect with more than just your friends.
Pinterest
Create a pin with a call to action (click here for $15 off your Kidpik box) and link the pin directly to your link! Watch the pin get repined over and over again!!
Related: Subscription Box Reviews
I hope this information helps you collect a lot of free clothes for your girls at home! The girls love receiving their Kidpik subscription box in the mail! It's a lot of fun and excitement for us all!