This post may contain affiliate links. Please read the disclosure policy for more information.
We were so excited to receive our first subscription box from the Steve Spangler Science Club.  Both girls are really into exploring and trying different science experiments.  You can tell from their YouTube videos, that we aren't afraid to get a little messy and try new things!  So when the girls opened their box and found out they were making instant snow, they were super excited!
The Steve Spangler Science Club is a monthly subscription box that is delivered to your door.
Each box contains 1 – 10 STEM-based experiments, depending on which level you choose.  There are 3 levels to choose from to fit your needs.  Each month is a complete surprise as to what you will receive.  You can order month to month, or in 3 or 12 month increments.  You can also send this subscription box as a gift if you are looking for a really cool gift idea.  To learn more about the Steve Spangler Science Club, visit their website.
With summer break just around the corner, this is the perfect time to sign up for the 3 month membership.  I know we are looking forward to staying on track with learning and playing this summer with these fun STEM-based experiments!  I love that each month, they are delivered to our door!  The kids love the surprise of not knowing what they will get.  It seems that surprise toys and boxes are all the rage lately.  But, seeing the excitement on their face when they discovered their experiment in their science box, totally got me on board with the surprise aspect as well!  That morning, we had no idea that later that day we would be making snow, in 70 degree weather!
Inside our Steve Spangler Science Club Subscription Box:
We received the Stem Deluxe kit and the box came full of stuff to do.  I love that it comes with a booklet to explain the science behind the instant snow and several experiment ideas to try.  There are also questions to answer based on several observations which make this the perfect science project for the homeschooling moms.  My daughters especially found it neat to learn that this is the same way snow is made in Hollywood for movies.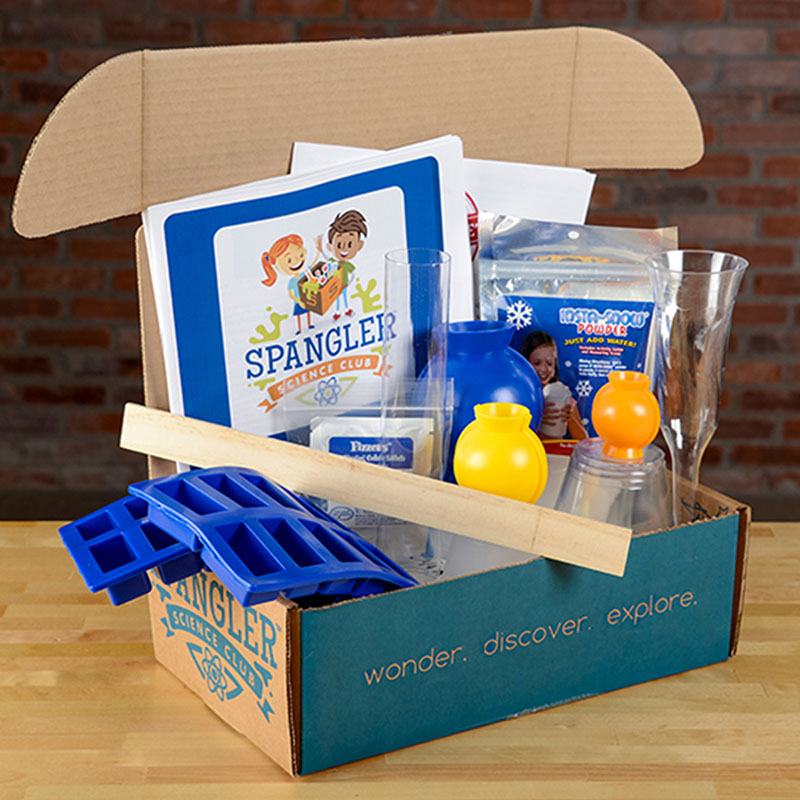 The first experiment is to simply make snow.  The instant snow is a super absorbent polymer.  When it comes in contact with water, it expands to 100 times it size!  This is really cool to watch!  The experiment is really easy for kids to do themselves as well.  Watch our video, it is also posted below, to see just how cool this is!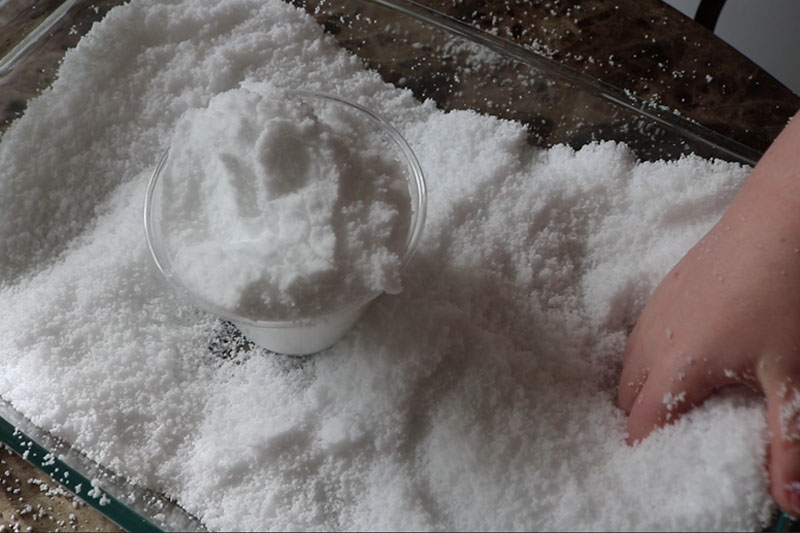 The texture of this snow is really neat.  It's super addicting and you just want to keep playing with it.  In the box, there are multiple cups to make snow in. It's so fun to watch as the snow erupts out of the different shaped cups.  The girls even had fun helping each other make snow in their hands.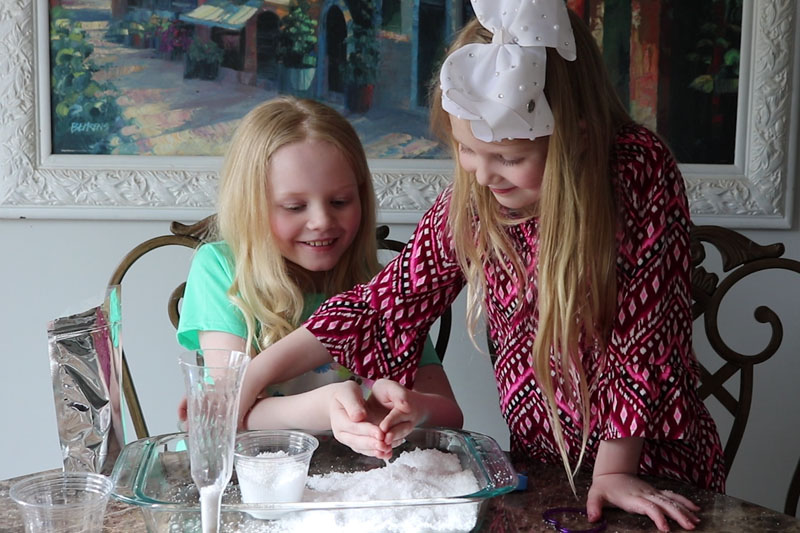 It's recommended to place some sort of tray underneath to keep everything clean.  Which helps to keep your work space nice and tidy.  Unless of course your kids should decide a snow storm should come through.  But the good news is, this stuff sweeps right up!  I know from personal experience.  But maybe this could also be a fun outdoor experiment if your kids like to get crazy like mine.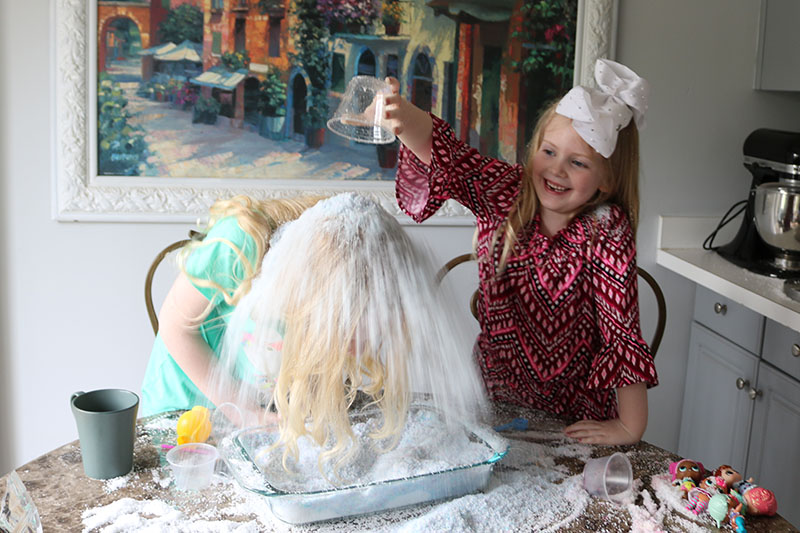 Where do you get Instant Snow?
If you are only interested in making your own snow and not in signing up for the monthly clubs, this can be purchased in several different sizes from Steve Spangler's website as well.  We still have a lot of this snow left over (a little goes a long way) and I am trying to come up with ways to use it for a Christmas card picture.  If you have any ideas for this, I would love to hear them!
One of the experiments the girls really loved, was growing colored snow.  We did this by adding the colored tablets provided to the water before pouring into the snow powder.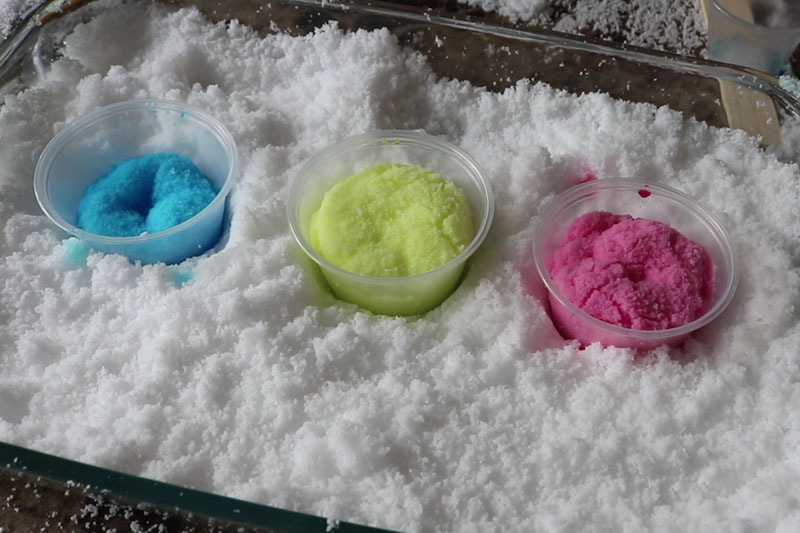 What was really neat about this experiment was the way we conducted it.  A wooden stick and sticky tape was provided for us to attach the cups to.  This way, we were able to pour the colored water into all the cups at the same time.  Experiments like this, help kids to think outside the box and to get more creative.  So I love that this is included in the experiment ideas!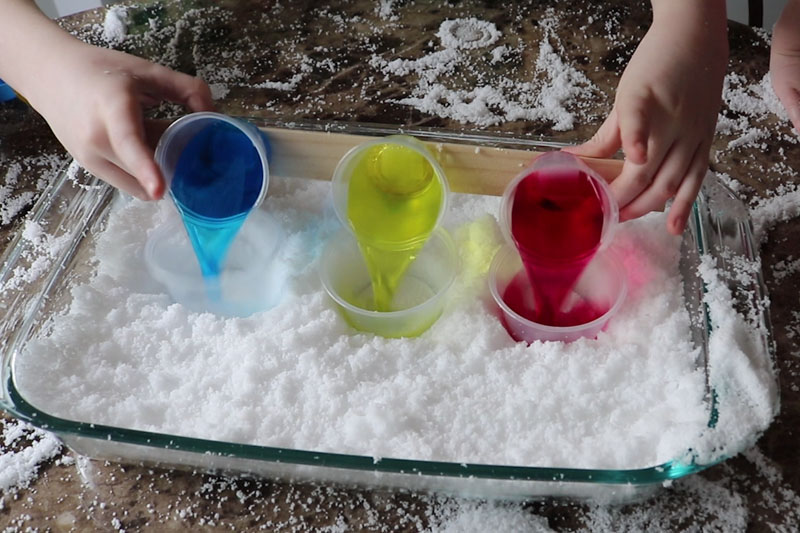 Follow us on social media or subscribe to our blog to find out what we get in our next 2 Steve Spangler Science Club boxes!  We are so excited!  Make sure to watch the video below to see just how cool this instant snow is!
If you enjoy reading about different subscription box services, you can read more of our reviews here.