This DIY mermaid slime is so fun to make and play with! Find out how to make mermaid slime for your next mermaid themed party or just for fun!
Slime has definitely been all the craze lately. So we jumped in to see what the fuss is all about. We have been practicing with DIY and store bought slime kits to find the perfect consistency to recreate our own slime recipe. We are finally ready to share one of our favorites with you, with a step by step guide on how to make mermaid slime.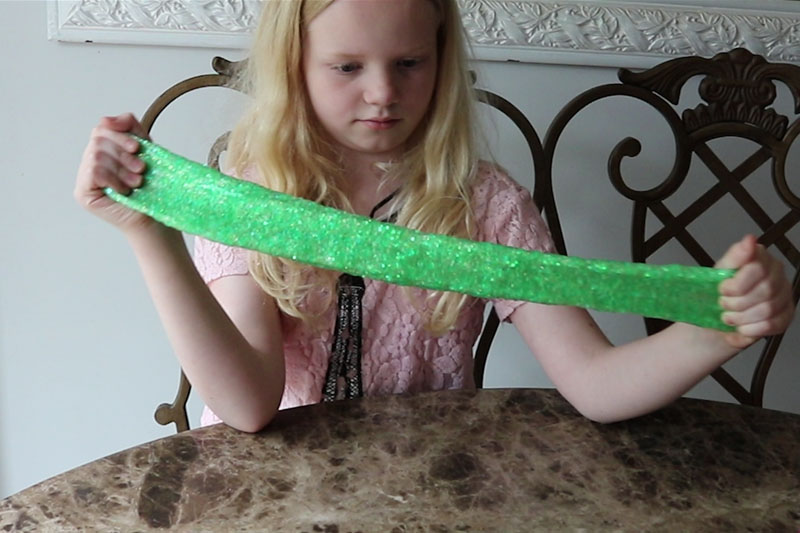 This post contains affiliate links and I may earn compensation when you click on the links at no additional cost to you.
This mermaid slime recipe is perfect for a mermaid-themed party. The clear and glittery look, make this mermaid slime resemble a mermaid tail perfectly! Or you can make this mermaid slime just for fun! When stored in an air tight container or Ziploc bag, this mermaid slime will last over a week!
DIY Slime vs Slime Kits
After trying several kits, we prefer to make our own slime. Most slime kits we have tried have been too sticky to even play with. You can see for yourself with this Glow in the Dark Slime Kit video we recorded. The only slime kit success we have had is with this slime case. The slime in this slime case was the perfect consistency and easy to make. We also love how it comes with different glitters and charms to customize your slime. The only downside is it is almost too easy to make and you miss out on the fun of making it. But you do end up with a great case to store all your DIY slime accessories in and slime to play with!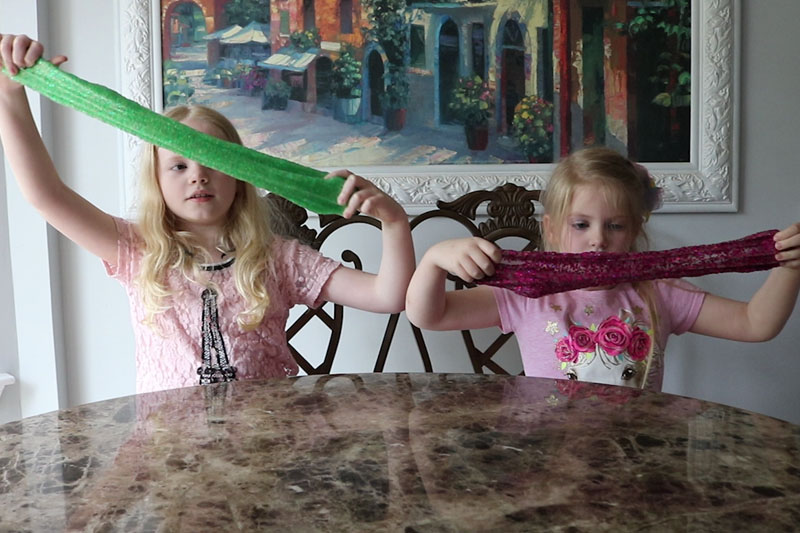 What is Slime?
The advantage to making your own slime is you get a little science lesson as well. Slime is a polymer (similar to the instant snow and oobleck we have made) because it has qualities of both a solid and a liquid. When you add boric acid to the glue, it counteracts the glue and forms the substance of slime which can be shaped and stretched. It is a lot of fun to watch as the contact solution (boric acid) turns the glue into slime. If you love a good science project like we do, you can find more science ideas here.
Ingredients for Mermaid Slime
Making slime is usually very inexpensive and takes very few ingredients. For the most basic slime, all you'll need is Elmer's glue and either borax or contact solution. You can then add and customize depending on the type of slime you'd like to make. Today, I am here to show you how to make mermaid slime.
For this mermaid slime recipe you'll need:
2 Bottles of Elmer's Glitter Glue. We made 2 batches and mixed the green and blue together for one batch and the purple and pink together for another. You could also use clear glue and add food coloring and glitter to it. White glue will work also, you just won't get the cool opaque feature like you do with the clear glue.
Glitter!! We used 1 small container of a larger sized glitter for each recipe. If you are using glitter glue, you could eliminate this to be more cost effective, but we love the look of all the glitter in this recipe.
2 TBSP of water. This step is optional. If you add the water, it will make your slime stretchier. It literally stretches for days!
1 – 2 TBSP of Contact Solution. It is very important that the brand you choose has boric acid and sodium borate.
1/2 TBSP of baking soda.
You can watch the full tutorial video here before you get started!
How to Make Mermaid Slime
First you'll mix your glues together in a bowl. We used all of the blue and half of the green. If you want more of a teal, you can use a little less green. Since the purple was such a small size, we used all of the pink and purple for the second batch.
Next, you'll stir in the glitter, followed by the 1/2 TBSP of baking soda and 2 TBSP of water.
Then it's time for the fun part! You'll want to slowly stir in the contact solution, starting with 1 TBSP. If you add too much, the slime will be very hard to play with. Like we did with this DIY Cotton Candy Fluffy Slime that we made.
You'll immediately start to see the mixture turn to slime. Once you see the mixture begin to turn to slime, but it is still very sticky, you'll want to mix it with your hands. This will keep you from adding too much contact solution. As you play with it, it will get less sticky. You can then add a few drops of contact solution here and there until it no longer sticks to your hands. But make sure you kneed and play with the slime for a few minutes each time you add more contact solution before adding more.
You'll want to store your mermaid slime in an air tight container or Ziploc bag. This slime will last at least a week, but ours lasted much longer!
You can find more DIY fun and inspiration here!
I hope you enjoyed learning how to make mermaid slime for all the mermaid obsessed fans out there! Don't forget to pin it so you can find this slime recipe later!