If you want to know more about the Mel Chemistry Science Subscription Box, follow along on as we try out multiple boxes, starting with the sugar snake!
My mom got us hooked on subscription boxes when she signed the girls up for the Little Passports subscription box last Christmas.  So when I saw that there was a chemistry subscription box, we had to try it! Olivia loves science and experiments so this box is perfect. I signed up for the Mel Chemistry Science Subscription box last summer. We received 5 months in the mail before I cancelled because we never opened the boxes. I guess we must have been a little too busy swimming. It happens.
But now, we have pulled all the boxes out and can't wait to see the experiments that await us. This post will be part 1 in a 5 part series. So stay on the look out to see what 5 months of a Mel Chemistry Science Subscription box will give you! PS – I am pretty sure you'll be able to do a lot of these experiments at home without the subscription box!
Each month, Mel Chemistry will send you 2-3 new experiments. But the first month, you'll receive a starter kit with your experiments. The starter kit includes general items needed for conducting Mel Chemistry subscription experiments.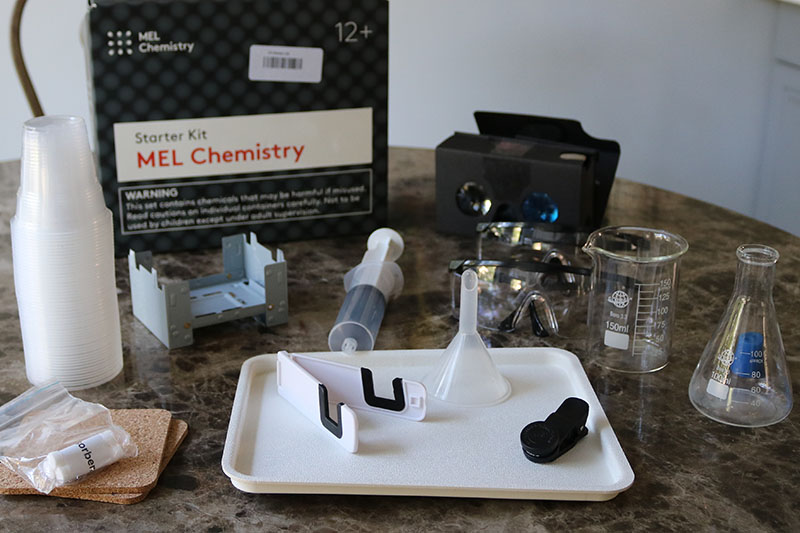 Mel Chemistry Science Subscription Box Starter Kit:
starter kit manual
virtual reality headset
plastic tray
flame diffuser
stove
two cork hot pads for stove
50 plastic cups
two syringes
150 ml borosilicate glass beaker
100 ml borosilicate glass flask
funnel
safety glasses (2 pairs)
smartphone stand
three rubber stoppers
macro lens clip for smartphone
I really love that the Mel Chemistry Science Subscription box comes with a smartphone stand and the macro lens clip. It is really cool being able to take different angles of the video by using this. Especially since Olivia also wanted to make a video for her YouTube channel. I am also including this video at the bottom of the post so you can see the experiments for yourself so don't miss it!
Chemistry of Monsters
The first box we opened in our Mel Chemistry box was Chemistry of Monsters.  It came with two different experiment cards to test out two different experiments.
The first experiment wasn't anything too entertaining. It was more for learning purposes to show that sugar doesn't burn easily to lead up to the more exciting of the two experiments. For the second experiment, we ground the sugar and mixed with baking soda and some fuel. Then watched a snake form out of sugar when lit! This was actually really neat to watch, but didn't smell the best. The reason why is explained in the Mel Chemistry app!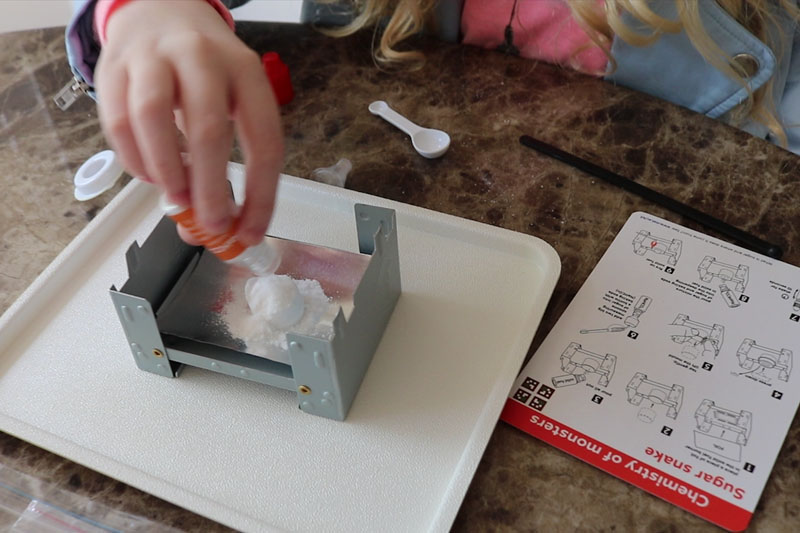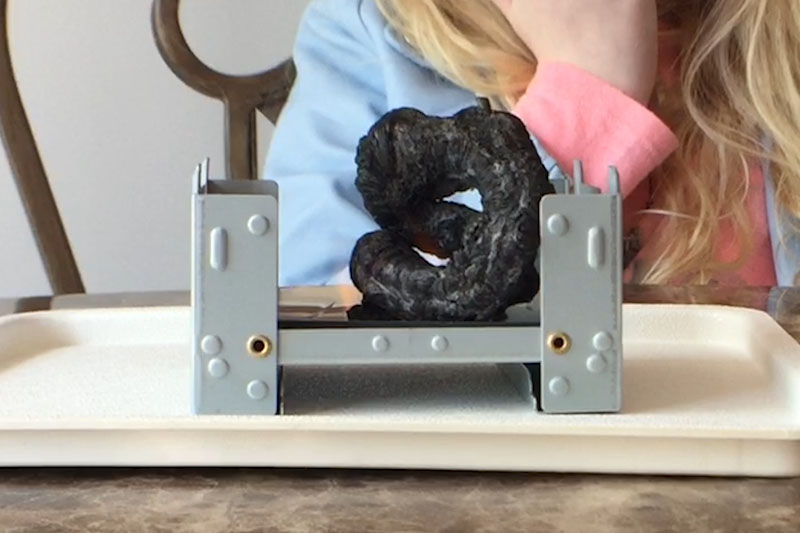 Tin
The second box we opened contained experiments relating to tin. We created both tin dendrite and a tin hedgehog. This one wasn't nearly as exciting as the sugar snake, but we still enjoyed it.
Besides having the easy to follow step-by-step experiment cards, Mel Chemistry also has a phone app.  The phone app is super cool because it explains all of the science behind the experiments you are creating. So if you want to understand the how and why of the chemistry experiment, the app has your answer! There are also videos so you can make sure you are doing your experiments right!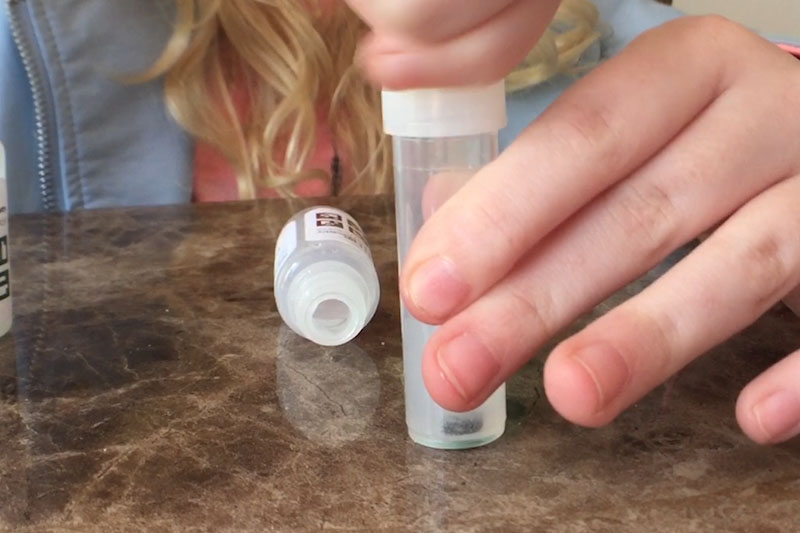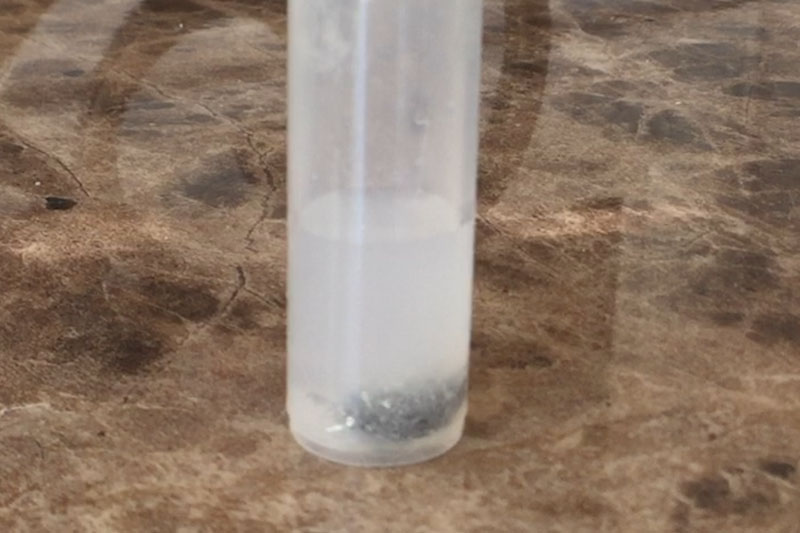 We really enjoyed part 1 out of our 5 series of experiments! Olivia was more into it than Abigail. This didn't surprise me though as Olivia is the one who loves to do science experiments. Abigail was pretty in "awe" of the sugar snake. But less impressed by the tin hedgehog. The Steve Spangler Science Club boxes are more age appropriate and fun for Abigail.
The Mel Chemistry Science Subscription box is ideal for an older age as the box suggests 12+. Olivia (age 9) was able to follow all of the instructions herself and complete everything except the fire part herself. But, this is still a subscription box where she needs to be supervised because who knows what will be in the upcoming experiments! We are more than excited to find out though! And it's pretty cool we don't have to wait a whole month for another box, we can just pull it off the shelf.
See the experiments for yourself, watch the video below! If you find her channel entertaining, please subscribe so you don't miss any upcoming videos!
Pin this post for later so you can come back and find the ingredients to make your own sugar snake without the subscription box!