We were able to stay in a really neat studio apartment in downtown Savannah at a great price thanks to the Airbnb coupon code for $40 off!
I used Airbnb for the first time just the other week on a weekend getaway to Downtown Savannah.  If you aren't familiar with Airbnb, it is a website where you can rent vacation homes, apartments and rooms around the world for whichever length of time needed.  Airbnb is offering a $40 coupon code off your first booking.
 photos taken from Airbnb's website of actual rentals they offer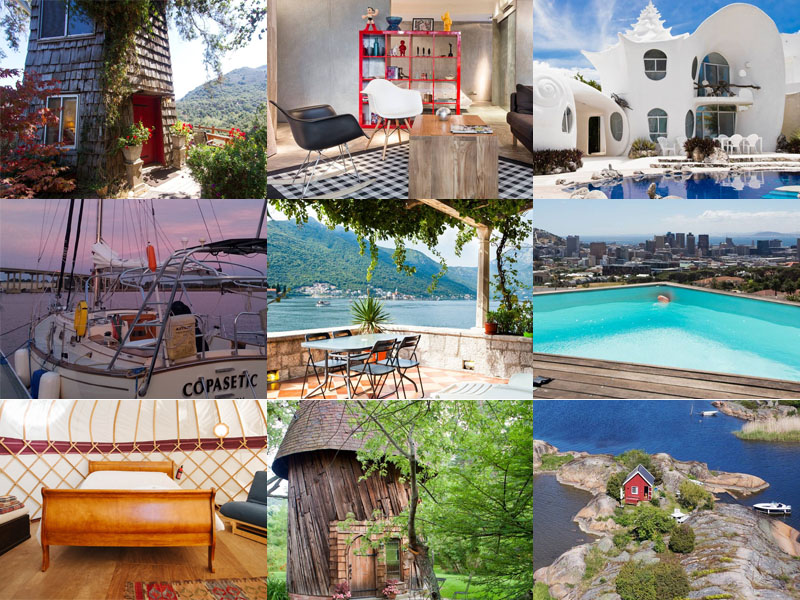 This post contains affiliate links and I may earn compensation when you click on the links at no additional cost to you.
If you just want the $40 Airbnb coupon code click here but keep reading if you want to learn more about Airbnb and places to visit in Downtown Savannah.
What I like about Airbnb Rentals
When renting through Airbnb, you have a lot more options than when booking a hotel or cabin.  You can stay in some really cool places like a studio apartment in a central downtown location, on a boat or hobbit house.  You can book a room in a mansion, stay in some amazing architectural designed buildings, a penthouse or in a house on a private island.  The options are pretty much endless and the cost is cheaper than most hotels.
Our room matched the pictures from the website and the description completely.  The room was clean and everything we expected it to be.  Although the idea of staying on a boat was enticing, we decided to go with location for this particular trip and rented a studio apartment in Downtown Savannah.  By we, I mean this was given to me as a Valentine's Day gift so I had nothing to do with the planning and instead got to enjoy it all.  If you are looking for a great gift idea, booking a unique vacation through Airbnb is the way to go!  I loved receiving this as a gift!  They offer gift certificates as well.
The location was absolutely perfect!
We were walking distance to everything we wanted to visit; Forsyth Park, River Street, the nightlife and Historic areas.  We couldn't have gotten a better location or price had we stayed in a hotel.  Plus, we got to enjoy all the southern charm of the building that Savannah is known for.
the front entrance of the studio apartment
the shared back entrance of the studio apartment
This apartment is located just around the corner from the house from the ever popular movie, Midnight in the Garden of Good Evil.
Downtown Savannah Guide – Where To Visit
There are so many places to explore in Downtown Savannah.  If you are there for a quick trick, I recommend renting a bike so that you can cover more ground.  They have electric bike rentals so you don't even have to break a sweat.  They are so fun also and went faster than I expected they would go!  We rented our bikes from Adventure Tours in Motion.  They offer guided Segway tours as well if you prefer to have a guided tour.  One of the unique features about this rental place, is all the fun helmets to choose from.  If you are going to explore Downtown, you might as well do it in style right?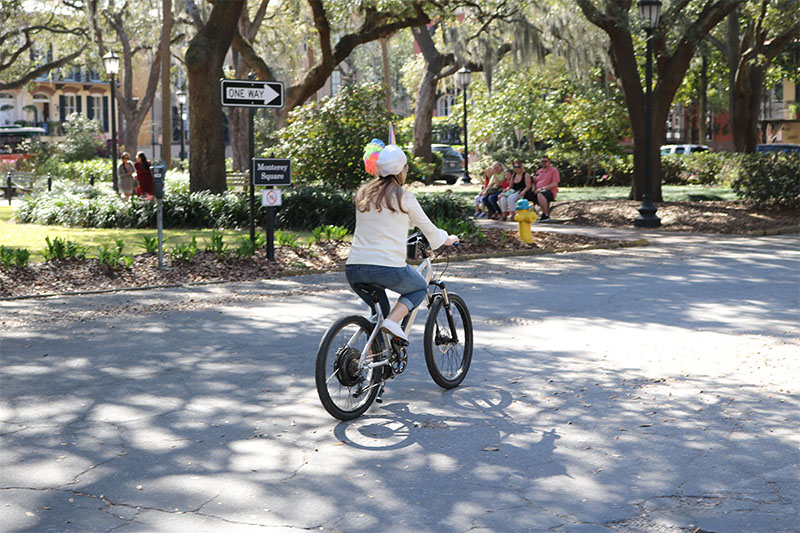 These helmets were the cause of several random conversations we never would have had before, making the experience all the more fun!
River Street
River street is a must see destination while in Downtown Savannah.  The cobblestoned walkways and beautiful riverfront will transport you to the past.  Here, historic buildings are now delicious restaurants, stores and coffee shops.  And while this may not be different for some, for me it was a whole new world getting to walk along the river with an adult beverage.  The coffee shops and bars offer drinks to go and the laws allow you to carry those around as you enjoy the scenery and riverfront.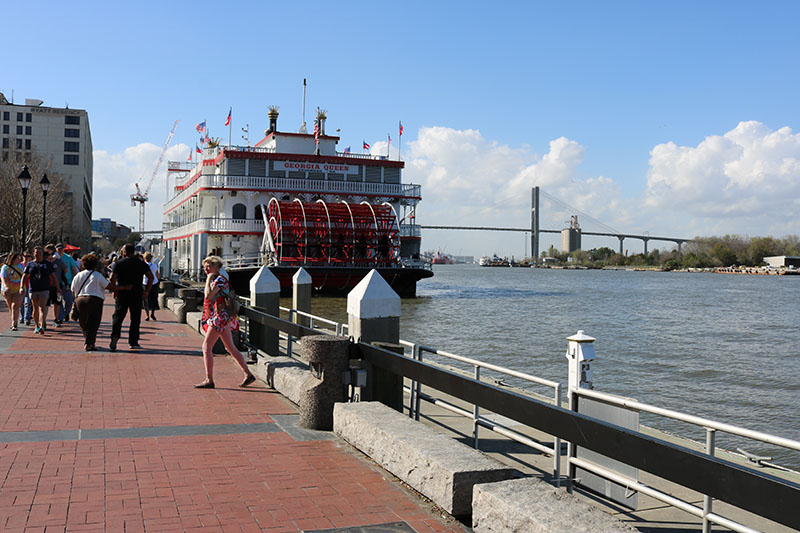 Historic Squares
The 22 squares in Savannah provide locals and visitors with a little greenery amid all the businesses and historic houses.  These squares are surrounded by some charming churches, historic homes, enchanting inns and museums and are all shaded by huge live oak trees.
Broughton Street
If you're looking for nightlife in Savannah or unique restaurants, you'll find them on Broughton Street.  You'll also find local boutiques and well-known retailers lined up for your enjoyment!
Historic Houses
Most buildings in Savannah are enchanting and full of Southern charm.  Besides feeling transported to the past, there's a lot of history as well and is fun to explore and see the unique architecture of the houses.  If you have ever been a Girl Scout, then you'll need to add stopping by the Juliet Low house (founder of Girl Scouts) on your tour of Historic Houses.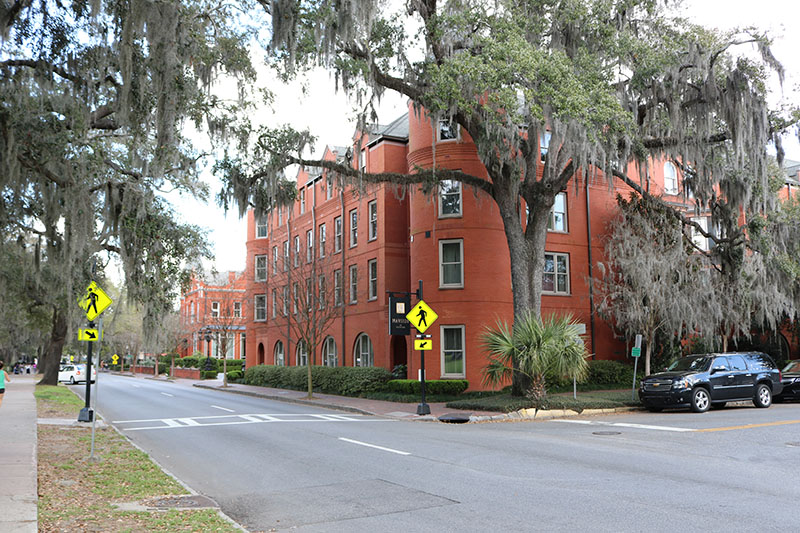 Forsyth Park
This park is located at the edge of Downtown Savannah.  With live music and food vendors, it's the perfect way to spend a Saturday afternoon.  You'll also find tennis and basketball courts, playgrounds and shady spots to rest.  We viewed locals sunbathing, taking fitness classes and playing card games while enjoying live music on a mid-afternoon Saturday.
Ghost Tour
Savannah is know as one of the most haunted cities in America.  This city offers several different ghost tours which will take you to different locations and share the history behind Savannah's haunted reputation.  Each tour will be different.  Some will offer more history and others more ghost stories.  It all depends on your preference, just make sure you book at least one of the ghost tours while in Savannah.  You'll learn a lot of interesting things.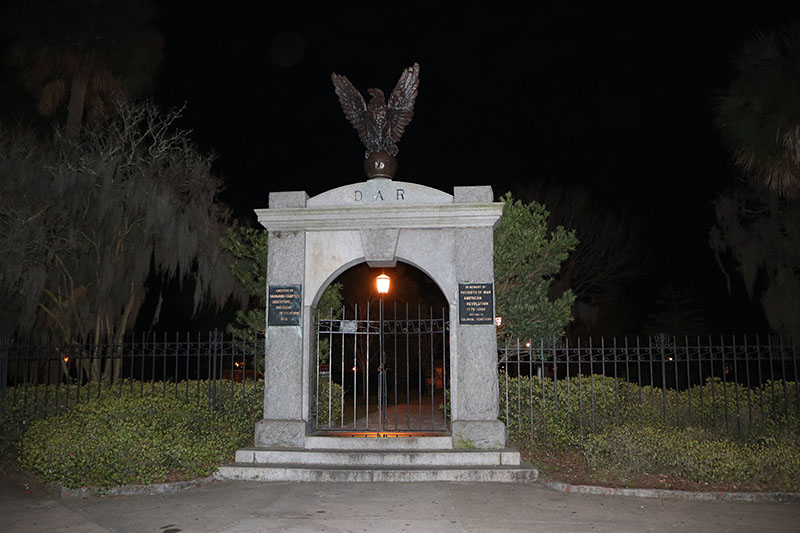 Yes, you read that right!  The Hearse has been slightly restored to incorporate elevated seating so you can view out the top of the vehicle.  But other than the few restorations, imagine riding in the back of a real Hearse that was in service for more than 15 years!  We cruised over the cemeteries and through the beautiful streets of the Historic and Victorian districts. Learning of the spirits and ghosts that are believed to haunt Savannah.  We had a great time and would recommend this tour.

The Pirates' House Restaurant
The Pirates' House Restaurant is located in Savannah's historic district and sits on the oldest and reportedly most haunted building in Savannah.  For many years, ghost stories have been told around Savannah regarding all the hauntings which take place at the Pirates' House Restaurant.  The building which houses the restaurant, is over 250 years old.  You can learn more about the history on one of the many ghost tours.  Besides eating at one of the most haunted places in Savannah, the menu is full of delicious Southern entrees.
Downtown Savannah is a really neat place to visit.  If you are into history and love feeling transported back centuries, you will enjoy exploring the streets of Downtown Savannah.  We are looking forward to exploring new areas and finding unusual places to stay in future rentals with Airbnb.  We loved how fun it was to feel as though we lived in a studio apartment in Downtown Savannah for a weekend and can't wait to try something a little more unusual next time!
Save your $40 Airbnb coupon here to enjoy on your next adventure.