You have probably seen the wet head board game in the toy isle, but have you taken the wet head challenge? Now's your chance!
Have you heard of the wet head board game?  You have probably seen it in the kids toy isle, but believe me when I say this game is not just for kids.  This game is brilliant.  It is a water roulette game, but can be customized to be so much more!  It's fun for both kids and adults and makes a great social activity as well.
This post contains affiliate links and I may earn compensation when you click on the links at no additional cost to you.
How to play the wet head board game:
The concept of this game is pretty simple.
Insert the pins into the hat
Fill the blue compartment on the hat with water
Put the hat on
Spin the spinner
Do as the spinner says (pull 1 pin, pull 2 pins or skip a turn)
Pass the hat and spinner to the next person and repeat
Someone ends up getting wet!!
The cool thing about this game is you control how much water goes into the hat.  The compartment can hold a decent amount which makes this a fun outdoor water game in the summer time.  But you can also put very little so this game can be played sitting around inside as a family.  It's totally up to you.
You don't have to limit this game to just water either!  Any sort of liquid will work!  This can get as messy as you want it to get!
Take The Wet Head Challenge
We challenge you to to take the wet head challenge!  Find a friend or two who is crazy enough to do this with you and challenge them!  Find any sort of fun liquids you can find and start getting messy!  It might be a good idea to do this one outside, speaking from personal experience here.  You can get the game here if you prefer to shop online.
Ideas for your wet head challenge:
Some ideas of liquids to use for the challenge are:
Orange Juice
Tomato Juice – this is a REALLY fun one!
Kifer – this one comes out a little slower so it isn't as dramatic, but the mess it makes is hilarious
Sobe flavored drinks – the thicker strawberry/pina colada type drinks are best
Milk or Chocolate Milk
Slime Baff – we love this stuff and use it for so many other fun challenges – we've only been able to find it on amazon though.
Soda – diet products will be a lot less sticky, but you may want the sticky mess!
Pickle Juice
Sports Drinks
There are so many fun liquids you can use for this game.  Just take a stroll through the grocery store and grab anything that looks fun.
Wet Head Board Game Gift Idea:
This water roulette game makes a great gift idea for pretty much any kid.  It is also perfect for adults who love to host game nights or outdoor cookouts with friends.  If you really want to get creative when giving this game, wrap it with 4-5 of your favorite liquid choices.
Another fun idea if you have kids and want to win the cool mom award, would be to wrap this up with several fun liquids for a random weekend surprise of fun.  With Easter coming up, it could be fun to fill an Easter basket with fun liquids and this game with a note from the Easter bunny challenging the kids.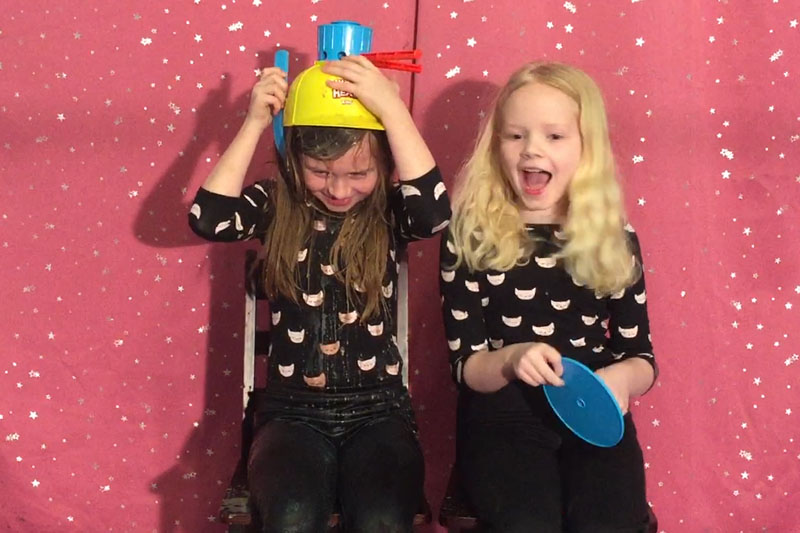 Will you take the challenge?  Olivia took the challenge with her BFF, watch the video to see how it went!
Make sure to let us know if you will be taking the challenge and what liquids you will be using!   We can't wait to hear your ideas!