Carnival Cruise nailed it when it came to providing a Dr. Seuss Green Eggs and Ham breakfast full of fun decorations and menu ideas.
With Dr. Seuss' Birthday right around the corner, it seems like the perfect time to post about our Dr. Seuss Green Eggs and Ham Breakfast during our Carnival Cruise.  Pulling up all of our pictures, is inspiring ideas for our breakfast menu this year for Dr. Seuss's Birthday!
When you first board your cruise on Carnival, you will be given the option to select the Dr. Seuss Green Eggs and Ham Breakfast for an additional $5/person.  We didn't select this option at first because let's face it, we already paid for so much to go on this cruise and our excursions.  For our excursions, we chose swimming with dolphins in the Bahamas and the Glass-Bottom Boat Cruise excursion on the private Princess Cays Island.
A couple days into the cruise, we had the option again to opt in for the breakfast.  This time we opted in.  Honestly, we should have booked it the first time.  The timing for this breakfast couldn't have been more perfect as Abigail was in a Dr. Seuss phase.  Every night before bed, her book choices were Dr. Seuss books, specially Green Eggs and Ham.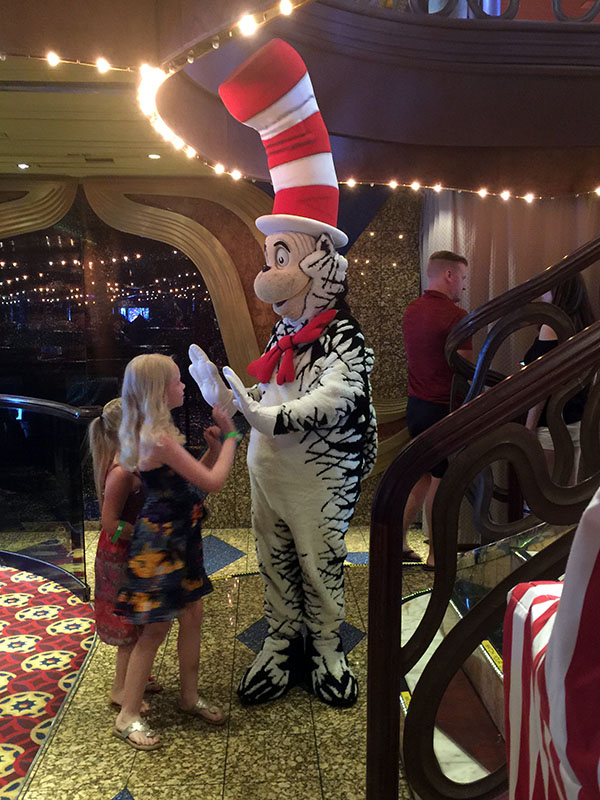 Why we decided to do the Dr. Seuss Green Eggs and Ham Breakfast
Our decision to pay the $5/person was made from a referral.  During one of our dinners, we had a conversation with a lady who was cruising alone.  She told us she was going to miss doing the Dr. Seuss Breakfast this year since she didn't have the kids with her.  Turns out, she books the breakfast not just for the kids, but because she loves the steak (filet) and eggs breakfast that is on the menu.  She also raved a lot about how much the kids enjoy it and now it's my turn to do the same.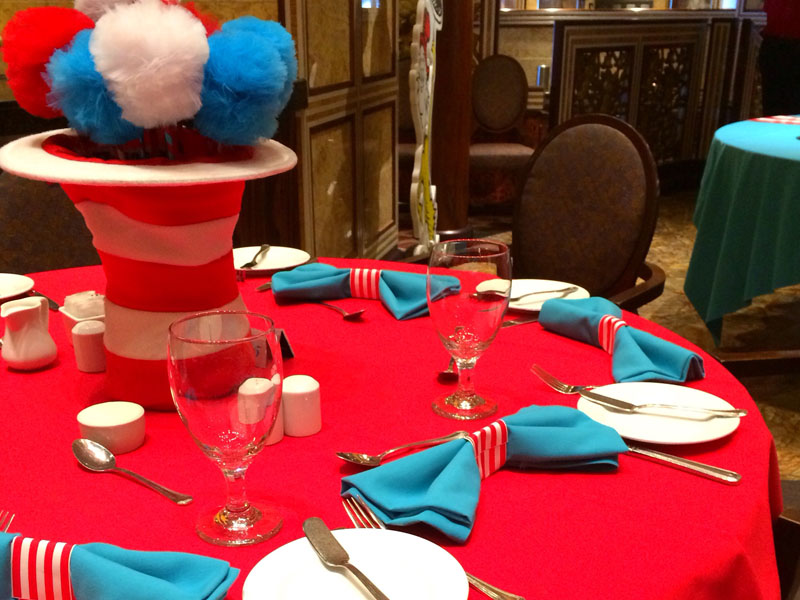 It was as if everything was transformed into Dr. Seuss land when we entered!  It was such a fun atmosphere, they thought of everything, including an ice sculpture!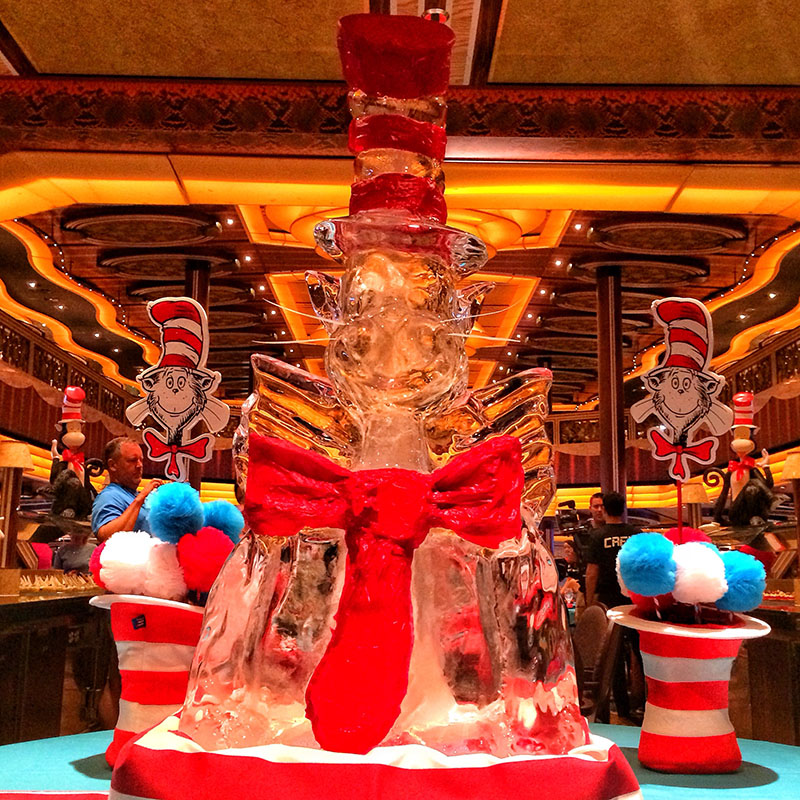 The menus are adorable!!  They look like the Green Eggs and Ham Books!  There were plenty of options to choose from as well.  I went with the Fox in Socks Steak and Eggs and it did not disappoint at all!
Abigail was over the top excited to order the green eggs and ham.  She isn't usually the most adventurous eater so I loved that she was ordering this and how excited she was about it.  She loved it!  For her sides, they had her favorites to choose from, cheese grits and bacon.  According to her, it all was delicious!  At one point, Abigail was up and interacting with the characters and they cleared her plate thinking she was done.  She wasn't though, and they immediately brought her a brand new breakfast.
Olivia isn't an egg eater, so she went with the Truffula Tree Pancakes.  The presentation was adorable and the taste was fantastic!  All the meals are served with cat in the hat looking parfaits.
Besides an amazing atmosphere and great food and service, this breakfast was a lot of fun.  Sam I Am, the Cat in the Hat and Things One and Two all came to hang out.  They took pictures, they gave high fives, autographed books and entertained.
We give the Dr. Seuss Green Eggs and Ham Breakfast 5 Stars!! (out of 5)
Thank you to the lady who mentioned this to us on the cruise so we didn't miss out on such a fun time!
What do you have on the menu for your Dr. Seuss birthday celebration? Learn how to make oobleck for another fun Dr. Seuss activity to celebrate the week!
Don't forget to pin this so you can have fun making Dr. Seuss Green Eggs and Ham Breakfast and other fun ideas even when it's not Dr. Seuss's birthday week.