Halloween at Great Wolf Lodge is the perfect place to bring your little ghosts and goblins for Halloween tricks and plenty of treats!
Great Wolf Lodge is one of our favorite quick getaways. We have a location only an hour away so it's easy to come up with an excuse to go for a night or 2! I love bringing the girls here because it is relaxing and we always have the best time. You know those vacations that you need a vacation from? This isn't one of those! Unless you plan to leave the hotel (and I don't know why you would), all you need to pack are bathing suits and pajamas. Ok, maybe you can throw in a dress for dinner…or just order room service if you don't want to.
This post contains affiliate links and I may earn compensation when you click on the links at no additional cost to you.
October is one of our favorite times of year to visit Great Wolf Lodge. During this time, they have the place set up for Howl-O-Ween.  Along with Halloween decorations, there is also a scavenger hunt trick-or-treat trail the girls just love! It's also always fun to find extra reasons to wear your Halloween costume in October! We are sad that our schedule doesn't allow us to go this year, so I guess we will have to make up for it next year!
In addition to the scavenger hunt trick-or-treat trail, they also have a Monster Bash Party and Spooktacular Story Time! So it just adds that much more Halloween festivities and fun to your stay.  And just like any other time you stay, the water park is still included.
We love that the water park is perfect for younger and older kids so both girls can enjoy it. If you have never been, there are several slides that younger kids can enjoy. And even several smaller kiddie areas. But there are also bigger slides that bigger kids can enjoy. So it's the best of both worlds. And we always have the best time alternating between slides and the wave pool.
Since we have been here a few times, we know what we like. We like to spend the first half of the day at the water park. Once we are water logged for the day, it's time for pajamas (or costumes if it's Halloween time) and Magi Quest!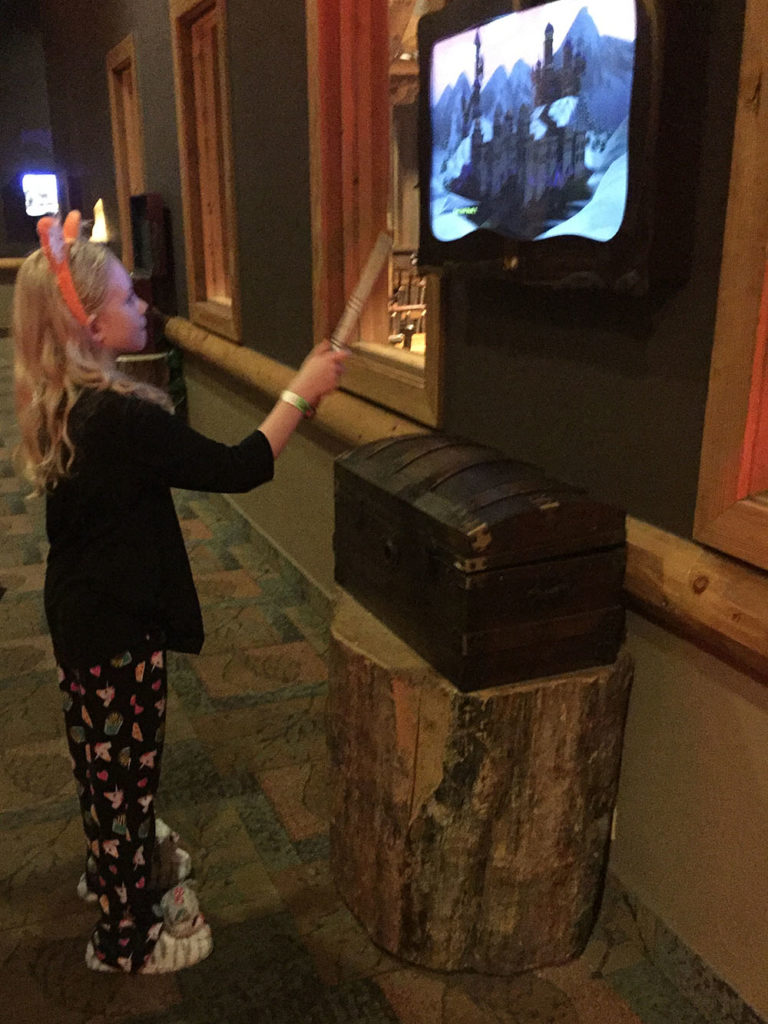 Magi Quest is like a magical scavenger hunt!
We are pretty much addicted to this game. We have completed both Magi Quest and Shadow Quest and love them both. You can bring your wands each time you come and reuse them so you don't have to purchase a new one. You just pay for the game to be loaded. We have used our wands for 3 different visits and they have always worked.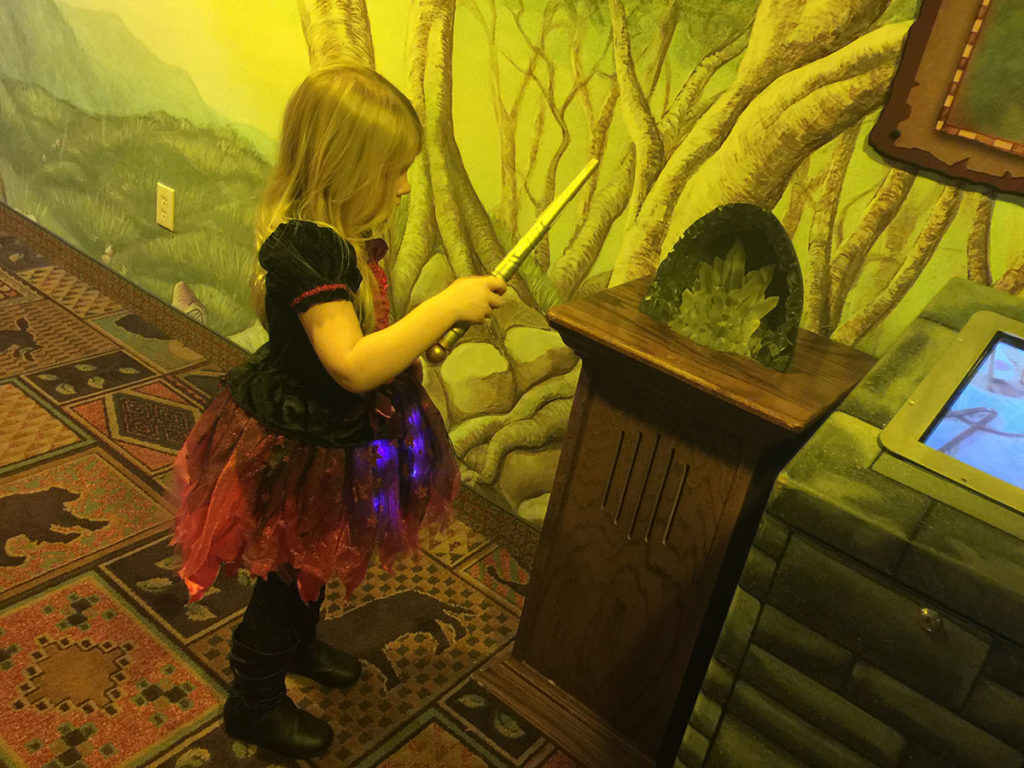 If your curious about the age for this game… for your child to play alone, they need to know how to read. Otherwise, you will have to help out or you can purchase the mini magi mode that allows little kids to use the wands to open treasure chests and interact with objects without playing the game.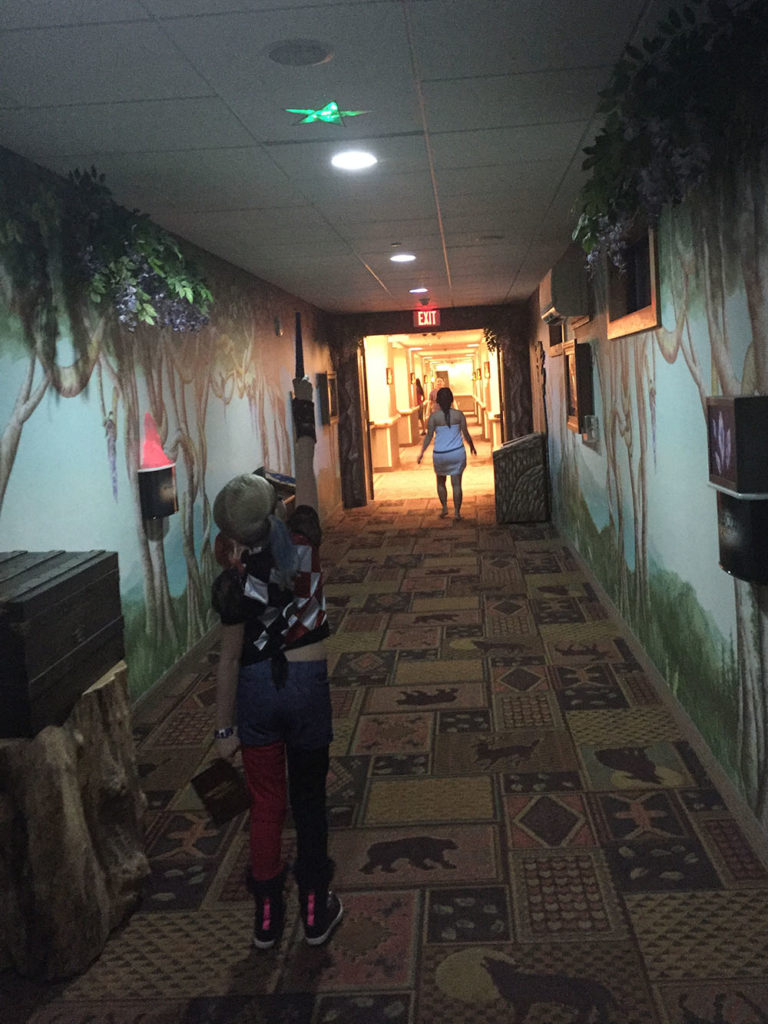 We also love to spend some time at the arcade. Air hockey and games…yes please!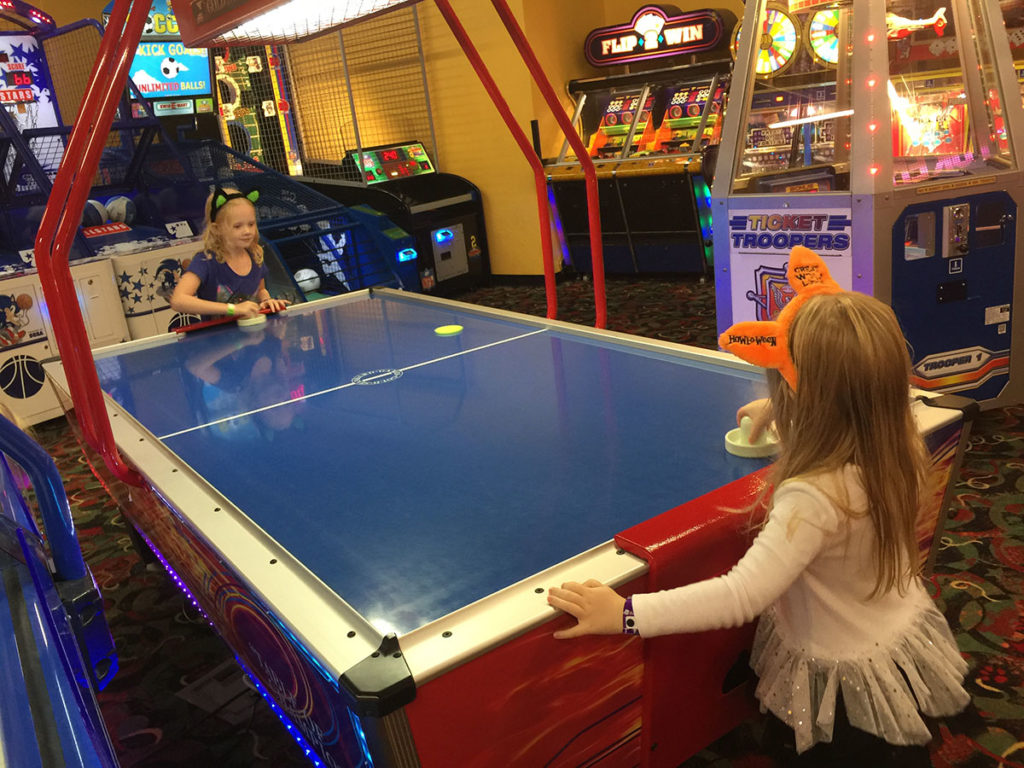 Looking back at these pictures from the last 2 years, makes me realize just how fast these girls are growing. It makes me so glad that we take the time out to make these memories. When we stay at Great Wolf Lodge, I usually book the trip on school days. They miss 2 days of school, but we get memories that last a lifetime! The best part about this is its not crowded at all and you get to take advantage of super low rates. Usually you can book a trip for $99/night if you are willing to let your kids miss a day of school or 2.  And your kids will think you are the coolest ever for letting them miss school for this!
Keep an eye out during your visit, because you never know who you might run into in the lobby!
Speaking of Halloween, who does family or sibling costumes? I love the idea of doing this, but my days are over! I got 3 years of family costumes before they started getting their own opinions on what they want to go as. My favorite sibling costume will always be the year they went as Ariel and Sebastian 🙂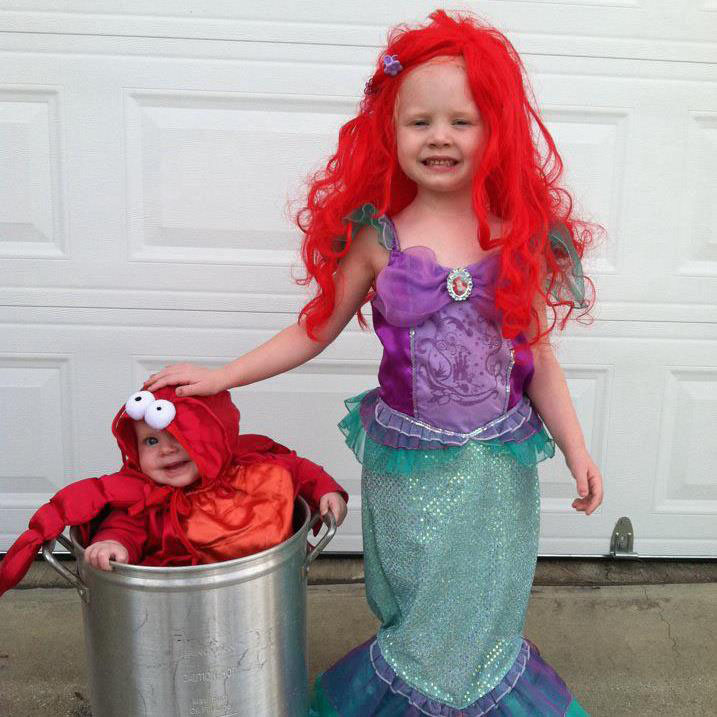 The other fun group costumes we have done are The Incredibles…
And of course Frozen. I am not sure if girls dressed as anything other than Elsa and Anna this year!
Let me know some of your favorite group costume ideas that you have done. The girls already have their costumes for this year. Abigail will be going as Maddie Hatter and Olivia has Hermione. Olivia is especially looking forward to using her wand from The Wizarding World of Harry Potter to accessorize her costume!
Make sure to share the love and pin this for others to learn about Halloween at Great Wolf Lodge!