If you are planning a trip to Wilderness at the Smokies, make sure to read this Wilderness at the Smokies review so you can get the most out of your trip!
We just got back from a fantastic trip to Wilderness at the Smokies! This was our second time there. The first time we went during winter. When we saw the outdoor area, we knew we had to come back in the summertime! So we planned an end of summer getaway with Olivia's best friend and her family and enjoyed the last few days of summer break soaking up all the fun!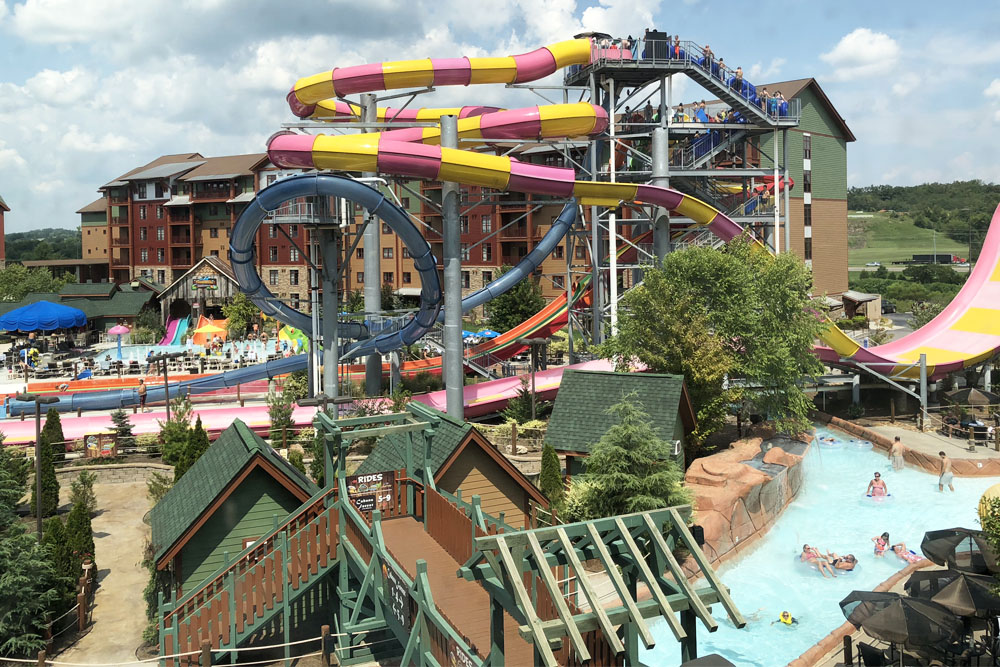 This post contains affiliate links and I may earn compensation when you click on the links at no additional cost to you.
All of the slides let you ride without an adult if you are 48″ tall. Olivia and her friend took full advantage of this! The slides that ride up to 4-5 people have a minimum weight requirement which they didn't meet just the two of them. So they still needed an adult to join on those slides. However, if you're a little shorter like Abigail who is under 48″, you still have to ride with a parent. And there are a few slides that you can't ride. But overall, there is a ton of fun for all ages!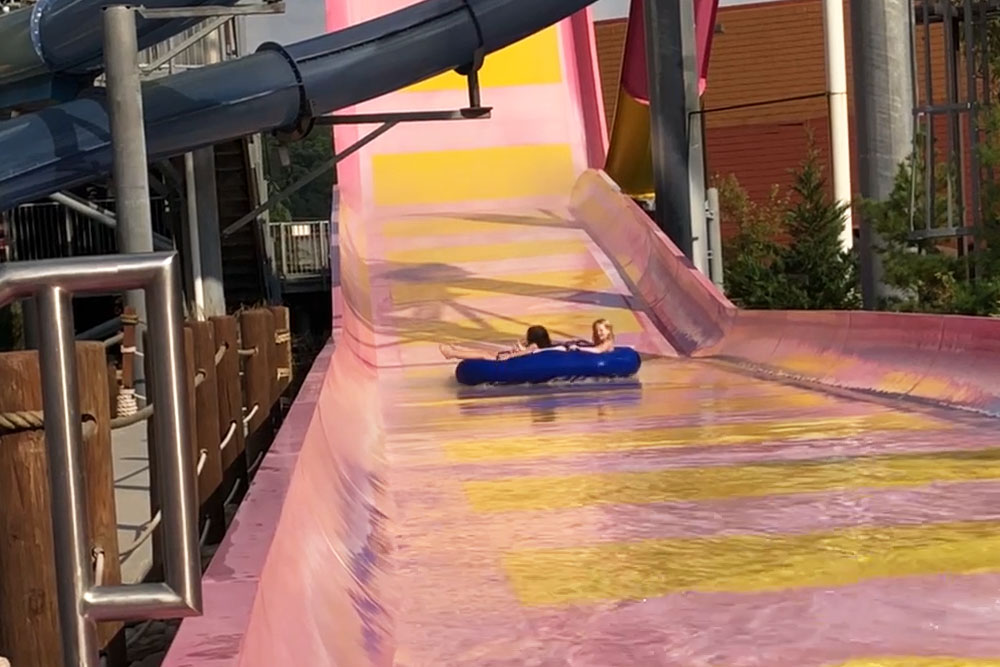 Kiddie Areas
For the younger kids, there are multiple kiddie areas just for them that provide hours of fun! Abigail's favorite kiddie area is the Treehouse Springs which is perfect for those who are 48″ and shorter.  It is an interactive wading pool with dumping buckets and three different slides for younger kids to enjoy. The in water lounge chairs make this area perfect for adults as well. Just sit back and relax while keeping an eye on the kids!

Making the Most Out of Your Wilderness at the Smokies Stay
Since we like to travel a lot, we always try to find ways to save a little, without taking away from our experience. If you feel the same way, then I have a few tips that can help you make the most out of your Wilderness at the Smokies stay.
Related: Ideas for Family Travel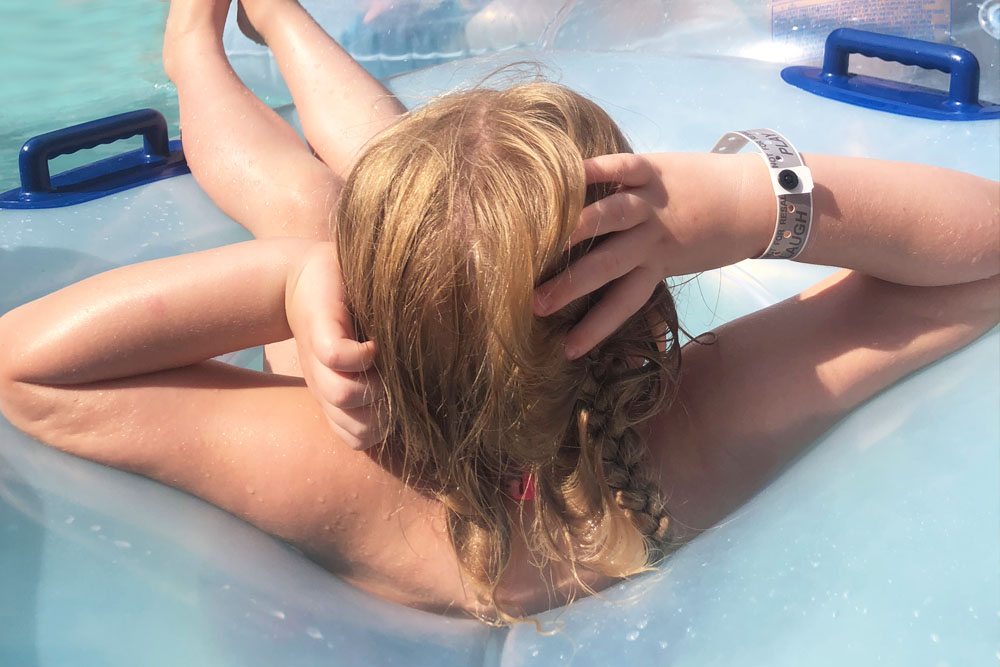 Where to Stay



There are two hotels that are a part of Wilderness at the Smokies. If you stay at the Stone Hill Lodge hotel, you'll get better rates. This hotel has it's own outdoor water park (Salamander Springs), however you will have to take a super quick shuttle to get to the indoor water park and Lake Wilderness outdoor water park. All 3 of these water parks are included when staying at either hotel.  I have been told that the Stone Hill Lodge has amazing views, especially when it snows. So that's something to consider if you are going in the middle of winter.
If you prefer to stay in the River Lodge Suites, the price won't be too much higher. And you'll be right in the middle of all the action! This is where we like to stay.  We like to stay in the Queen Murphy Deluxe Suite which sleeps 4. Both beds pull out, so you can put them away to have a full living room with fireplace when you aren't sleeping. There is also a full kitchen so you can save a little by bringing your own breakfast and lunch items.
You can see the room and indoor water park in more detail in this video:
Packing for Your Trip & Check-in
Check-in is at 4pm. But, you can start using the water parks at 12pm the day of your arrival. It's easiest to go ahead and wear your bathing suits under your clothes and/or pack a separate pool bag with bathing suits. This way you can get there early and enjoy the water parks, without having to drag your luggage in. You'll need to go ahead and check in to get your wrist bands and at this time you'll be given your room keys. If your room is ready early, they will let you have access to it. If not, they will text you the room number when it is ready. So there is no need to have to go back to the front desk. So check in, go play and when your room is ready, take a break to settle in!
Towels are also provided at each park for free to use. So you only need to pack these if you prefer larger towels.
Check-out is 10:30am. But, you have access to all the water parks the entire day that you check out. So pack some dry clothes in a pool bag and load the car up with the rest of your luggage. There are bathrooms and changing rooms in the water parks areas. So you can easily change into dry clothes when it's time to go!
Sign The Surfing Waiver Before Waiting in Line
The Surf Rider (located in the indoor water park) is super fun! It's included with your stay, but you'll have to first sign a waiver. Don't make the mistake of waiting in line before doing this because you won't be able to ride it. You can find this waiver located right inside the door of the arcade. It will be on your way out, right before going through the doors to the indoor water park. Take a minute to go ahead and fill it all out and then keep your wrist band on for the entire trip so you don't have to sign it again.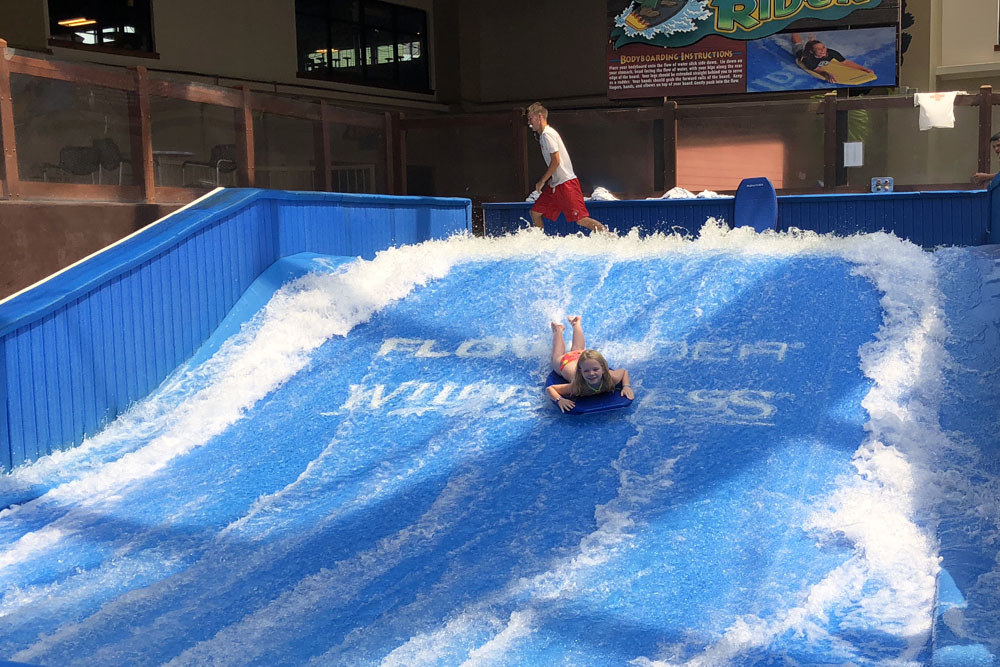 Before leaving for your trip, make sure to pick up a waterproof phone pouch so you can capture all the fun memories from the trip and protect your phone! All of these pictures were taken through a waterproof pouch from my phone and I think the clarity is great! I also submerged my phone a few time trying to get underwater pictures and it worked to keep the water out. But, I couldn't get the buttons to work underwater!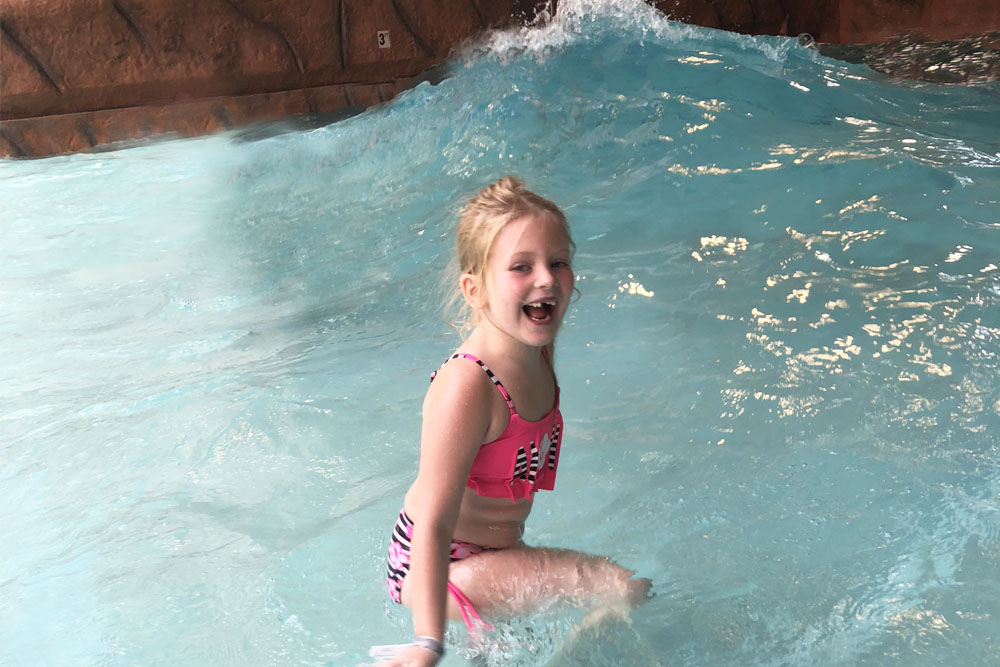 Indoor Attractions
On top of all the water park fun, there are also a  lot of indoor attractions. These attractions are extra. If you are interested in these, you'll want to consider adding the All Day or All Stay Adventure passes as this will save you a lot of money. If you are only interested in trying out one or two of the indoor attractions, then it might be better to skip the pass and visit this attraction before 10:30am for the early bird savings of 50% off.
I am a huge fan of "stay and play" places when traveling with kids. Even though we wear ourselves out with all the fun, I still find it to be one of the more relaxing vacations with kids because you just stay on the resort the entire time and your room is never far away! Wilderness at the Smokies is located in Sevierville, Tennessee. If you happen to be driving distance from this area, I recommend adding this destination to your travel bucket list, especially if you have kids!
If you do live near this area, you'll also want to consider checking out Moonshine Mountain for kid-friendly snow tubing in the winter or ride the Polar Express in the Great Smoky Mountains!
Don't forget to pin this Wilderness at the Smokies review for later!