Slumber parties are such a fun part of being a kid. Today we are sharing fun slumber party ideas for girls to help you when hosting your next slumber party!
We celebrated Olivia's 9th birthday last month and I am excited to share with you some fun slumber party ideas from her party!  This year, Olivia wanted to have a birthday party at the skating place and wanted to invite her entire class.  This made party planning super easy because the skating place takes care of everything.  So the inner party planner in me was having a difficult time with this.  I could have made things easy on myself, but instead I suggested having a few best friends over to spend the night the night before the party.  Then I would take them all to the skating party the next day.  I promised myself I would keep it super low key.
Olivia is kitten obsessed so I couldn't pass up these party supplies that I found!  I mean, I wasn't going to do any extra dishes so paper products were essential.  Then I decorated with her growing collection of Pusheens.  Easy Peasy.  Anyone else have a Pusheen obsession?
This post contains affiliate links and I may earn compensation when you click on the links at no additional cost to you.
The kids are always so blessed each Christmas from friends and family.  So the girls had a bunch of activities to choose from for the night from presents they had gotten.
They ended choosing to break open the geodes, make slime and the Gel-A-Peel.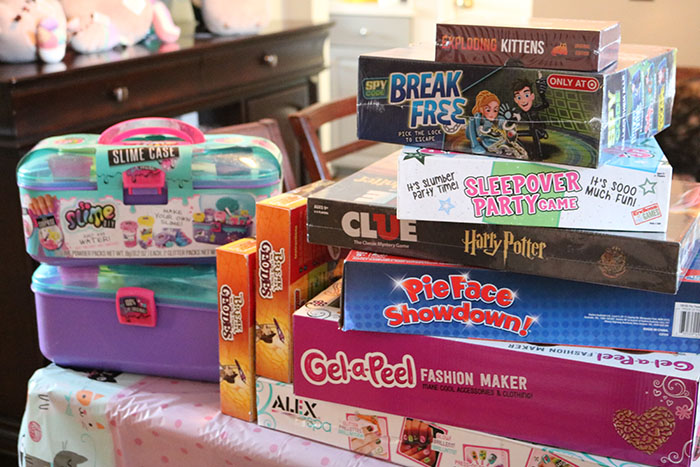 The geodes was their first choice and this turned out to be hilarious!!  And a lot of fun!  I mean a bunch of girls, with hammers, at a slumber party?  But they were fierce!!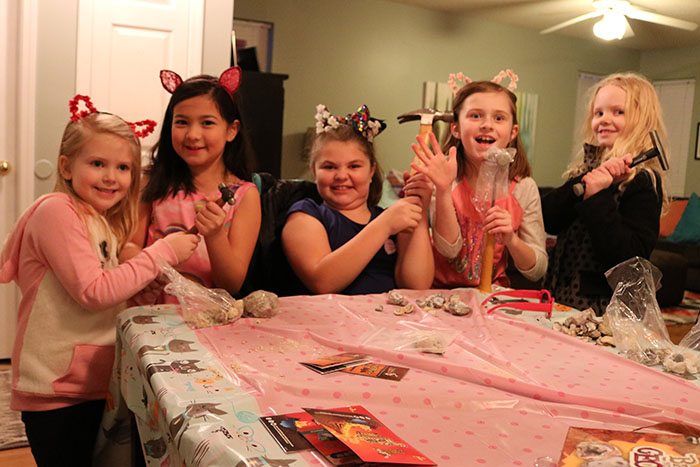 We tried to break the geodes inside first by using plywood to protect the table.  But the plywood was too soft and the geodes wouldn't crack so we made our way outside.  These geodes were full of crystals and the girls LOVED opening them.  We definitely recommend this for any type of party.  It was the highlight of the night.  Check out the video below!
Next on the agenda was the Gel-A-Peel.  This was not the greatest idea.  The girls were too excited and too hyper to be focused for something like this.  It ended up turning into a very expensive 20 minute art project that was trashed the next morning.  Let's face it, those gels are not cheap.  Once the gel was dry, it was super cool though the way it peeled off and I can definitely see taking the time to create something a little better with this stuff.  It just might not be the best for slumber parties with young kids.  I could totally see this being great for just a regular sleepover with a friend or for a group of older girls.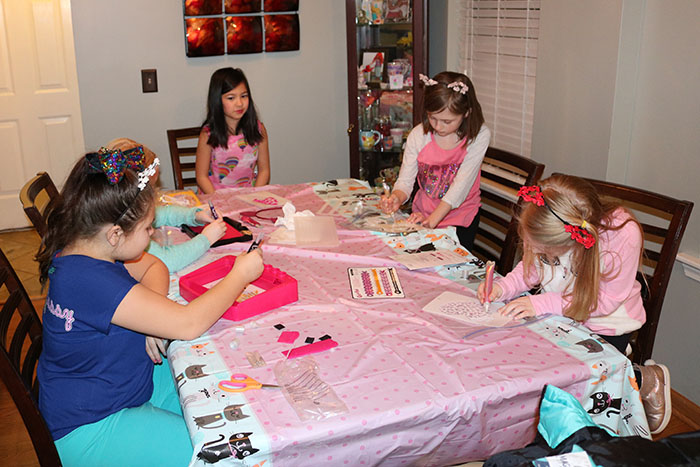 The last craft of the slumber party was the slime!
This slime case was PERFECT.  It came with everything you need, wasn't messy at all and the perfect consistency!  We have made our fair share of different slime in the past and this is the first that didn't make a mess.  We give this 2 giant thumbs up and rate it high on the list of slumber party ideas!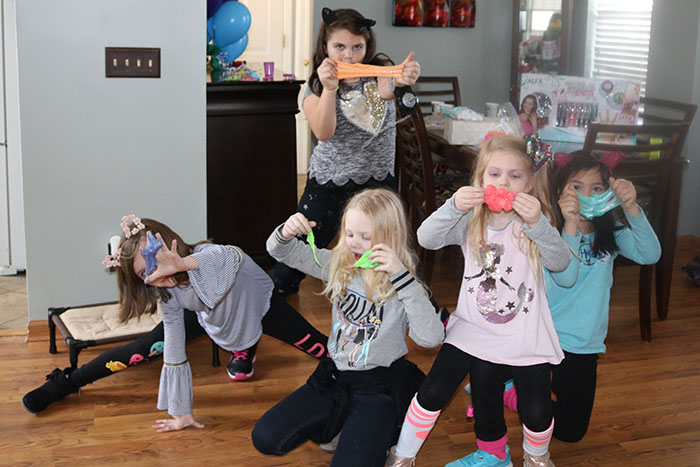 A slumber party cannot be complete without a fashion show, obviously…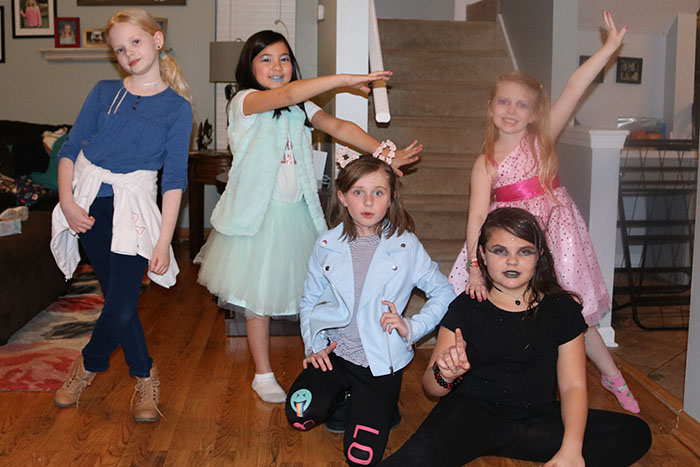 And an ice cream sundae bar!
The next morning, the girls were up bright and early.  Except for Olivia, she loves to sleep in.  They occupied themselves by playing some of the games: Pie Face Showdown and Break Free.  We have yet to read the rules for the Break Free game, but we have had the best time breaking free from the handcuffs.  There are different levels and some are challenging to break out of.  Since the party, we have been having fun pranking each other with these handcuffs around the house.  The girls even handcuffed Olivia to the bed for a fun little surprise when she woke up that morning!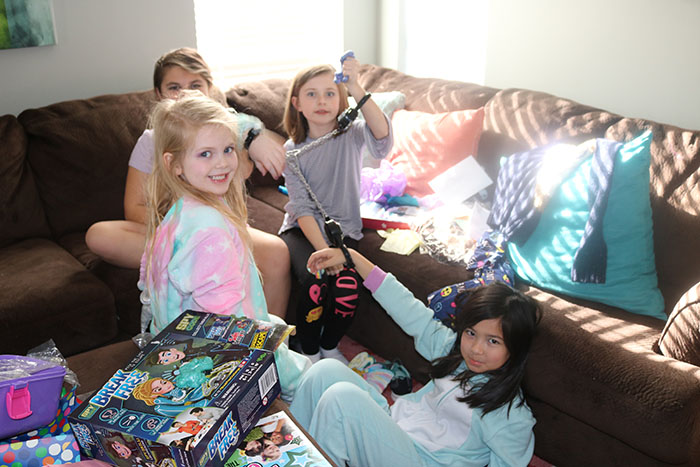 It was so nice for the girls to just be able to enjoy a bunch of games and crafts for a good ole fashioned slumber party!
Here are a few of our other favorite slumber party ideas:
We sent the girls home with our traditional party favor; a CD full of Olivia's favorite songs at the time.  I wrote a tutorial on how I make these in this post.
I would love to know your favorite slumber party ideas!!  Comment below what your favorite slumber party games and crafts are and don't forget to pin this in case you need it later.