If you are looking for a pick your own orchard, Sky Top Orchard is the place to go! Here are 6 fun things you can do at Sky Top Orchard!
One of our favorite traditions this time of year is visiting Sky Top Orchard. We will be sharing some of our favorite recipes this month with all the delicious apples we just picked. If you have your own apple recipes to share, we would love to try them – just leave the recipe or link in the comments. In addition to the large variety of apples you can pick, Sky Top Orchard has a lot of fun activities as well! Here are 6 fun things we love to do at Sky Top Orchard:
Pick Your Own Apples
I am pretty sure it is obvious that picking your own apples would make the list! But this part is a lot of fun! And you don't have to pick your own apples. Sky Top Orchard offers plenty of apples already picked and ready to take home with you. But if you do want to pick your own apples, you'll be given a map of where to find all the apples in season. The girls love this part because they get to be "explorers" and follow the map. You can find the picking schedule on the Sky Top Orchard here.
Enjoy Fresh Made Apple Cider Donuts
A trip to Sky Top Orchard isn't complete without indulging in apple cider donuts. The donuts are made on site, while you watch! You won't be able to miss these because the smell of them cooking will lead you straight to them. Make sure to eat one while it's freshly made and then grab some to bring back with you!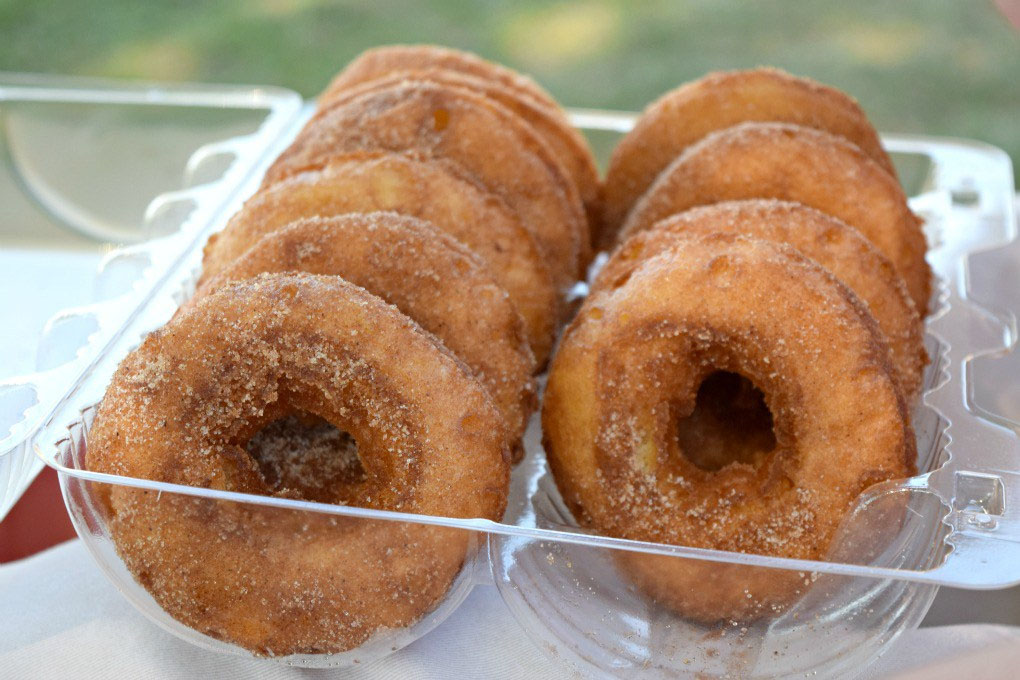 Fresh Apple Cider
The apple cider is made on site and fresh! Sky Top Orchard uses a blend of 10 different apple varieties to make this and it is so delicious! You can pick some up to take with you or enjoy a frozen apple cider slushie while you are there. Since it was extra hot this weekend, the slushies were the obvious choice and were a great way to cool us off!
Hayride
Enjoy a hayride around the orchard when you visit Sky Top Orchard! We decided to skip this one this time because it was hotter than we were expecting. But if you go during fall or cooler weather, this is a must! It's a fun and relaxing way to see all of the Orchard and kids love it!
Related: Family Travel Ideas

How Tall this Fall Picture
Make sure to take capture your "How Tall This Fall" pictures each year you visit! It's a fun way to see how much the kids grow each year!
Visit the Playground
At the playground, kids can play in houses, slides, swings and more! It's such a fun set up for younger kids. Abigail just loves it! It's a great place for the kids to let out some energy while you enjoy the beautiful mountain views.
If you haven't already added apple picking to your yearly traditions, this is such a fun activity! If you have any apple recipes you'd like to share, leave them in the comments below!