This post may contain affiliate links. Please read the disclosure policy for more information.
Earlier this week, I posted about our trip to Universal Studios Florida. But I left out the Wizarding World of Harry Potter. Simply because this part of the Universal parks needed it's own post. Even if you haven't seen the Harry Potter movies or read the books, the Wizarding World of Harry Potter will still amaze you. More than likely when you leave, you'll want to watch the movies if you haven't already.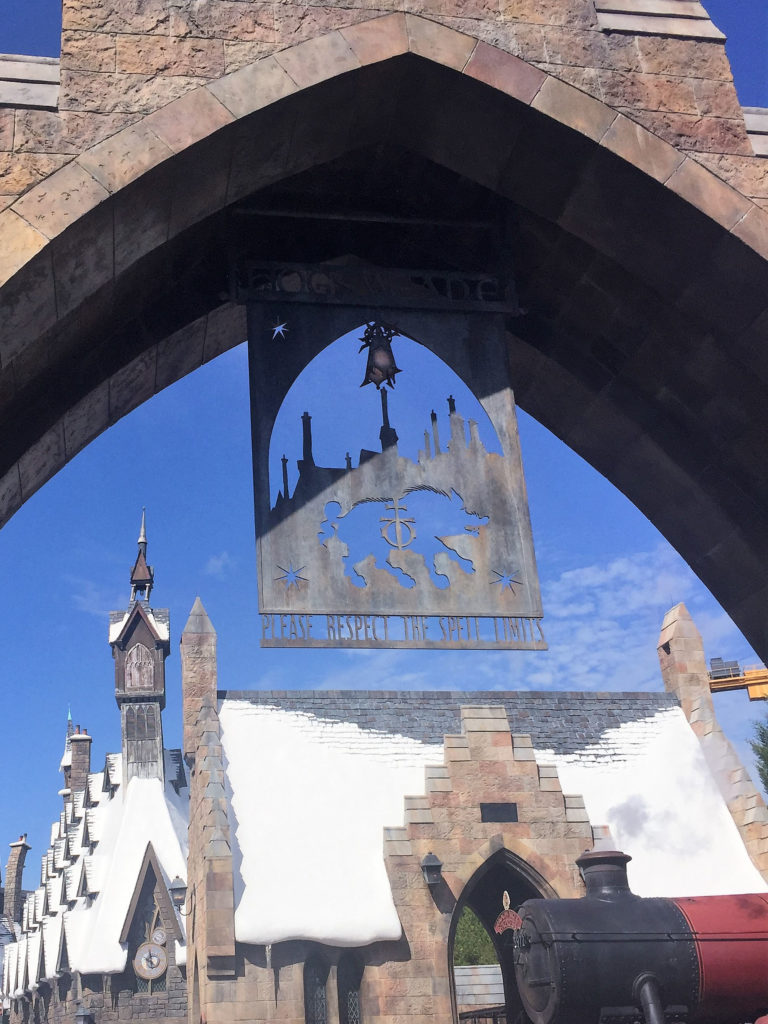 Before visiting the Wizarding World of Harry Potter:
The Wizarding World of Harry Potter is divided between both Universal Studios and Islands of Adventure. Diagon Alley is located inside Universal Studios and Hogsmede is located inside Islands of Adventure. The Hogwarts Express will take you to and from the Harry Potter worlds. For this reason, you'll need to buy a park-to-park ticket. The train is only available for those who have a park-to-park ticket and it is something you don't want to miss!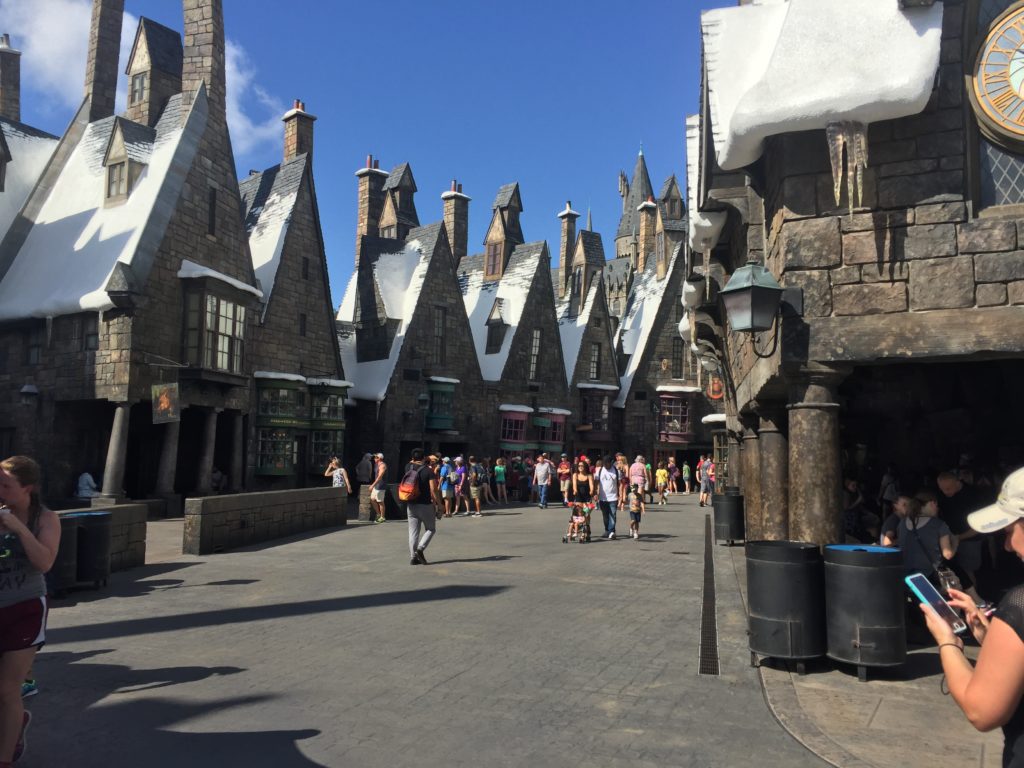 You'll want to consider staying at one of the Universal Studios Hotels because you'll get early morning access to Harry Potter Diagon Alley. These worlds can get very busy and crowded and it is a lot more fun to walk through them with less crowds. We did also notice the crowds almost completely disappeared during the last hour of the park.
Visit Grimauld's Place
Before you enter the brick facade to Diagon Alley, you'll want to stop and see Grimauld's Place. Wait for a couple of minutes because he'll peek out the window every few minutes.
Visit Ollivanders and Cast A Spell
Being in Diagon Alley is like really being in Diagon Alley in the movie. Every little detail has been brought to life. Ollivanders is the famous wand shop where you can shop for your own wand. You can also participate in a short show where a wand chooses its wizard. This is a really cool experience that you'll want to make sure to do!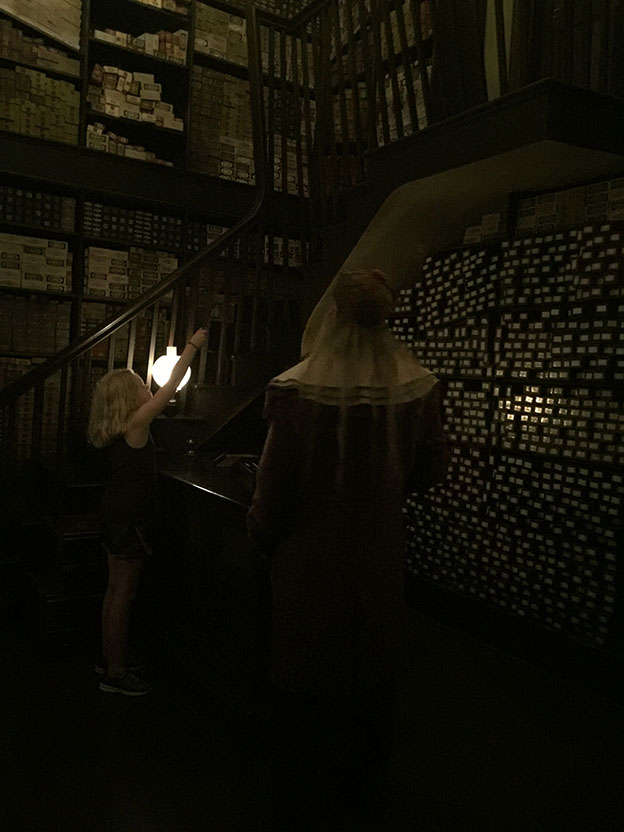 The wands for sale include replicas of famous Harry Potter characters' wands. Some are interactive and come with a map showing you where you can cast your own spells all around The Wizarding World of Harry Potter! Their are spells to be cast in both Diagon Alley and Hogsmede.
Wait in the Lines
Make sure to enjoy the line for the Escape from Gringotts and Forbidden Journey at least once. There are so many details that you just don't want to miss! There is also a child swap before getting on the ride so everyone can walk through the line together, even if they aren't riding!
I cannot even put into words how amazing The Escape from Gringotts and Forbidden Journey rides are! It's truly like being a part of the movie. You'll even come face to face with Voldemort in The Escape from Gringotts. We rode these rides over and over again because we couldn't get enough.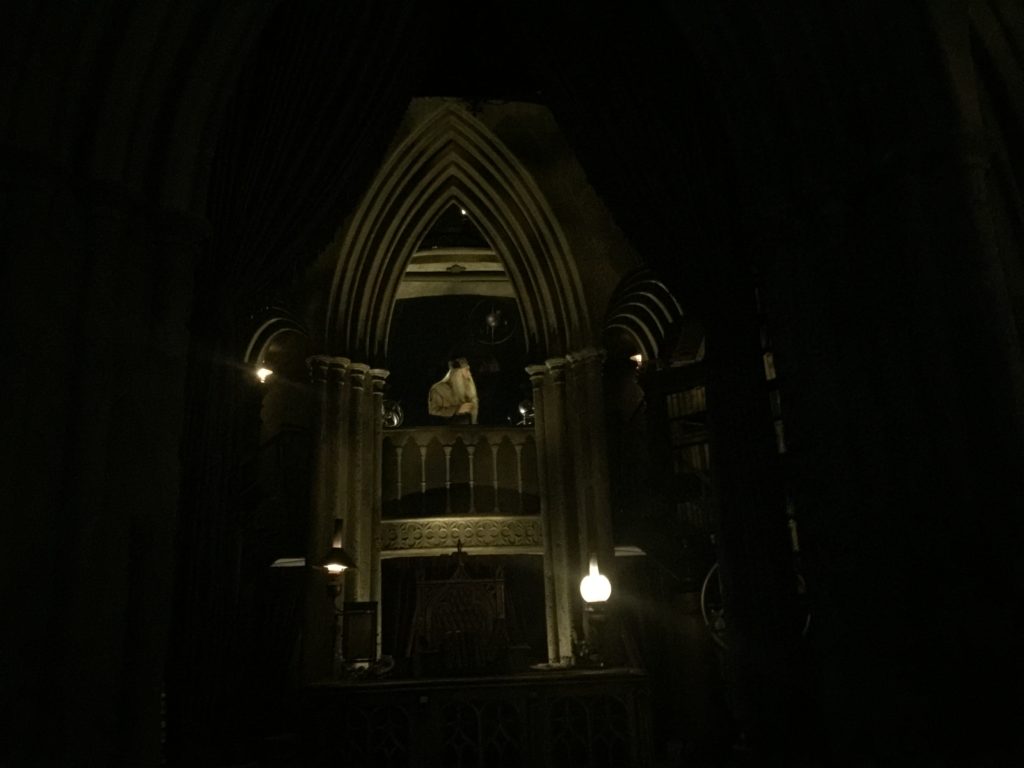 Talk to the Banker at Gringotts Money Exchange
Next to Gringotts bank is the Gringotts Money Exchange. Here you can exchange your Muggle money for Gringotts Bank Notes that you can use to purchase items within both Universal Parks. You can also talk to the goblin banker and he will talk back to you. He is a bit of a grump though and won't sing you happy birthday like the interactive fountain from Islands of Adventure. Even if you don't exchange your money, still stop in and have a conversation with the goblin.
Ride the Hogwarts Express
The Hogwarts Express will take you to and from Diagon Alley and Hogsmede. As mentioned before, you do need a park-to-park ticket to ride the train. If you are looking for a more authentic experience of being a new student to Hogwarts, you'll want to first ride the train from Diagon Alley to Hogsmede. The train ride is interactive and different each way, so I recommend riding it both ways.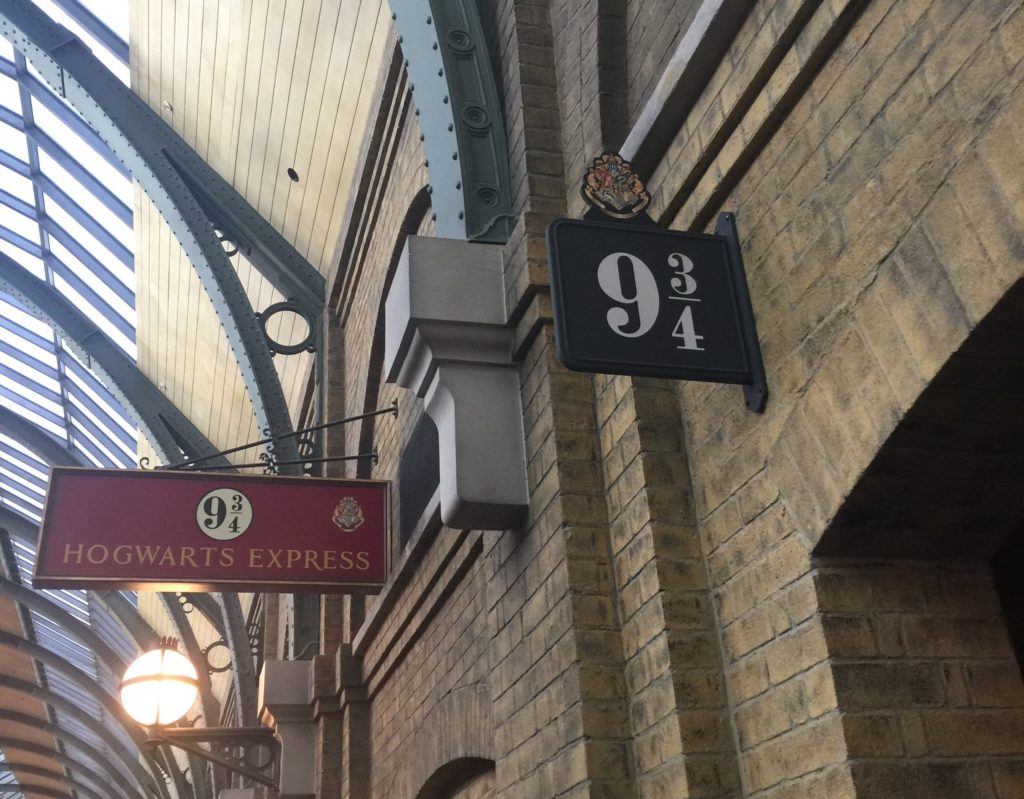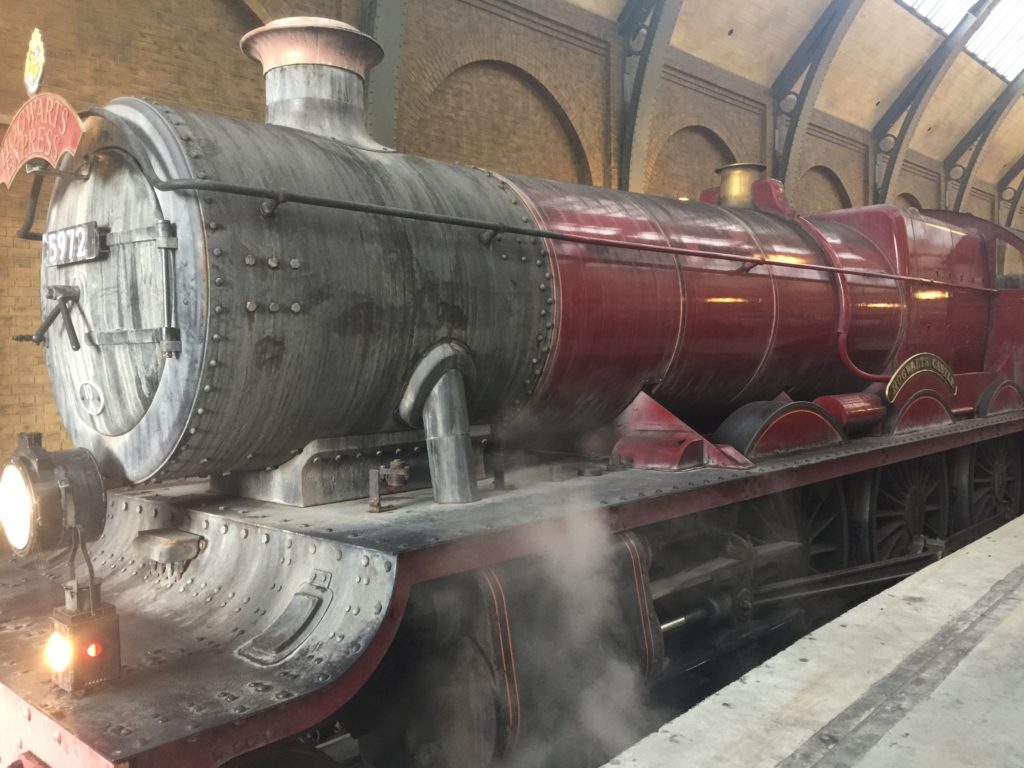 Try a Butterbeer
There a few options for Butterbeer. You can get a hot one which is similar to a butterscotch flavored hot chocolate. You can get the frozen version or just the regular cold version. We got the frozen version and it was really good!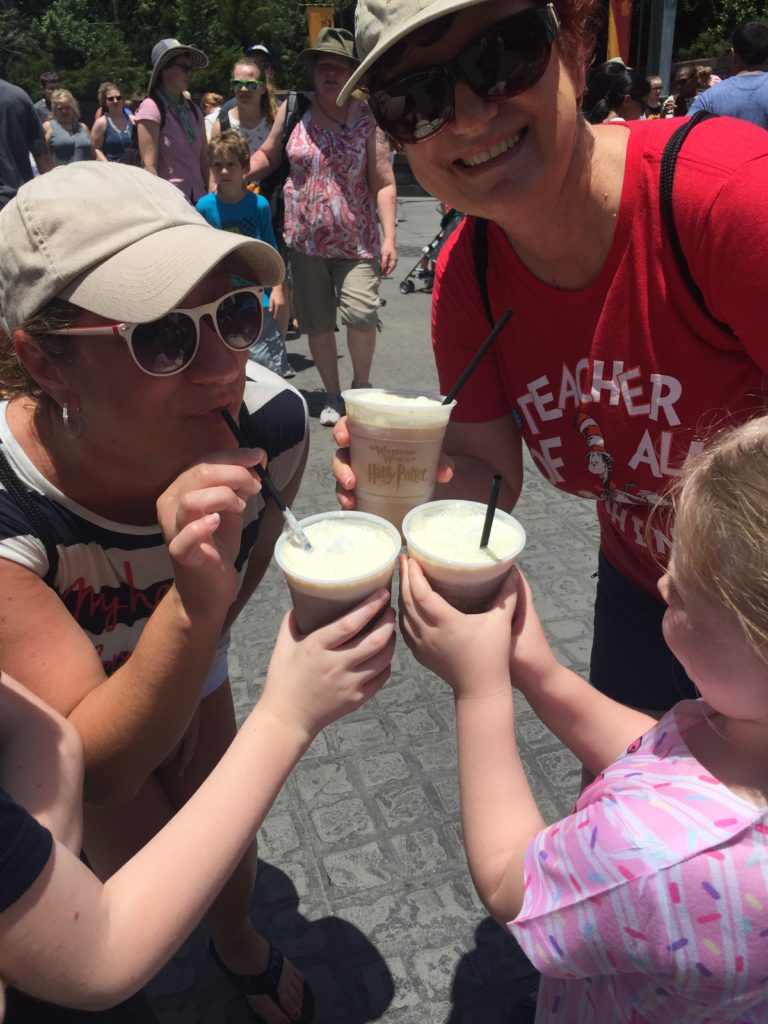 Then take a seat on the stairway to no where and just enjoy the view of Diagon Alley while you enjoy your Butterbear or ice cream from Florean Fortescue's.
Wait for the Dragon to Breath Fire
On top of Gringotts bank sits a giant dragon protector. And every so often you'll hear a grumble and know that the he's getting ready to breathe fire. Just because he makes this noise doesn't mean he will breath fire right away though. It's completely random, but a must see while you are here!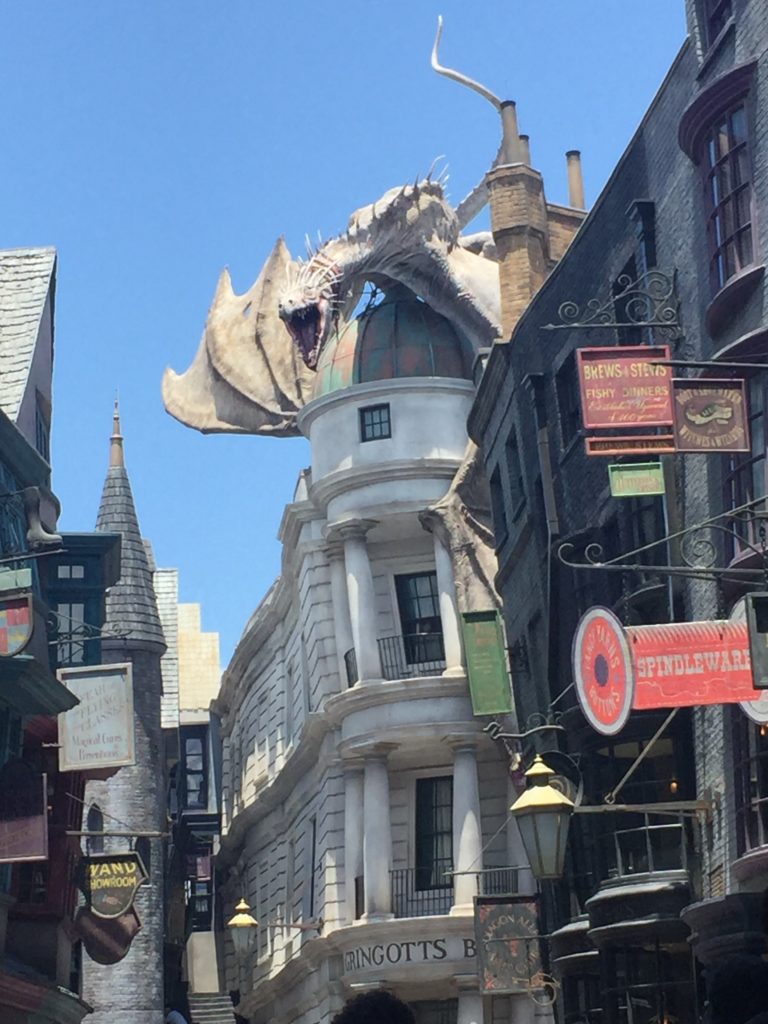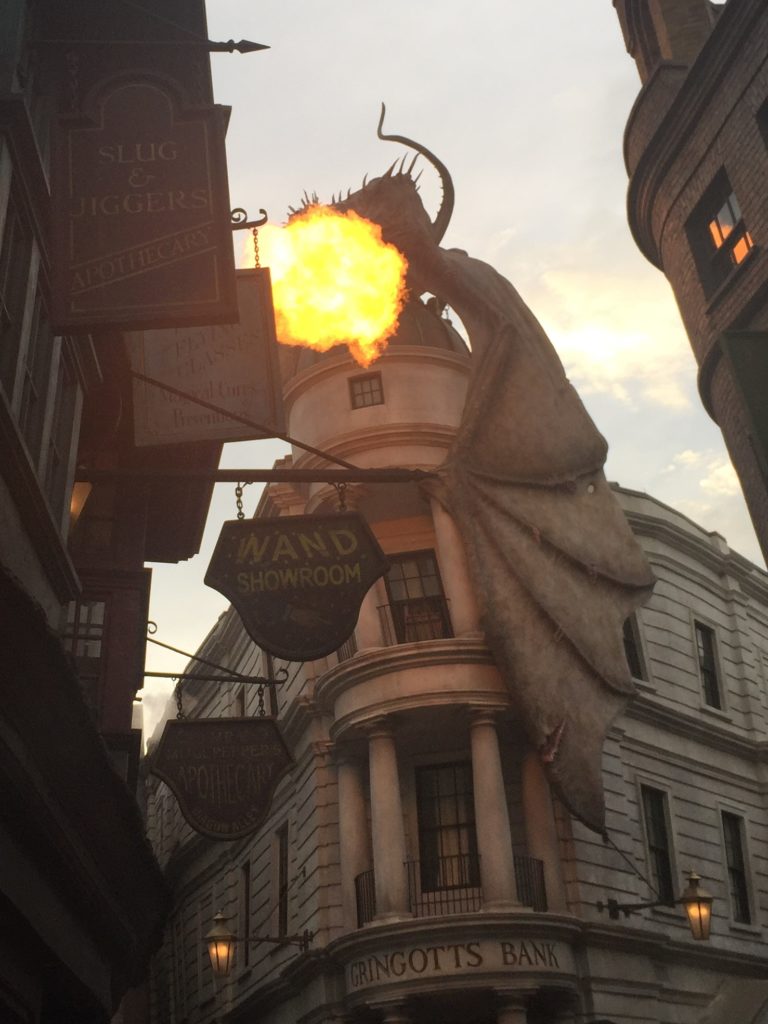 Eat Lunch at the Leaky Cauldron
This is a really neat place to eat and the food is delicious! They serve classic British fare in a pub-style atmosphere and even have a children's menu.
Photo Credit: Universal Orlando
Harry Potter Merchandise
Throughout the parks, they sell a lot of Harry Potter costumes and gear. These items can be quite pricey with the robes being around $112 each and shirts $30-$40. If you are looking to dress the part while visiting, you may want to consider picking these items up before hand. However, because the wand is interactive, this is something you'll want to wait to purchase until you are at the park from Ollivanders.
Find out which Hogwarts House you belong to!
Before visiting the Wizarding World of Harry Potter, take this fun quiz to see which Hogwarts House you belong to! According to the quiz, I belong to the Ravenclaw House. Which house do you belong to?
Related: Your Guide to Universal Studios Florida with Kids