This is one of our favorite ways to dye Easter eggs! Learn how to dye Easter eggs with cool whip and see how cool and galaxy looking they are.
This idea was inspired by a similar concept of using shaving cream to dye Easter Eggs.  Only we decided to show you how to dye Easter Eggs with cool whip instead!  Knowing that the shell of the egg is a semipermeable membrane, which means that air and moisture can pass through its pores, I wasn't sure how I felt about shaving cream seeping into the egg.  Plus, whip cream just sounds like a lot more fun and a lot tastier for the process!
Dying Easter eggs with cool whip is really simple and the results are so fun!  Plus, it's easy for kids and they love it!  You get what looks like a galaxy Easter egg or marbled Easter egg, depending on the colors you use.
If you are going for the galaxy look, go heavy on the blues, purples and reds.
How to Dye Easter Eggs with Whip Cream
You'll only need a few ingredients for this project:
Hard Boiled Eggs
Liquid or Gel Food Colors
Multiple Tubs of Cool Whip (We used 3 and made 2 different batches)
A Tray for dying the eggs in
A spoon if you want to keep your hands clean (totally optional though)
A straw of knife for swirling
First, you will scoop the whip cream into your tray.  We did 2 separate trays for 2 different looks.  Then you'll drop different food colors randomly into the whip cream.
Next, you'll take your straw or knife and swirl the colors around.  You don't want to mix them up too much or they will start to blend and be a big blob of colors.  Just a few swirls should do the trick.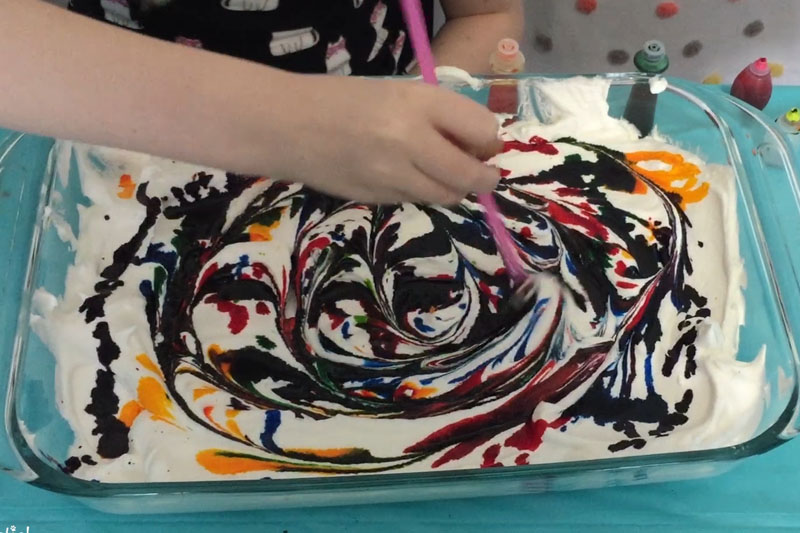 Then you'll coat each egg in the mixture.  Just a quick cover of the entire egg, no need to mix it up too well because you don't want the colors to all mix together.  If you don't want your fingers messy, you can use a spoon to cover the mixture over the egg.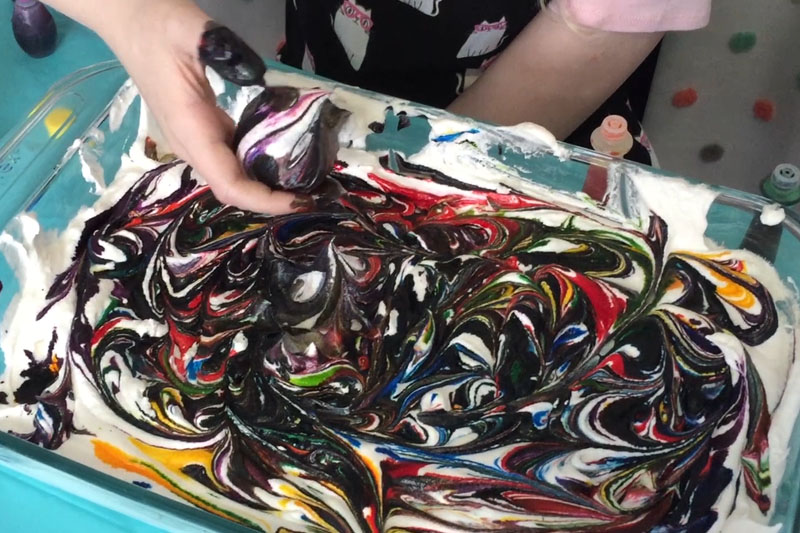 Once all the eggs are covered, let them sit for 10 – 30 minutes.
When they are done sitting, just rinse them all off and check out how cool they turned out!  Since you used whip cream instead of shaving cream, they are perfectly safe to eat!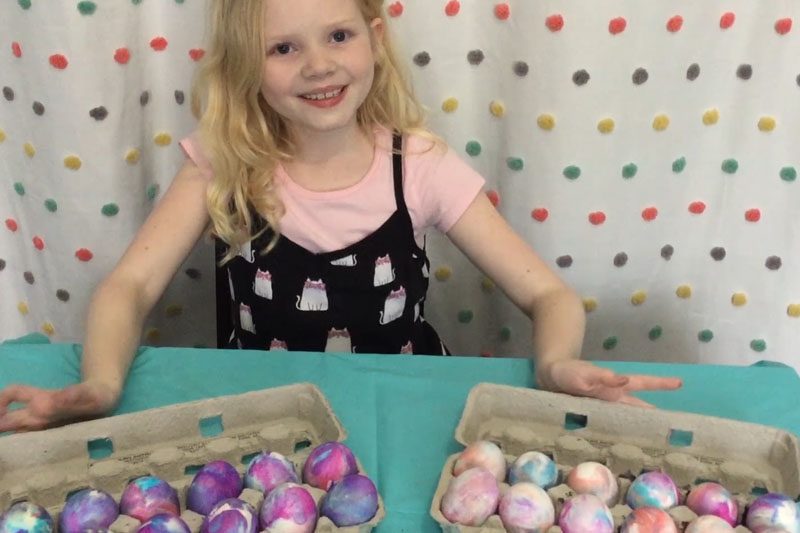 We had a really fun time dying these eggs and love the way they turned out!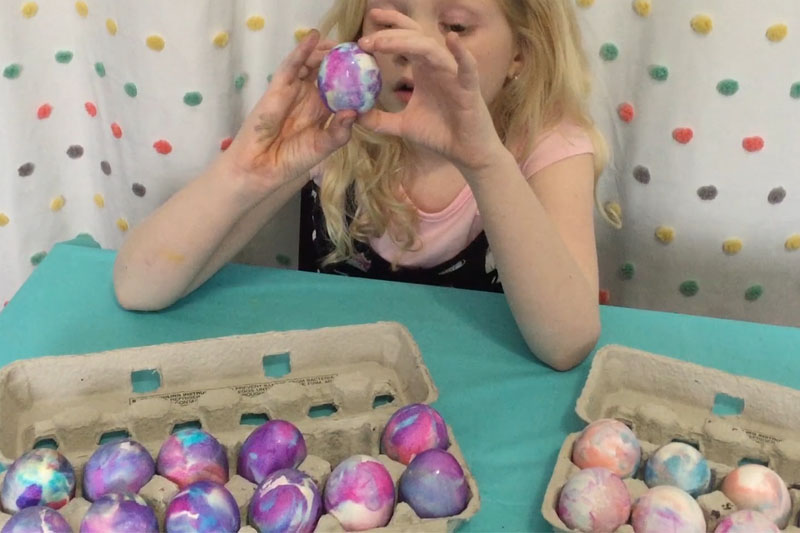 Watch the full tutorial here:
We would love to hear your favorite ways to dye Easter eggs to try for next year! Find more Easter fun ideas and crafts to do with your family!