Little Passports Early Explorers is designed with preschoolers in mind and provides fun and educational activities to learn about the world.
Both Olivia and Abigail received a Little Passports yearly subscription for Christmas 2 years ago! Olivia was gifted the World Edition perfect for ages 6-10 and Abigail the Early Explorers for ages 3-5. The girls loved getting these passports each month so much that their grandparents renewed their subscriptions for another year.
Every month, the girls are introduced to a new landmark and themes such as music or animals with fun educational activities
This post contains affiliate links and I may earn compensation when you click on the links at no additional cost to you.
One of the reasons we love subscription services so much is because it is really exciting to get fun stuff in the mail. It's like a random surprise of entertainment for the week, sent right to our doorstep! We love how fun the packaging is for the Little Passports. Each Early Explorers package comes from Max, Mia and their dog Toby. They send different treasures and activities each month as they explore the world.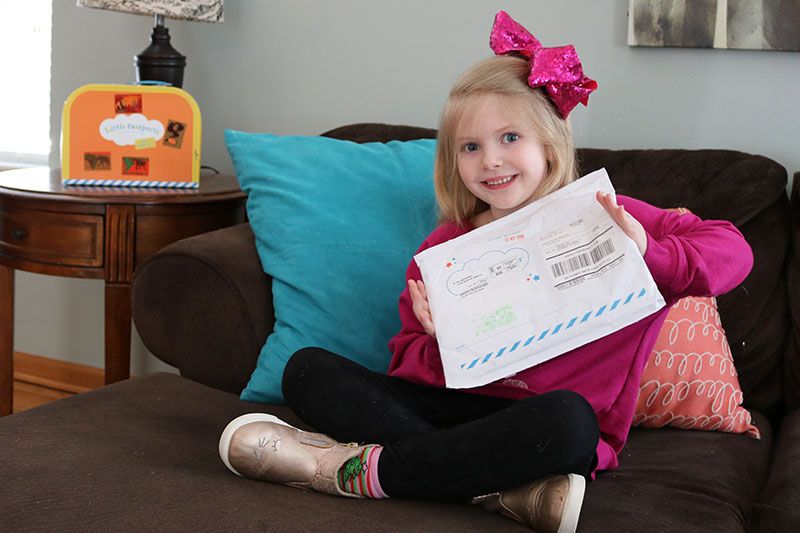 The first month, you will receive a traveler's kit:
a fun, sturdy suitcase (very sturdy, ours has been through a lot!)
a big world map
a 20-page activity book
stickers and a wall decal
a luggage tag
In this package, you'll learn a little about your guides Max, Mia and their dog Toby. You'll be able to decorate your suitcase to store a lot of goodies in the upcoming months! I absolutely love that it comes with the suitcase for storing everything!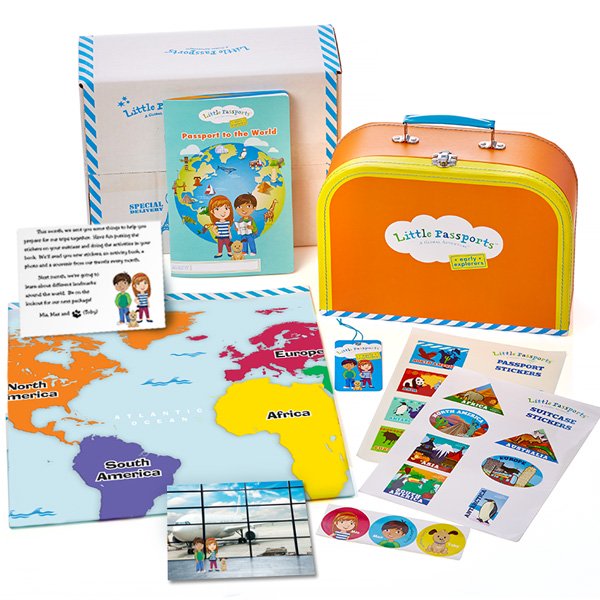 Each month Abigail receives a different theme with:
a 20-page activity book
flashlight adventures
stickers and wall decals
additional souvenirs
Each month the souvenirs are different and usually a hands on activity, craft, puzzle or game. For example, when we received the animal theme, we also had a craft for making animal finger puppets to use to go along with the story. For an ocean theme, we received a fun game involving sea animals. We received different crowns to make and decorate when we received the celebrations theme.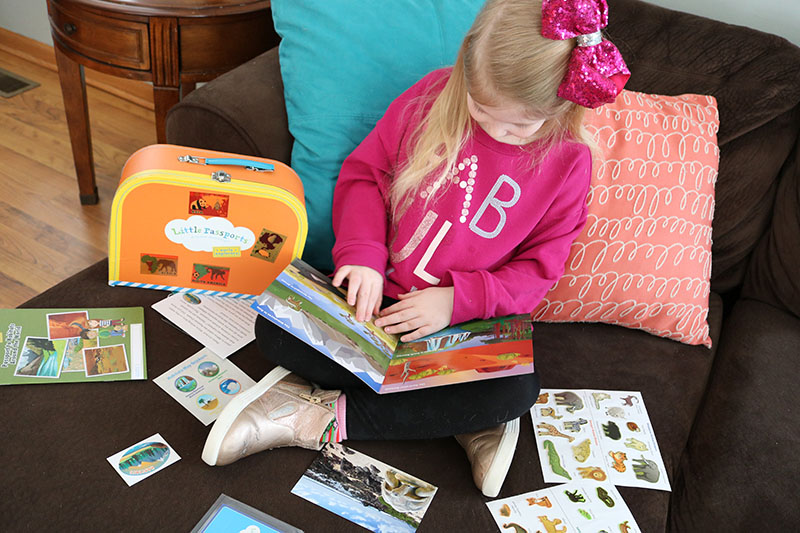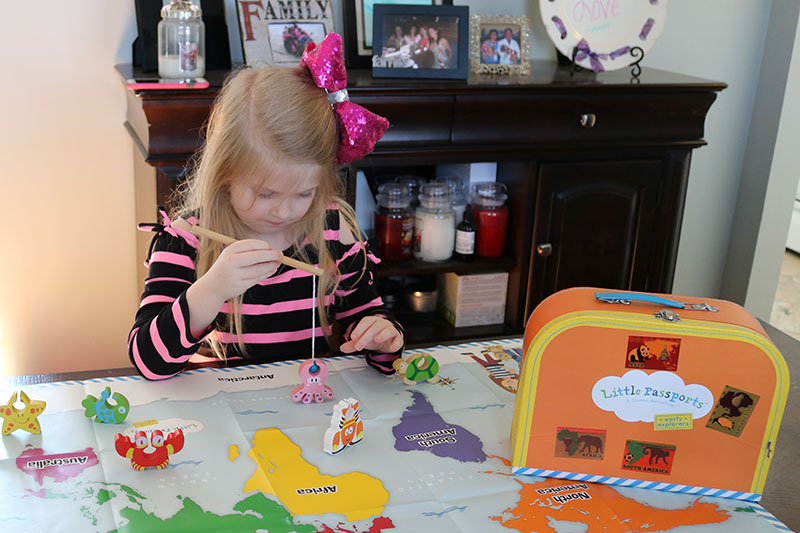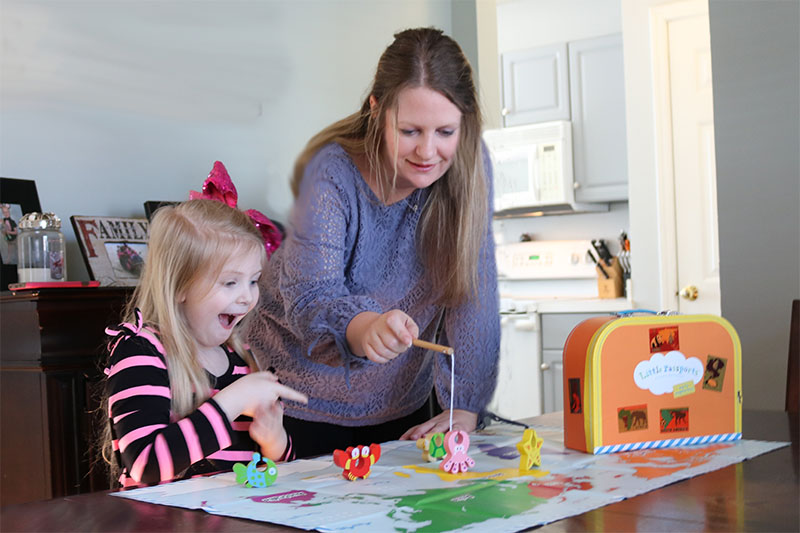 Here is a list of themes we have gotten so far:



landmarks
food
animals
celebrations
habitats
music
art
natural wonders
oceans
world coins
space
science
dinosaurs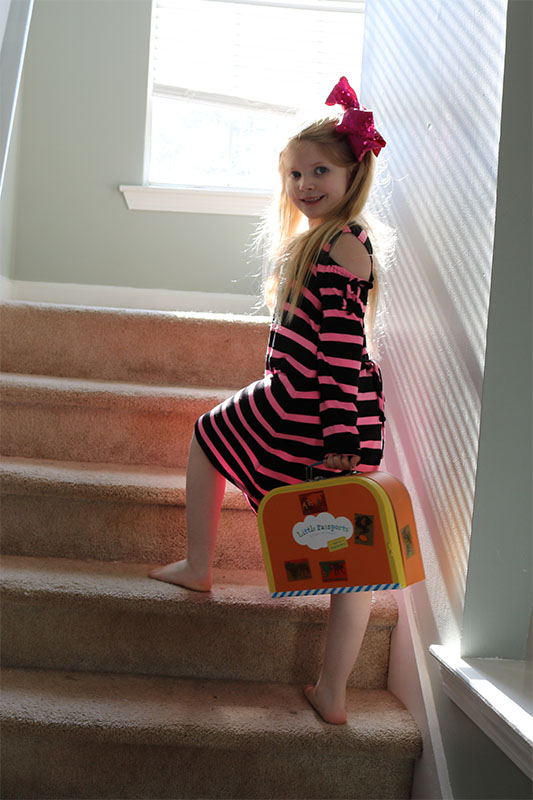 Are you ready to explore the world? If so learn more about Early Explorers from Little Passports. Grab your suitcase and let Max, Mia and their dog Toby take you on a journey around the world!