Calling all Siwanators! It's time to open up our summer JoJo Siwa box. This month is overflowing with bright and sunny cuteness!
If you aren't familiar with the JoJo Siwa box, it is a JoJo themed subscription box that is delivered quarterly. The boxes are full of cute, colorful and trendy JoJo merchandise. All the items in the boxes are designed exclusively for this subscription box and can't be purchased in stores.
This is our second JoJo Siwa box we have received and we are having a hard time deciding which box is better! You can take a look at the goodies inside our spring JoJo Siwa box and decide for yourself!
If you have a JoJo fan at home, she'll be thrilled when this box full of totally awesome JoJo merchandise gets delivered to the door! It makes for a great gift idea! You can order the JoJo box here. Ready to see what we got inside?
What's Inside the Summer JoJo Siwa Box?
Exclusive Hair Bow
Just like the spring box, inside the summer JoJo Siwa box, you'll find an exclusive hair bow. These bows are based on the design of the original bow that Jessalynn Siwa made for JoJo. This bow style is exclusive to the JoJo Siwa box so you can't find it in stores. We love the large size of the JoJo bows, but love the added touch of the tulle underneath. The tulle adds a fun and sparkly feel!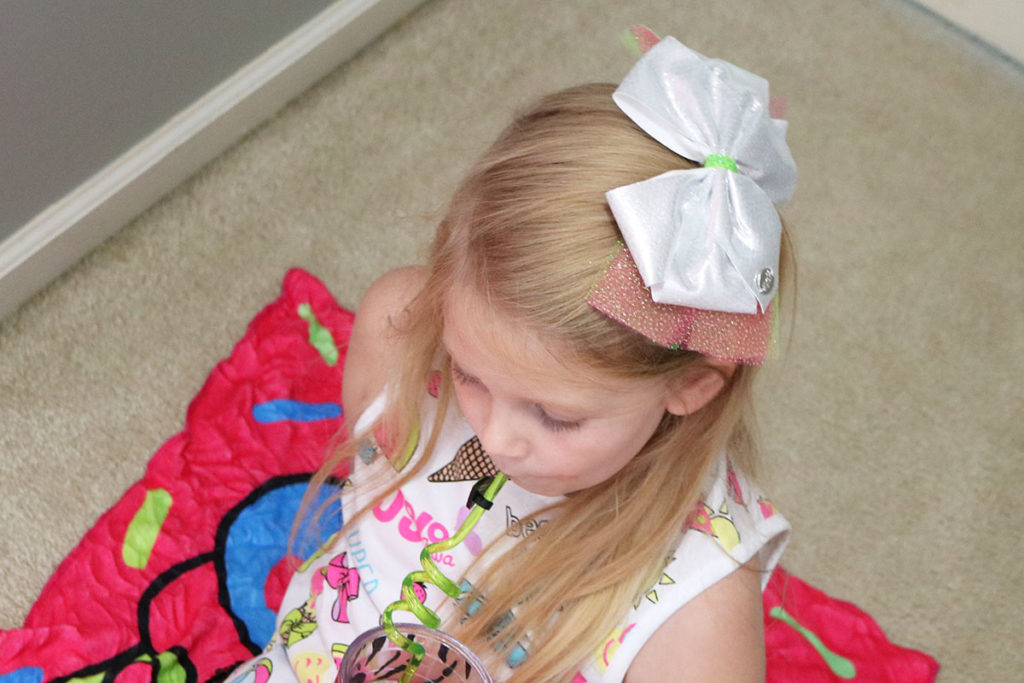 Flowy Tank top
Abigail is in love with this tank top! The colors and design are perfect for summer! The style is perfect for wearing with shorts or pants! You'll notice that Abigail is wearing the shirt from the spring box for this unboxing so you can see the shirts hold up well after several washes.
Ice Cube Tray &  Curly Straws
Summertime doesn't get any cuter than bow shaped ice cubes and bright and colorful curly straws! We have already used this bow ice cube tray to make frozen berry yogurt treats and they turned out so cute! We love different style molds for making fun snacks in and this one has become a favorite of ours.
Beach Towel & Glitter Filled Beach Ball
Every JoJo fan needs a fun beach towel and that's exactly what this beach towel is! It's bright and pink and has a giant ice cream cone with a bow! Abigail was really excited to pack this towel for a recent trip we took to Wilderness at the Smokies. Let's talk about the beach ball for a minute… the inside is filled with GLITTER!! You're in for a fun surprise when you start throwing this ball around!
JoJo Charm
And the last goody in our summer JoJo Siwa box was a JoJo charm to add to the charm bracelet. If you are just signing up for the JoJo Siwa box, you'll want to add the charm bracelet to your first order. Each month, a new charm is delivered to add to the bracelet. So now Abigail has a JoJo charm to add to her donut charm from the spring box!
Abigail absolutely loves getting this subscription box each season! I signed her up for a year subscription as a 6th birthday present and she has loved both boxes she has received so far! I get just as excited to see what is in each box. We can't wait to see the goodies that are inside the fall and winter boxes!
If you love reading subscription box reviews, we have a whole library for your to search through!
Share the love with other moms of Siwanators by pinning this summer JoJo Siwa box unboxing!