Join us for a Kidpik unboxing of the spring 2018 line and get your own $15 off coupon to use towards fun clothes for you kids!
Have you ever heard of Kidpik?  We have been excited to try this subscription box for girls since first hearing about it.  Hope you enjoy our Kidpik unboxing review!
This post contains affiliate links and I may earn compensation when you click on the links at no additional cost to you.
Interested in trying Kidpik for yourself?  Use this referral link for $15 off your first box!!
Not sure if you will like it?  It's 100% FREE to try!!  You won't get charged until after your window is over for sending the items back.  Abigail wasn't thrilled with her box because she said there wasn't enough pink so we sent it all back.  It comes with a pre-paid bag for returns, so we sealed up the items, sent them back and were never charged at all for Abigail's picks.  Talk about a great service to try!
What is Kidpik?
Kidpik is a seasonal clothing subscription box for girls.  You can choose to receive 1 box a season (4 boxes a year), 2 boxes a season (8 boxes a year) or a box every month.  Each clothing piece and accessories are exclusive to Kidpik so you won't be able to get these items from anywhere else.
When you first begin, you and/or your daughter will complete a short style quiz online.  This quiz takes less than 5 minutes to complete and was easy for both Olivia (9 years old) and Abigail (5 years old) to complete on their own.  They had a lot of fun completing the quiz and made it even more exciting to see what items they would get!
Your child will then receive, in the mail, their very own box styled just for them!  You can choose which items you would like to keep and send back (for free) the items you do not wish to keep.  If you keep all the items, you'll receive 30% off everything in the box.  There is also a free gift inside each box that is yours to keep!  There is a break down of the cost of each item with and without the 30% off inside the box.  The average cost of a box is $89 for 7 items and that is with the 30% discount.
Olivia was very happy with her outfit choices and even more happy that she didn't have to go shopping.  She is not one of those girls who love to shop so she said this box is perfect for her.
Kidpik Sizing
I felt the clothes ran just slightly small.  If you are in between sizes, I recommend ordering up.  I ordered Olivia a size 10 and they fit perfectly, but still with a little growing room.  Compared to Justice clothes, 10s are slightly big on Olivia.  The shoes seemed to be completely accurate in size.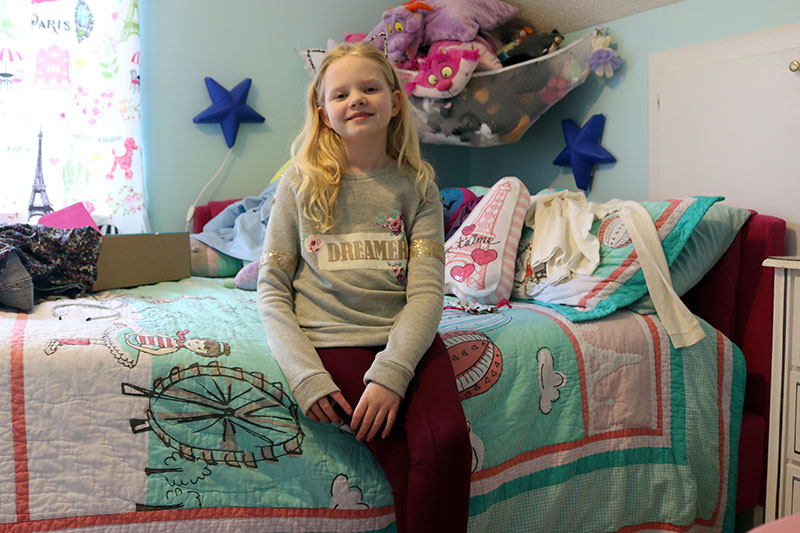 We both really love the pants she got!  She loves leggings and these are very high quality leggings, almost like a pant, but still stretchy like leggings.  The color is awesome as well!
Realated: How to Get Your Kidpik Subscription Box for Free
We really felt that all the items were great quality.  The dress is very lightweight, but feels as though it will hold up for quite awhile.  Olivia loves the look of this dress.  While Abigail is all about pink and glitter, Olivia is much more versatile and into different fashions.
Pink usually isn't Olivia's color, but she said the fuzziness of the shoes made up for the color.  Plus, the color looks great with all the outfits she got!
Olivia really enjoyed getting this box in the mail and is looking forward to next season when she'll get her next box!  I love how easy it was to return Abigail's items and how I was able to try it completely risk free.  We definitely recommend this subscription box for the little fashionista in your life!  This would make a great gift or any day surprise!
Don't forget to use this referral link for $15 off your first box (because who doesn't love a coupon)!!  You won't be charged when you order, but you still need to claim the coupon before ordering!
Check out Olivia's Kidpik unboxing video to see everything she got in her box!
Related: Subscription Box Reviews
Make sure to give the Kidpik unboxing some love and pin it for later!