Swimming With Dolphins In The Bahamas is an amazing experience. We spent the day on Balmoral Island for a private beach day and dolphin swim.
Over the girls summer break, we went on a cruise to the Bahamas.  While in Nassau, we did the Balmoral Island Dolphin Swim and Beach Day Excursion.  If you have never gone swimming with dolphins in the Bahamas (or anywhere for that matter), then you need to add this to your bucket list!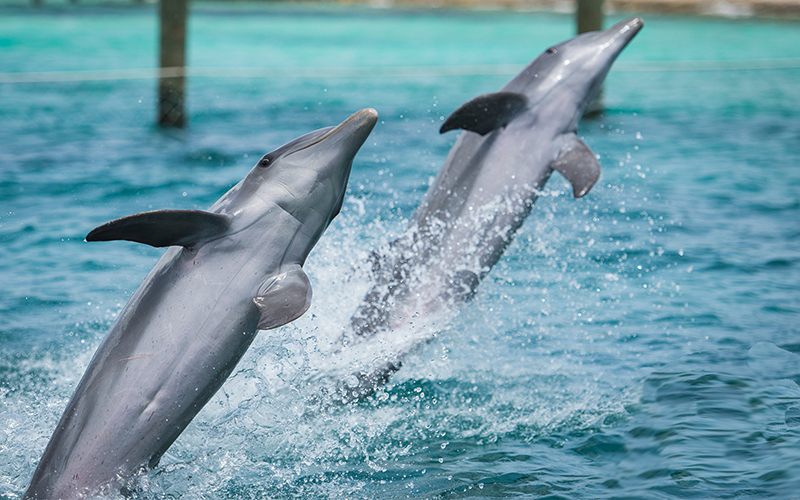 This was such an amazing experience for both the girls and I!  I mean it's not every day you get to go swimming with dolphins in the Bahamas and get kissed by a dolphin!
Swimming with Dolphins – What To Expect
We spent a solid 45 minutes with dolphin interaction.  There are 2 different dolphin excursions to choose from on this particular island.  There is a dolphin encounter and a dolphin swim.  I highly recommend the dolphin swim.  With the dolphin swim, you get everything you get with the dolphin encounter.  Plus, you actually get to interact with the dolphins besides just for the pictures.
Kids must be at least 5 years old and able to swim for this swimming with dolphins excursion.  Abigail had just turned 5 and was not the best swimmer so don't let the swimming thing discourage you from taking your younger kids.  Everyone wears life jackets so it is super safe.  The reason they have to be able to swim is because you do have to swim out a little ways to get deep enough to interact with the dolphins.  I just wrapped my arm around Abigail and dragged her with me to help her get there a little faster.  Remember, both you and the kids are wearing life jackets, so as long as they are comfortable in the water and you feel they can travel a small distance in the water with or without your help, then they will be fine.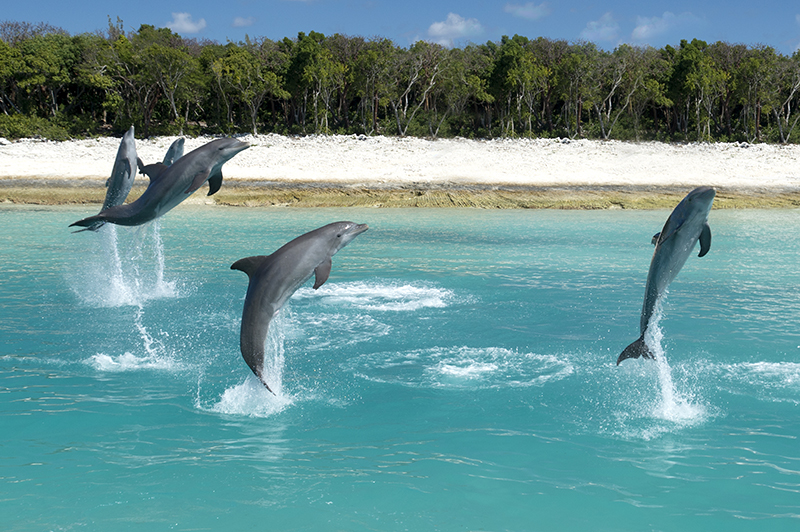 Once you swim out to your spot, there are 3 different dolphins in the area with you.  The guy will do a lot of tricks with them in the water with you which are so fun to watch.  The dolphins will swim all around you and you are able to pet them as they swim by.  The dolphins swam by us multiple times and the girls giggled and got excited each time!  You will learn different ways you can talk to and interact with the dolphins also.  Then you will be taken by groups of 2 to dance with the dolphins.  This was one of our favorite parts!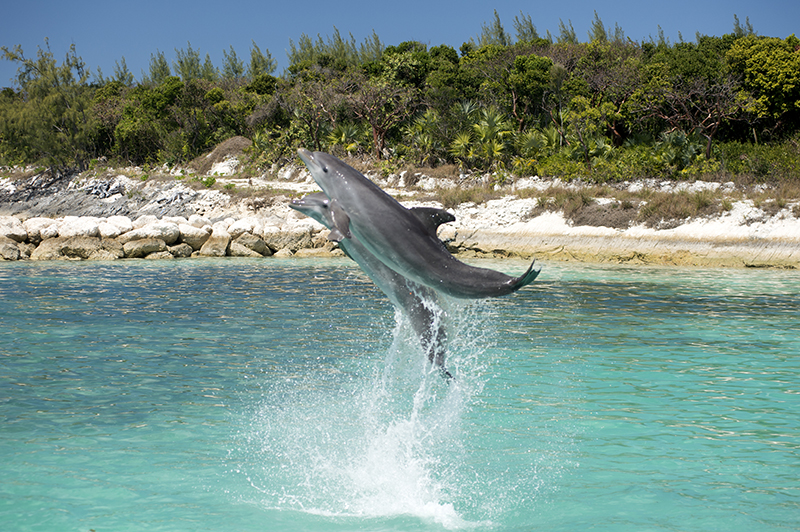 Watch The Video To Know What To Expect
Watch the video below to see everything you will get to do once you swim to the area.  It's also a good idea to watch to see how far the distance is you will have to swim.  There was an older lady in our group who wasn't able to do the excursion because she knew she couldn't swim the distance.  She didn't know ahead of time she would have to do this so she missed out on a big part of what she came to the island for.
The girls still talk about how they went swimming with dolphins in the Bahamas!  They thought it was both the coolest and most awesome experience.  They giggled and laughed almost the entire time we were in the water with the dolphins.  As a mom, it was such a blessing to be able to give them this experience.
After the dolphin swim, you will get to take off the life jackets and take pictures with the dolphins in a shallow area of water.  The downside of this excursions is that you cannot take your own pictures or videos.  I believe this is the case with most dolphin swim excursions where ever you go.  They do provide you with the pictures and video, but it isn't the cheapest.  It's worth it to purchase, because it's not every day we are swimming with dolphins.  Although, the advantage to not being able to take my own pictures and video is that I got to be 100% there.  I didn't miss a single giggle or facial expression or chance to interact with the dolphins because I was too focused on taking pictures.  So, there's always an upside!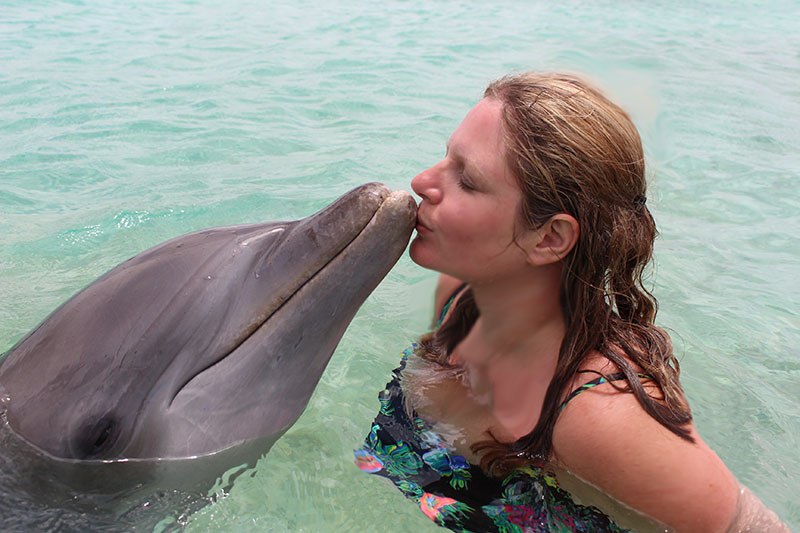 Balmoral Island Dolphin Swim & Beach Day Excursion
This particular excursion we did was more than just a dolphin swim, it was a 4 1/2 hour long trip.  About an hour of that time is spent on a boat to get to and from the private island (20-30 minutes each way).  We loved the boat ride though!  It was relaxing and a chance to see a lot of the island (from a distance).  You'll pass by some of the towns, some industrial areas and even the Atlantis hotel on your way to Balmoral Island.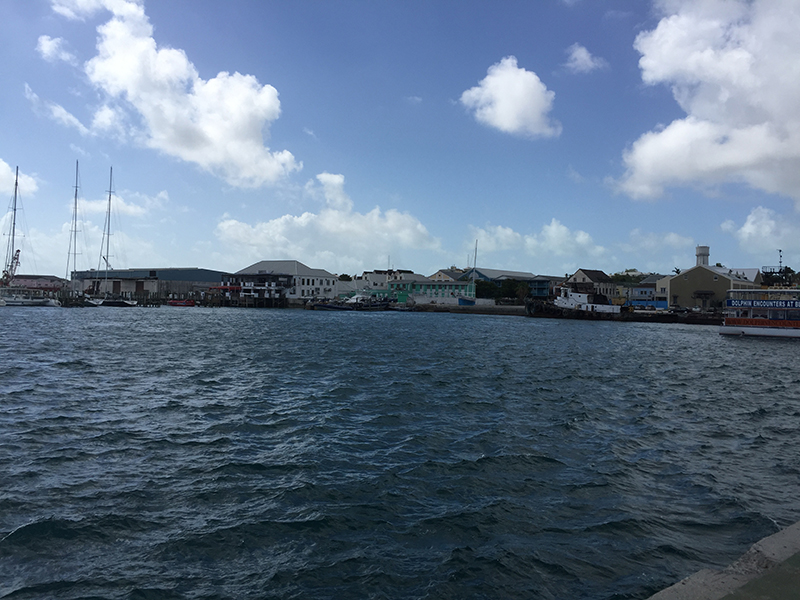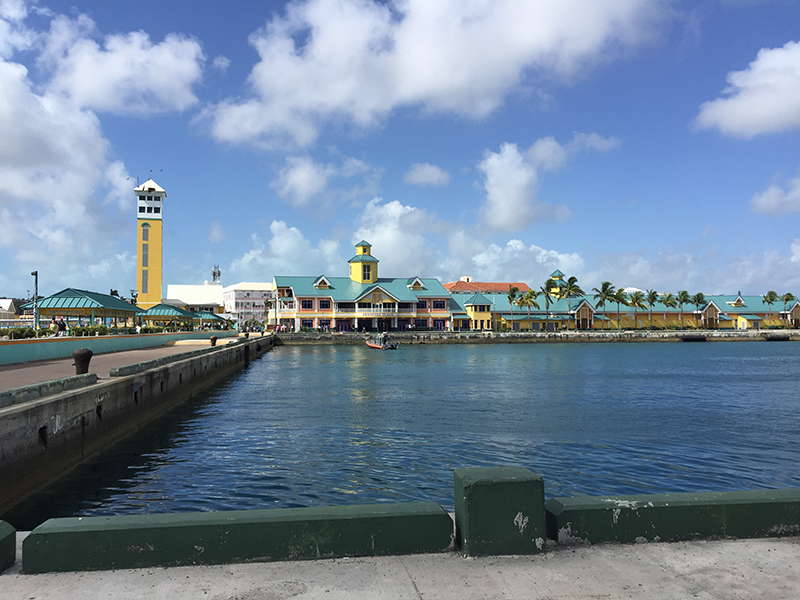 Once you get to the island, you will have about 3 1/2 hours to spend exploring.  About an hour of this time will be for the dolphin swim.  They do the dolphin swim in smaller groups so you will schedule your time once you get to the island.
We were scheduled in the last group, so we had about 2 1/2 hours to spend on the island before swimming with the dolphins.  While we waited we explored the island, ate lunch and did some shopping for souvenirs.  This is a beautiful island and it is private.  They have pools to swim in and a beach as well which we also enjoyed!
Since the island is private, it isn't crowded at all which is really nice.
After the excursion, we still had some time left to explore Nassau.  We picked up these adorable dresses for super cheap in one of the market places.  Believe it or not, they have made it through several washes!!
If you haven't already, you can read about our first stop on our Carnival Cruise where we explored the private Princess Cays Island and went on the Glass-Bottom Boat excursion.